Several tornadoes occurred on June 23, 2007 in southern Manitoba. Two of the strongest tornadoes recorded were given F3 ratings. One occurred near Pipestone and the other near Baldur. These tornadoes occurred the day after the Elie F5 tornado and were part of a multi-day outbreak of tornadoes/severe weather across Manitoba.
Three other tornadoes occurred on this day:
AWCN11 CWWG 242229
SUMMARY WEATHER STATEMENT ISSUED BY ENVIRONMENT CANADA AT 5:29 PM CDT SUNDAY 24 JUNE 2007.

A SERIES OF STRONG TORNADOES TOUCHED DOWN IN SOUTHWESTERN MANITOBA ON SATURDAY EVENING. THE FIRST REPORT CAME AT 7:42 PM, 5 KM NORTHWEST OF PIPESTONE. DURING THE NEXT TWO HOURS OR MORE, THIS VIOLENT STORM SYSTEM TRACKED SOUTHEASTWARD, SPAWNING AT LEAST 5 SEPARATE TORNADOES WHICH TOUCHED DOWN AT VARIOUS LOCATIONS FROM PIPESTONE TO PELICAN LAKE. A STORM INVESTIGATION TEAM FROM ENVIRONMENT CANADA IN WINNIPEG HAS SURVEYED THE AREA SOUTH OF BALDUR TO ASSESS TORNADO DAMAGE PATHS AND INTENSITY RATINGS. PRELIMINARY ASSESSMENTS INDICATE THAT THIS PARTICULAR TORNADO WAS LIKELY AN F3, AND TRAVELLED FOR A DISTANCE OF AT LEAST 15 KM. ACCORDING TO THE FUJITA DAMAGE SCALE, F3 WIND SPEEDS ARE FROM 253 TO 330 KM/H.
END/MM
---
The Forecast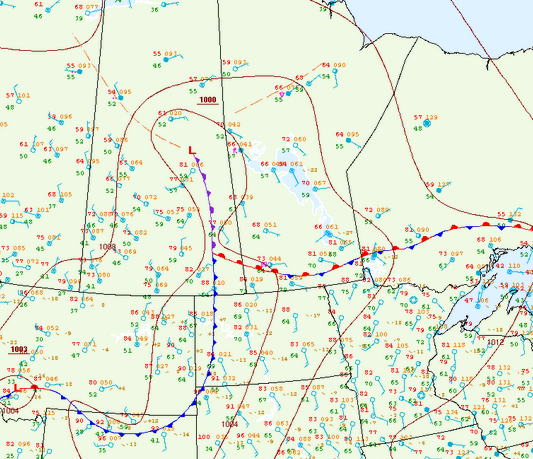 Figure 1 depicts the surface observations at 7:00 pm CDT, which shows a stationary front across southern Manitoba. This front was the focus for intense supercell thunderstorms across southwestern Manitoba, which ultimately resulted in a tornado outbreak.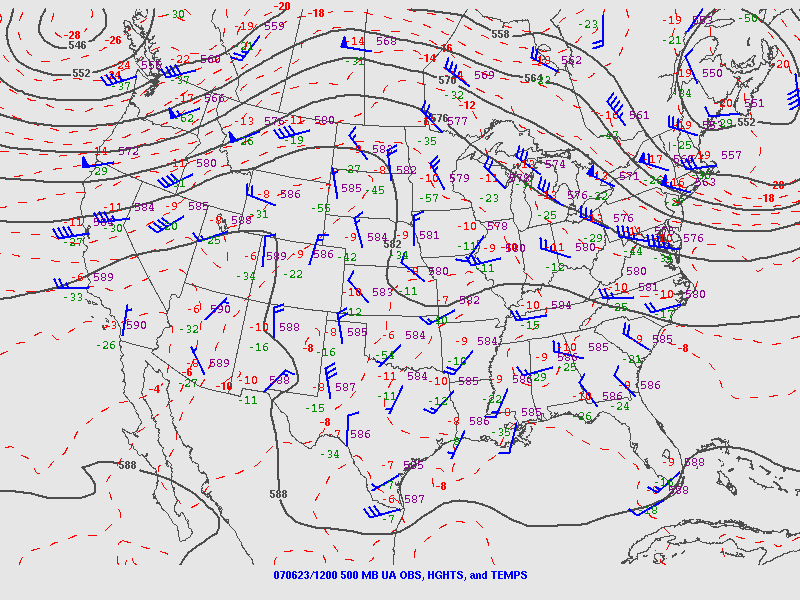 Data is quite sparse, however we can infer certain things while looking at the 500mb chart (Figure 2) on the morning of June 23, 2007. The 500mb chart depicts an upper-level trough on the west coast of Canada and a ridge going into Manitoba. This ridge is bringing warm/moist air from the south into southern Manitoba.
When looking at the 7:00 pm (local time) surface analysis (Figure 3), we see a surface low developing near the SK/MB/ND border. It is possible that the Manitoba Escarpment played a role in the initiation of thunderstorms, their motion and enhancing low-level moisture/wind shear. However, storms definitely developed on the warm front seen extending into southern Manitoba.
---
Recap
According to Environment and Climate Change Canada (2018), an F1 tornado touched down at 7:40 pm CDT near Oak Lake Reserve, MB. The tornado travelled for 20 km and had a maximum width of 300 metres. No property damage was documented with this tornado.
---
Sources
NWS Weather Prediction Center Surface Analysis Archive. (2017). Surface analysis 00Z Sun Jun 24 2007. Retrieved from: https://www.wpc.ncep.noaa.gov/archives/web_pages/sfc/sfc_archive.php

Environment and Climate Change Canada Data. (2018). Canadian National Tornado Database: Verified Events (1980-2009) – Public. Retrieved from: http://donnees.ec.gc.ca/data/weather/products/canadian-national-tornado-database-verified-events-1980-2009-public/