According to the Manitoba Infrastructure (2020):
"On August 5, 2006 an F2 tornado touched down on the east side of Lake Winnipeg. An F2 tornado is considered to be a "significant" tornado producing wind speeds between 180 and 250 km/hr and which often results in considerable damage. Thought to be the worst tornado to hit Manitoba in the past 70 years, this tornado uprooted trees, brought down power lines, damaged at least two farm sites, destroyed 20-25 trailers in the Full Lake Resort, and severely damaged the Kendall Point and Tall Timber Lodges.
The tornado resulted in the death of a 64 year old woman at Gull Lake and 10-15 people were taken to hospital with varying injuries. The province provided up to $250,000 in disaster assistance to farmers and rural municipalities in response to damage caused by this tornado. This assistance is intended to help with costs such as debris removal and response costs to municipalities".
This tornado had the last tornado-related fatality in Manitoba until the Alonsa, MB EF4 Tornado of August 4, 2018.
---
The Forecast
Figure 1 depicts the surface observations at 1:00 pm CDT, which shows a low pressure system in central Manitoba with a warm front extending east across northwestern Ontario and a cold front extending south across southern Manitoba. The warm front became the focus for intense supercells in the afternoon hours of August 5th, which ultimately led to this long-track tornado.
Several tornadoes occurred on this day: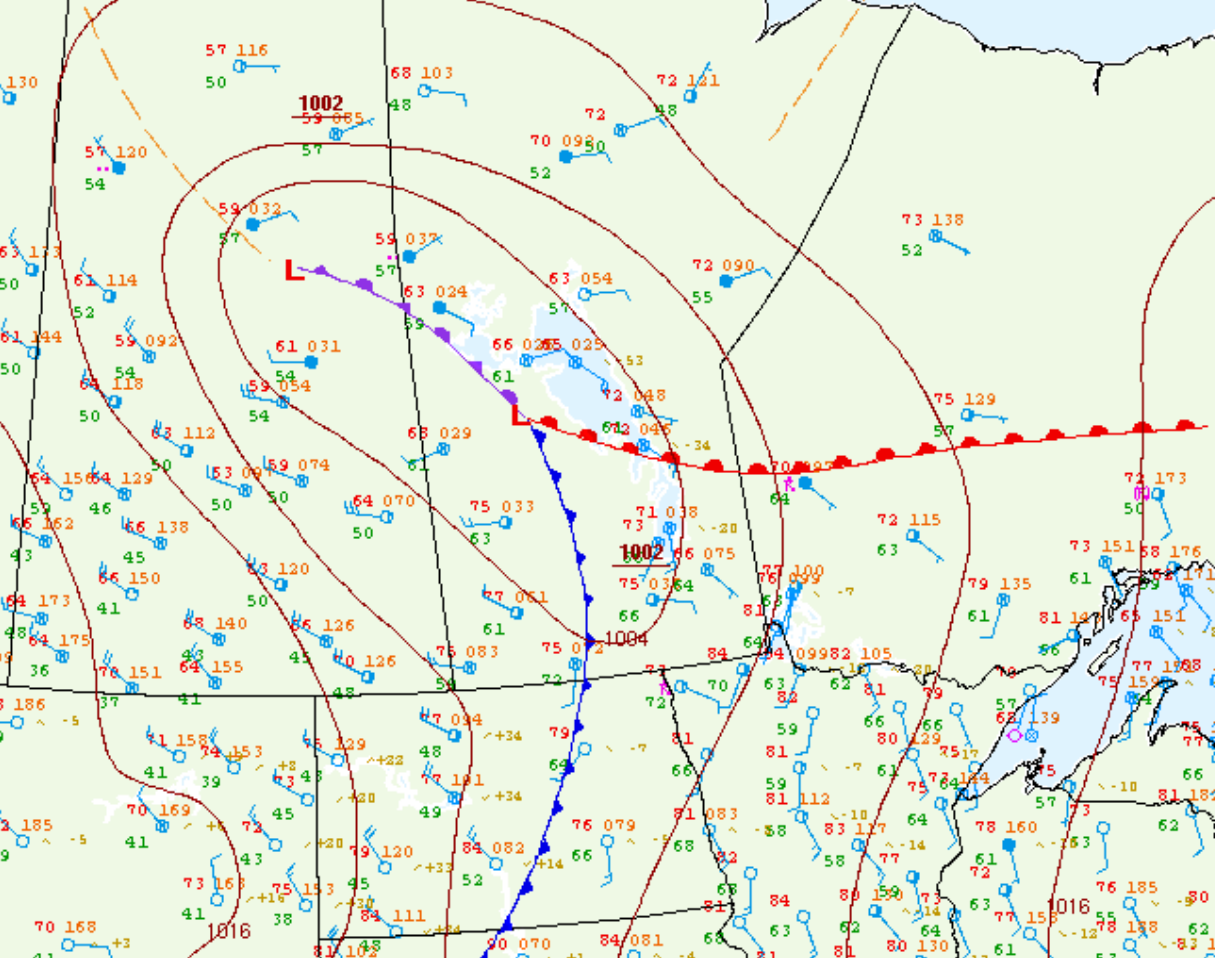 According to Environment and Climate Change Canada (2018), an F2 tornado touched down at 5:19 pm CDT at Patricia Beach Provincial Park, MB. The tornado travelled for 18.9 km and had a maximum width of 300 metres. The tornado killed one person and injured seven.
---
Sources
Manitoba Infrastructure. (2020). Recent Events. Retrieved from https://www.gov.mb.ca/emo/resources/events05-10.html#06Tornado

NWS Weather Prediction Center Surface Analysis Archive. (2017). Surface analysis 18Z Sat Aug 5 2006. Retrieved from: https://www.wpc.ncep.noaa.gov/archives/web_pages/sfc/sfc_archive.php

Environment and Climate Change Canada Data. (2018). Canadian National Tornado Database: Verified Events (1980-2009) – Public. Retrieved from: http://donnees.ec.gc.ca/data/weather/products/canadian-national-tornado-database-verified-events-1980-2009-public/