Only touching down briefly, with a path 200 metres long and 50 metres wide, the tornado caused damage to a house at Rockford, just south of Owen Sound. Trees were snapped and uprooted, one of which crashed through the wall of the home. Also, according to news reports, a corner of the house was 'missing', however Environment Canada's damage survey classified damage here as minor, and this account of structural damage may have been exaggerated.
Indeed, according to witness Sue McDougal, "I was the person that reported the tornado. It actually caused damage to two houses….ours and the neighbours.. we had siding pulled out from our walls and lost a lot of shingles. The neighbors had part of a weak old tree hit their roof, there was no corner missing from either home. I watched the twister come at me from across the highway. I was in our front yard and ran like hell into the house just as it hit our place."
This was one of two tornadoes to touch down in Ontario on June 29, 2003. The other was an F0 at Grindstone Lake, which caused extensive tree damage and collateral damage to cottages and vehicles.
Figure 1 depicts the surface observations at 5:00 pm EDT, which shows a low pressure system sitting over Michigan's 'thumb' with a cold front moving east across Michigan. The cold front became the focus for intense thunderstorms in the late-afternoon hours of June 29th as it moved east into southern Ontario.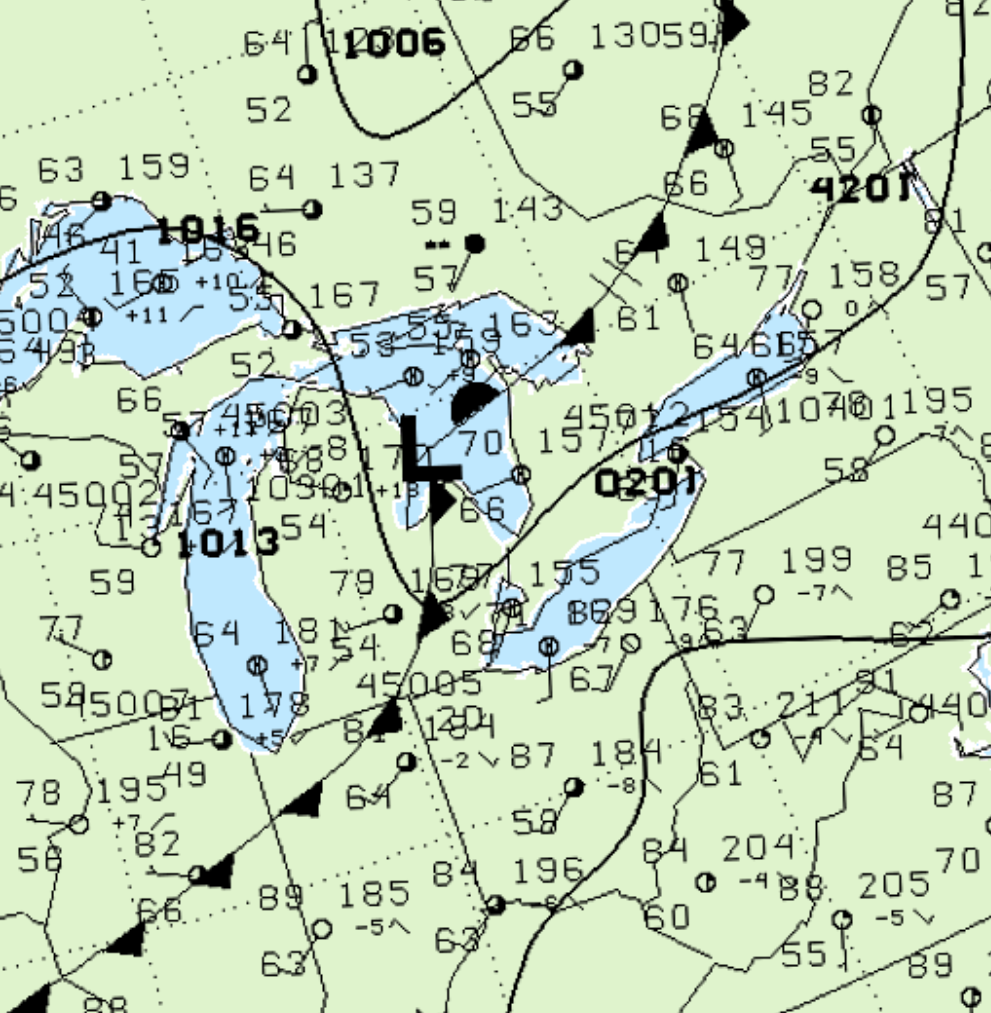 According to Environment and Climate Change Canada (2018), an F0 tornado touched down at 5:00 pm EDT near Rockford, ON. The tornado travelled 200 metres with a maximum width of 50 metres. The tornado caused no fatalities, injuries or property damage.
---
Sources
NWS Weather Prediction Center Surface Analysis Archive. (2017). Surface analysis 21Z Sun Jun 29 2003. Retrieved from: https://www.wpc.ncep.noaa.gov/archives/web_pages/sfc/sfc_archive.php

Environment and Climate Change Canada Data. (2018). Canadian National Tornado Database: Verified Events (1980-2009) – Public. Retrieved from: http://donnees.ec.gc.ca/data/weather/products/canadian-national-tornado-database-verified-events-1980-2009-public/