Touching down at 5:50 pm, this powerful and rare, early-season tornado formed just to the southwest of Williamsford. Appearing as a massive, rotating bowl of cloud with a plume of debris swirling at its base, the tornado intensified quickly as it approached town. On the east side of Williamsford, it devastated a strip of homes along Chatsworth Road 24, levelling some to their foundations. Here, the tornado was at its strongest, a high-end F3. Six people were injured in the destroyed homes along the concession, one of them seriously.
As the tornado moved to the northeast, it continued to cause F2 and F3 damage to rural homes in its path, as well as extreme damage to the swaths of forest. It passed over Williams Lake, damaging cottages and sending up a misty white column of spray over the lake. In an unusual coincidence, just a little over a year later, the lake was again struck by another F2 tornado that destroyed cottages and seriously injured two men.
Leaving the lake, the tornado destroyed homes and forest as it passed north of Holland Center and south of Walters Falls as it took direct aim at the town of Blantyre. The tornado struck the small village directly, tearing the roofs off of houses and causing F2 damage through the community. It dissipated northeast of there, having been on the ground for 45 minutes. It had travelled for 37 kilometres and, at times, was up to 450 metres wide.
This was the first of three tornadoes to touch down in Southern Ontario on April 20; it was followed by a damaging F3 at Arthur, and then by an F0 near Orillia.
Figure 1 depicts the surface observations at 5:00 pm EDT, which shows an occluding low pressure over the Great Lakes, with a cold front extending across southern Ontario and a warm front extending across Lake Ontario. These fronts became the focus for intense supercellular development in the afternoon/evening hours of April 20th.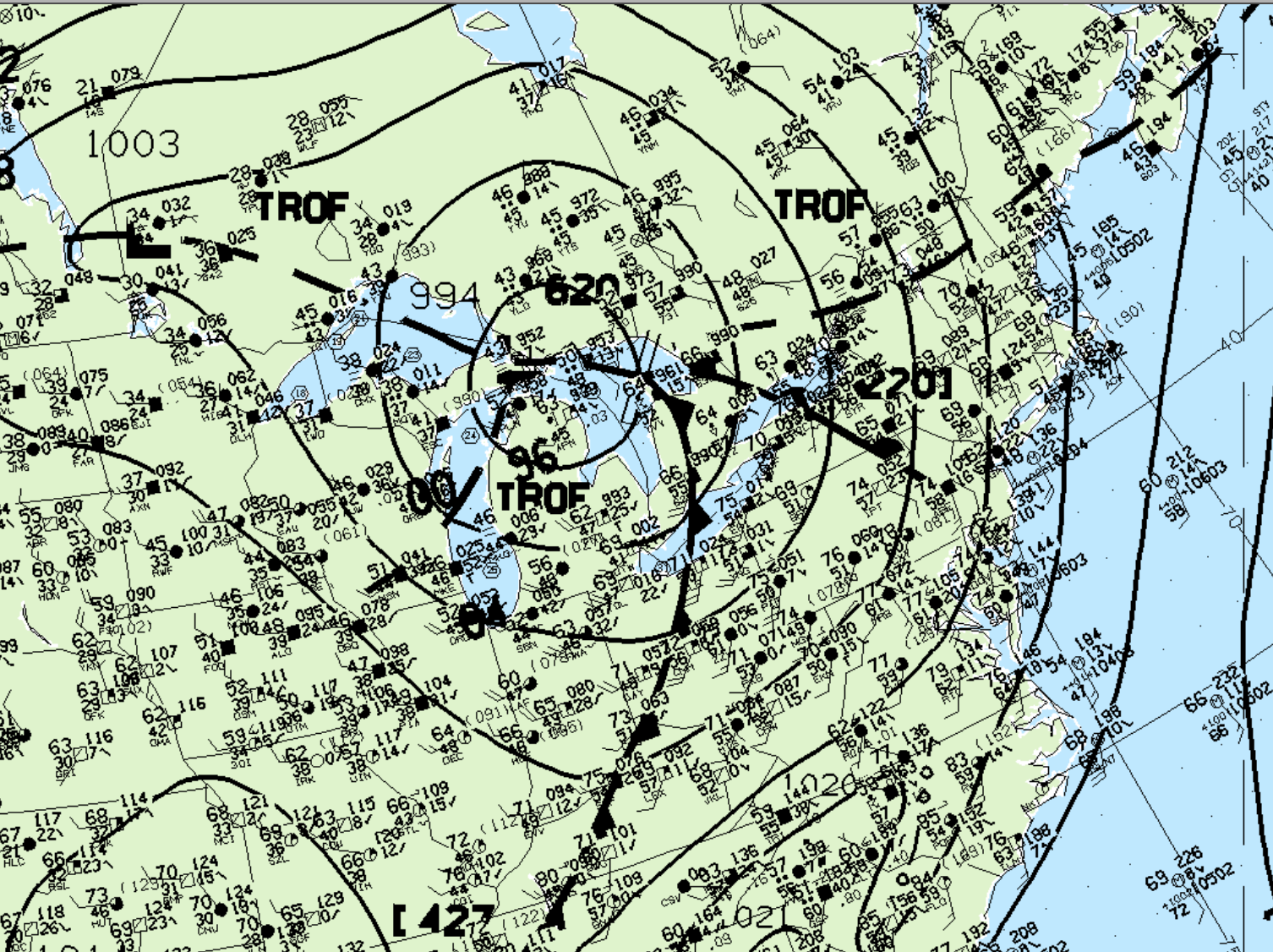 According to Environment and Climate Change Canada (2018), an F3 tornado touched down at 5:50 pm EDT near Williamsford, ON. The tornado travelled for 37 km and had a maximum width of 450 metres. The tornado caused no fatalities, but injured six and caused $1.5 million dollars in property damage.
---
Source
NWS Weather Prediction Center Surface Analysis Archive. (2017). Surface analysis 00Z Fri Jul 14 1995. Retrieved from: https://www.wpc.ncep.noaa.gov/archives/web_pages/sfc/sfc_archive.php

Environment and Climate Change Canada Data. (2018). Canadian National Tornado Database: Verified Events (1980-2009) – Public. Retrieved from: http://donnees.ec.gc.ca/data/weather/products/canadian-national-tornado-database-verified-events-1980-2009-public/