Published on
I started this day after car camping at a gravel dump about 13 miles north of Oakley, Kansas. This setup was forecast to have less shear than the day before, but there was ample instability and a couple boundaries for storms to latch onto. I opted for the southern outflow boundary near Leoti. I got a late start, but it looked like an hour's worth of travel time would be just about right to get me there as storms were strengthening.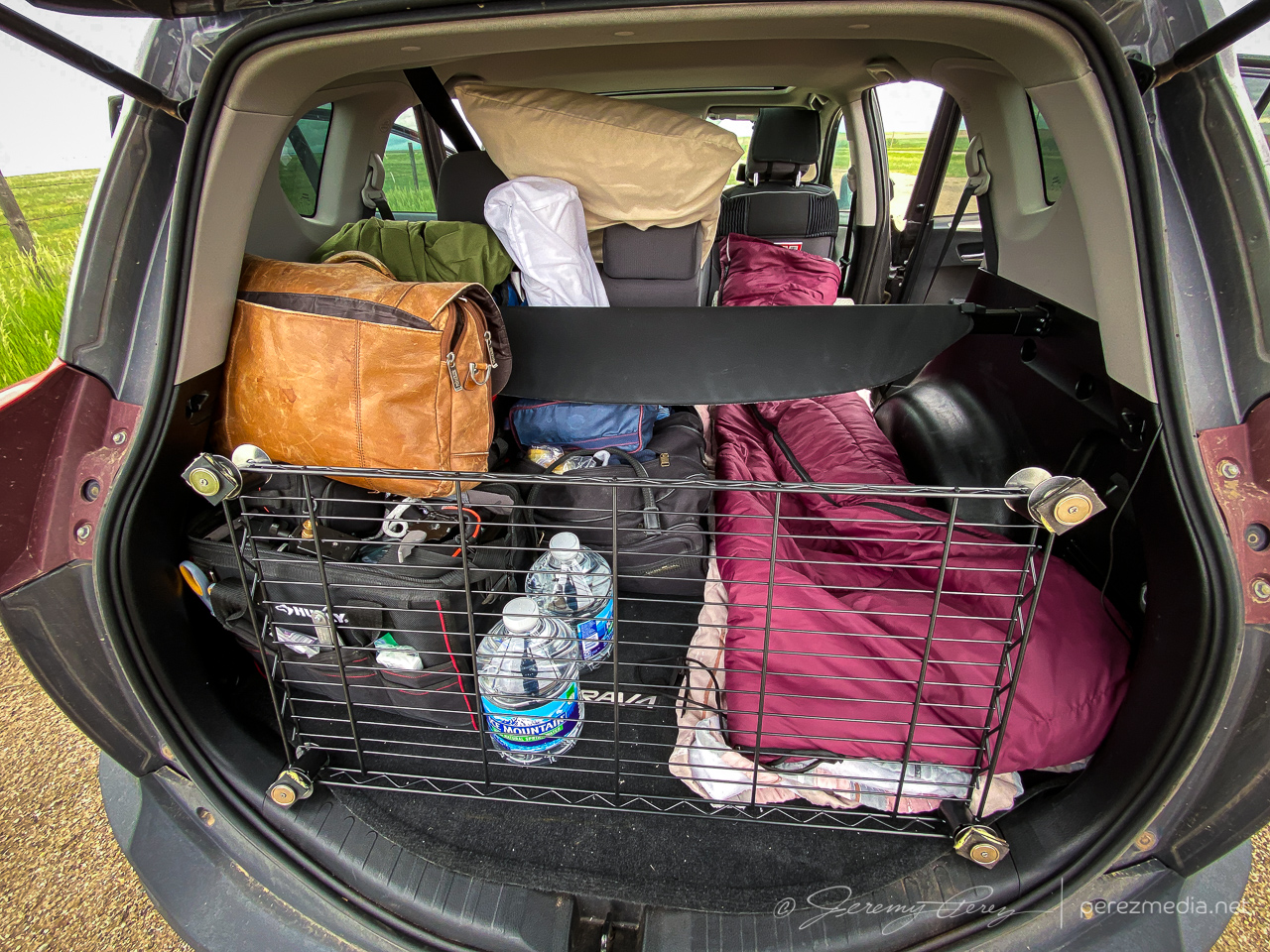 What I hadn't planned on was a harrowing road adventure on the way there. Both my Garmin GPS and Google Maps recommended dropping straight down Road 160 off Hwy 40. It turned out to include a seven mile stretch of unpaved road. I double checked and both mapping apps were clearly happy to send me down that way. It did look to be wet but in decent enough shape from that northern end and I thought it might just be very well maintained for local traffic. So I took it.
It got progressively worse the further I went. By the time I seriously considered turning around and being late to the show after retracing to the paved option, it was also apparent a multipoint turnaround could get me stuck worse than trying to maintain careful momentum and slosh through. A couple miles in though, I came across a van dredged into the side of the road. Lot's of quick, anxious thought occurred. The road clearly took them out. If I stop now to help, I may sink in and not be able to get moving again either. But a couple hundred yards further down, there was a firmer patch.
So I came to a slow stop and walked back to see if they needed a ride or a AAA call. The guy rummaging in the back of the van had actually dropped a winch anchor into the road and was getting set to latch cable to it. I asked if he needed help although I'd have no idea what I was doing. He said he was fine and was getting ready to winch it out and he'd be happy to pull my car out if the same thing happened to me.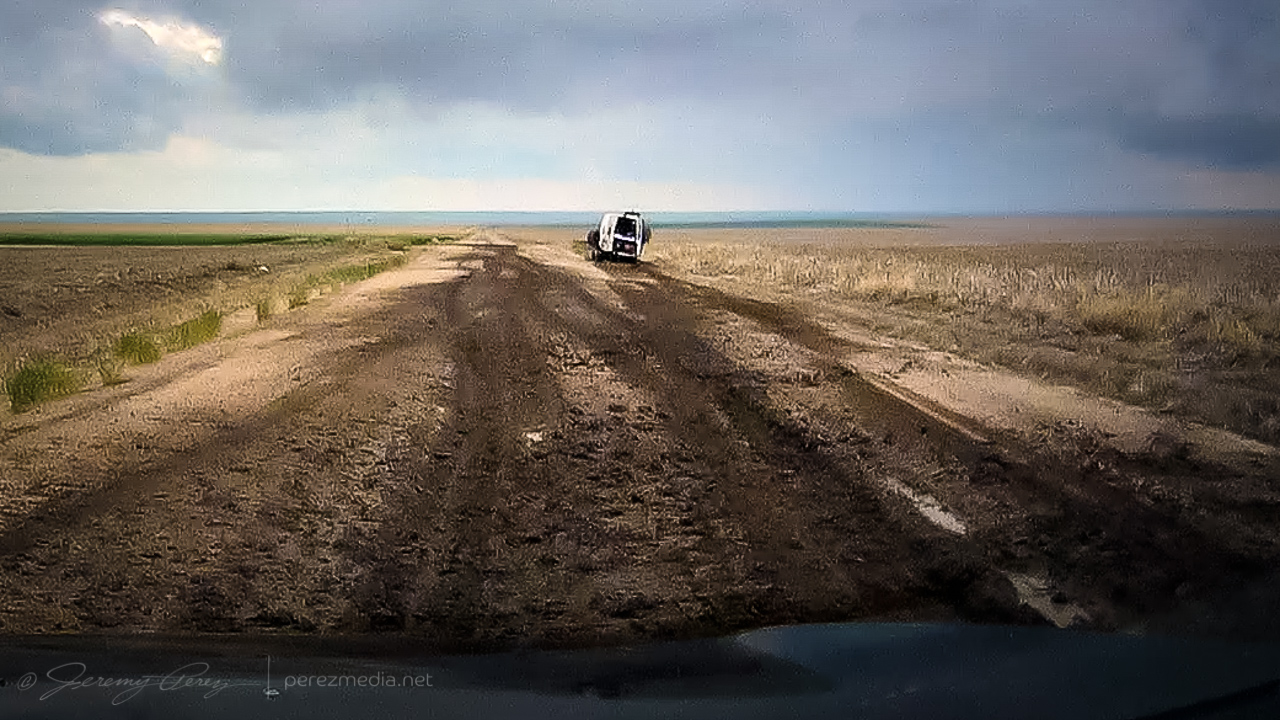 So after some well wishes, I got back to my car and was able to let it slowly accelerate up to mud surfing speeds again. Five miles to go until pavement at that point and I was counting down every tenth of a mile while calling on all my icy road skid maneuver experiences to keep it moving & centered every time it wanted to visit a field or stop for a deep, soaky mud bath. I was so glad to be back on pavement when that ended.
A couple weeks later, I got a message from Jeff Boyce on Twitter asking if I was the one who had the quick chat with him that day. He said he appreciated me stopping to check after others had passed him and pretended not to see him lol. He said he was back out & moving after 15 minutes. Bonus was that he caught the Selden tornado later that day despite the rough start.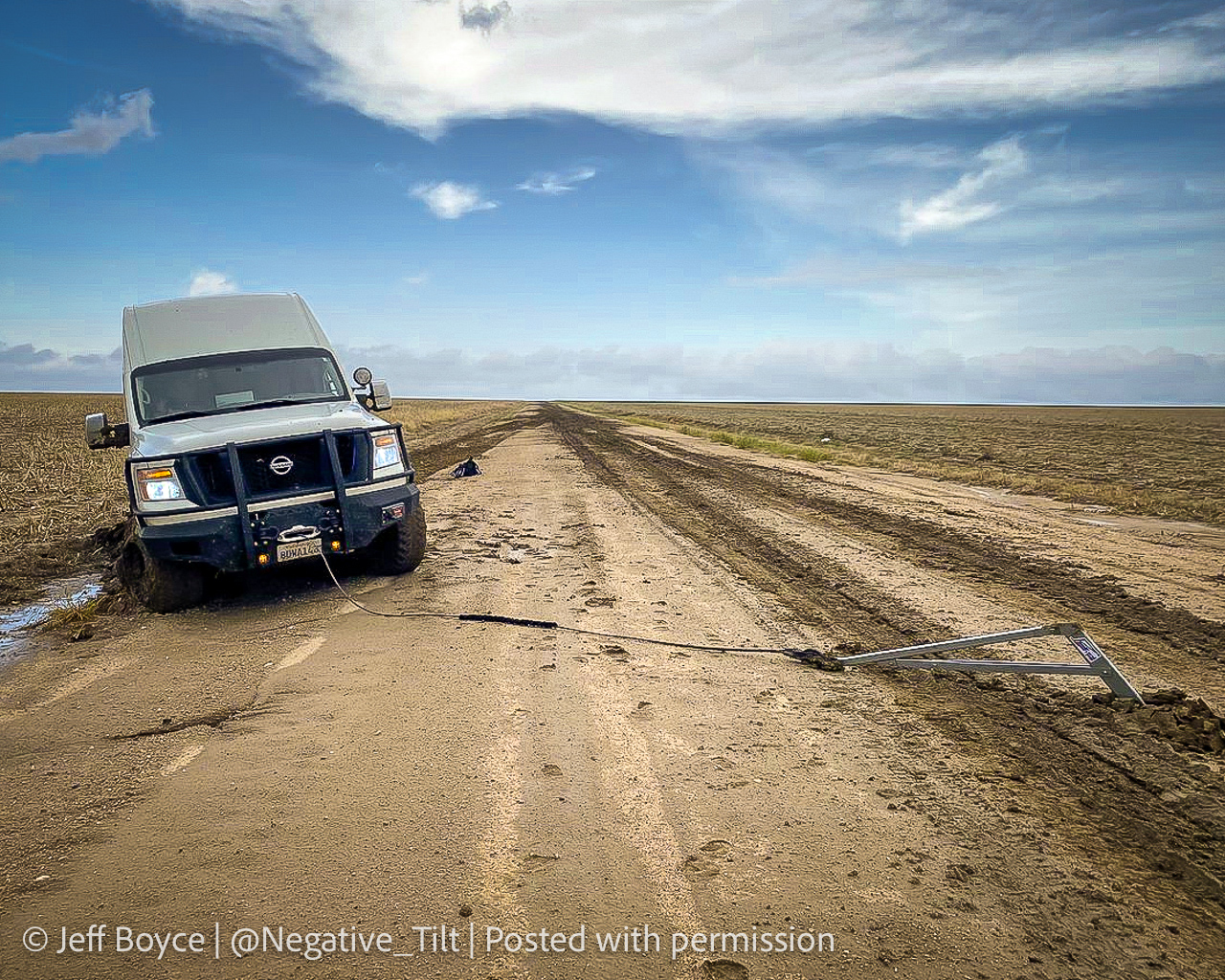 The Selden tornado wound up not being on my menu. Instead, I continued to the southern boundary and set up for my first storm of the day about 10 miles north of Leoti.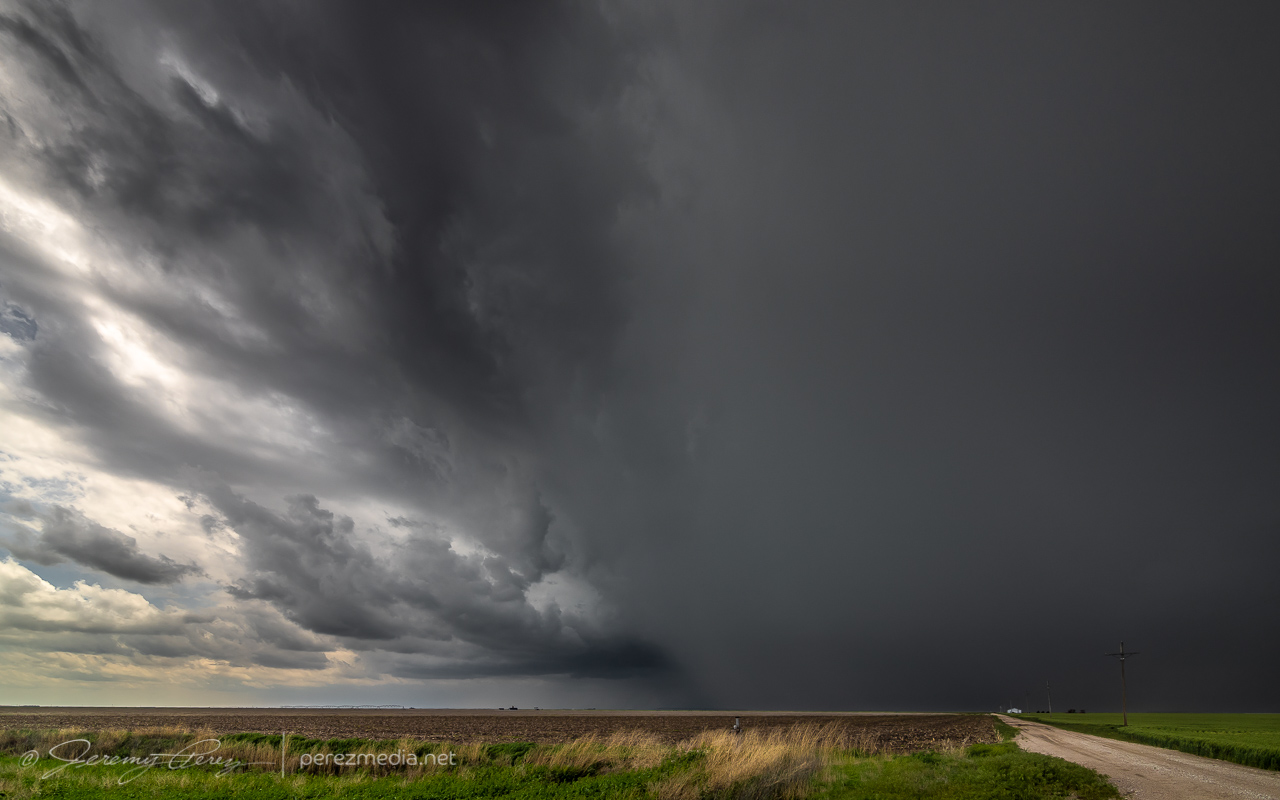 The storm was moving slowly and I had a chance to set up for a relaxed gander at strong downdrafts and a redwing blackbird showing off nearby. Before long, other chasers started to collect on the dirt road and I had to move further down to get an unblocked view. The forward flank gradually drifted to the north and gave a better view of the base as weak surges of rotation and lowerings moved through it.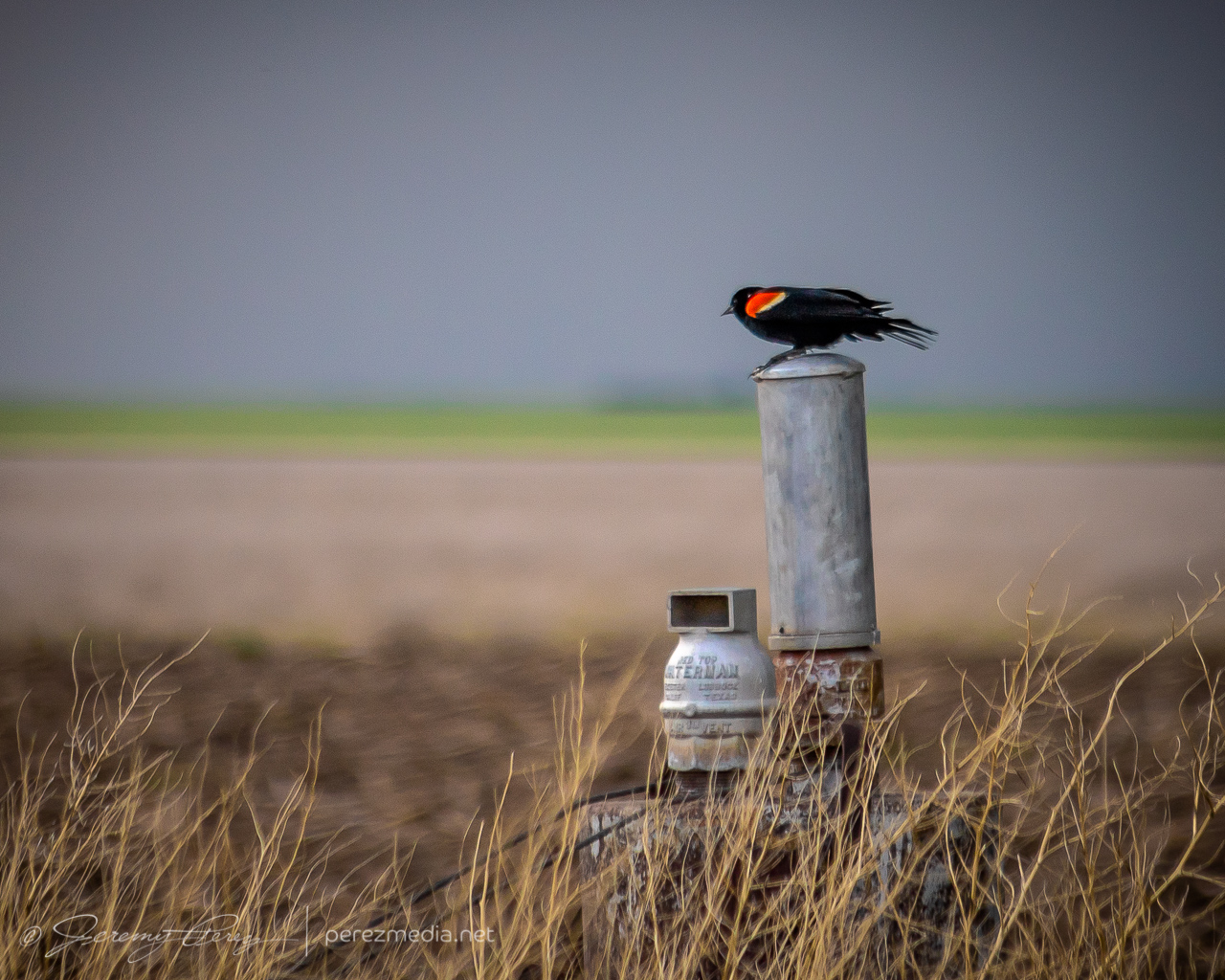 I worked on following the cell eastward and had to stop to move a beautiful plains garter snake off the road and get some photos before scooting it into a field.
After that, I caught back up with the storm about 18 miles north of Scott City. The best vantage was a picnic area on a hilltop which was already loaded with chasers, so I parked down by the road and hustled up the hill for some shots. Lightning was becoming a threat, so I didn't stay long.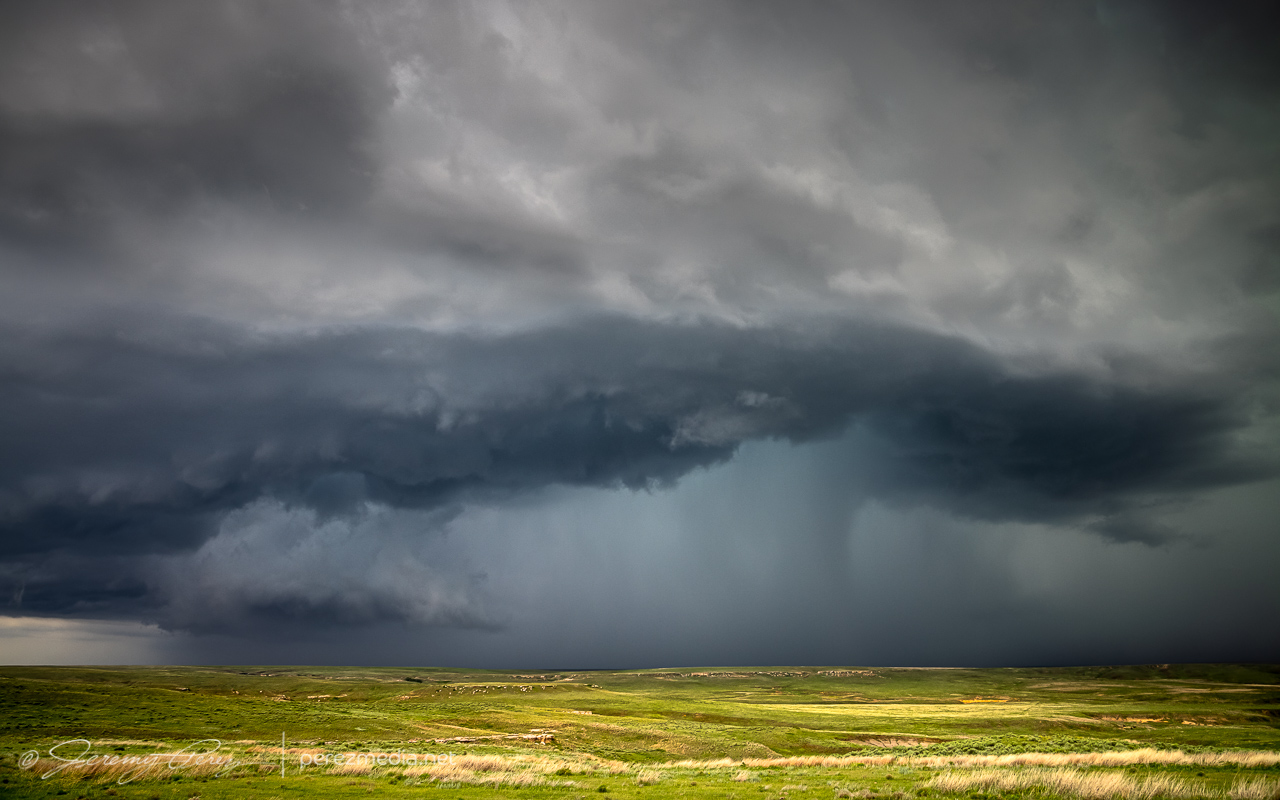 Instead of continuing with that storm, I decided to hurry south after a cell that looked better organized. As I approached, I was treated to the beautifully ominous view of an enormous supercell brooding over Kansas farmland.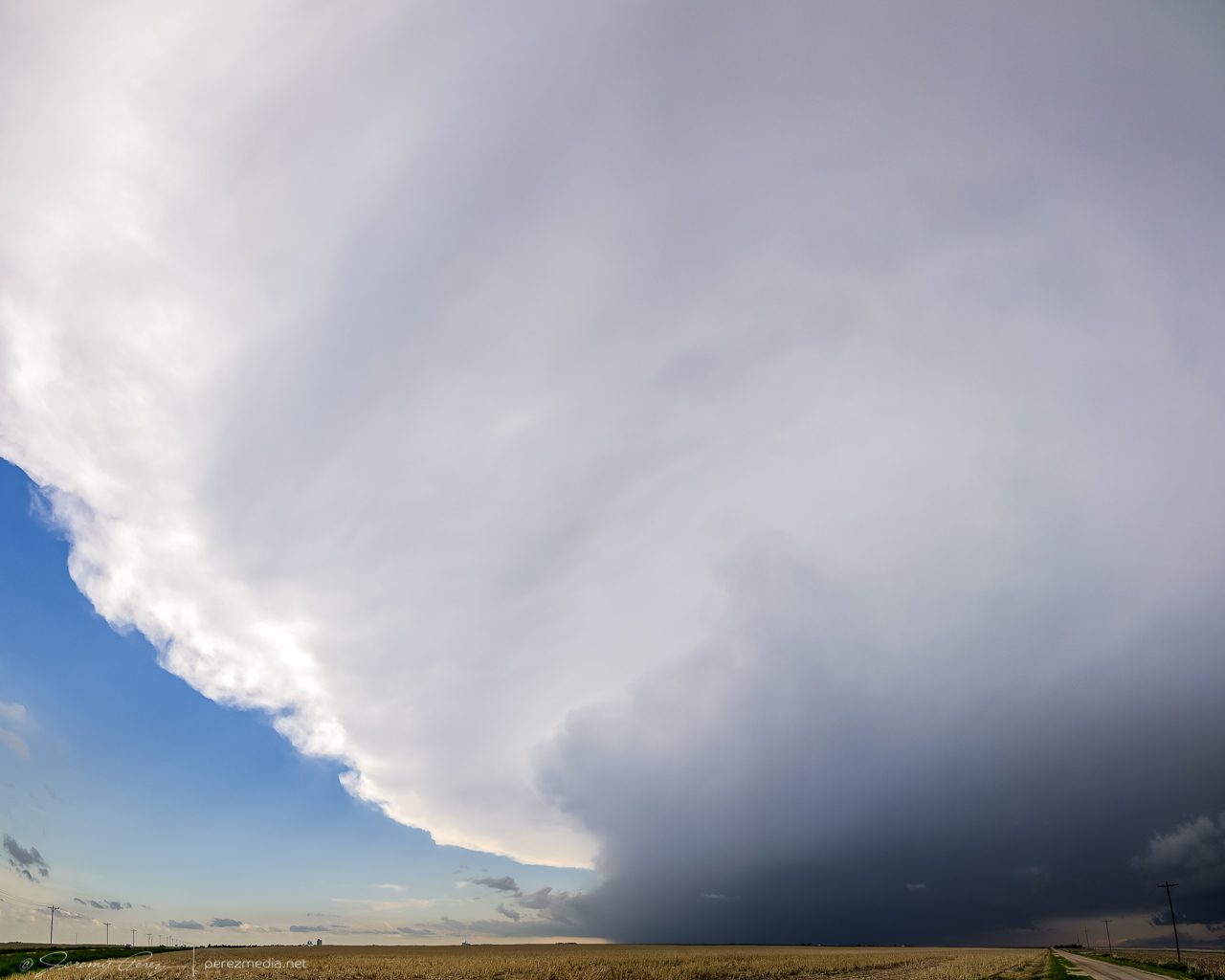 The great thing about this part of Kansas is that — really, most of Kansas — is that the grid will get you almost wherever you want to position on a storm…as long as it's not a mud bog. Fortunately, compared to my earlier start, these roads were in really good shape and by 2330, I was in a good spot to watch watch it in action and grab some time lapse footage.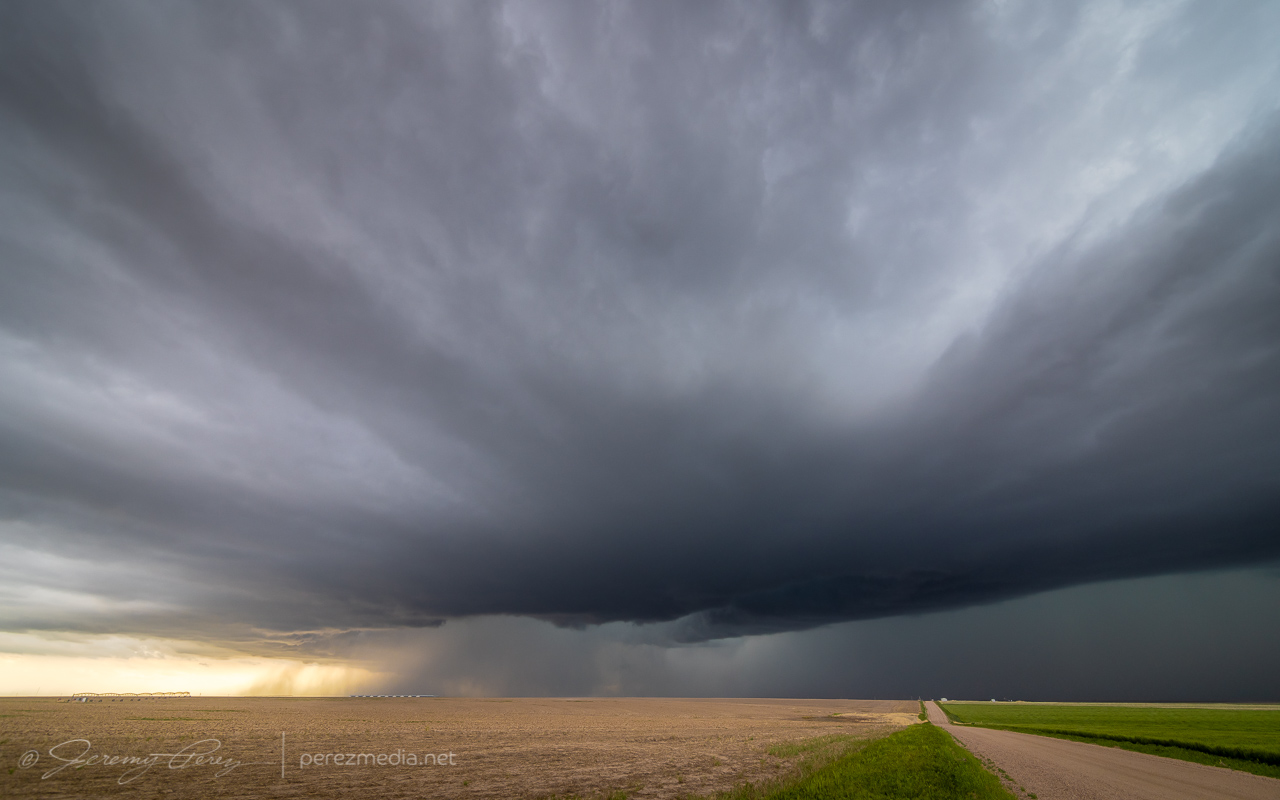 At one point, strong outflow from the forward flank kicked up a load of dust straight into a developing RFD slot where it was promptly vacuumed up. Definitely a fun thing to see in action.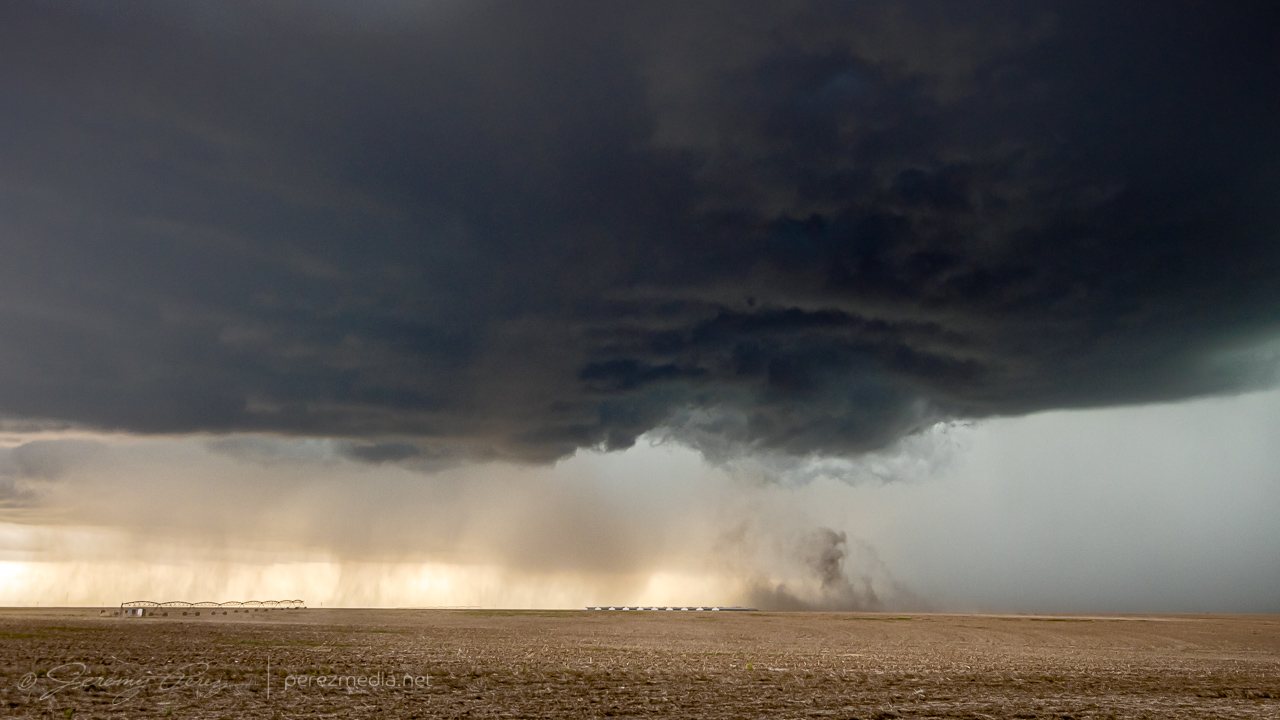 The storm was pretty cooperative with slow motions and straightforward to lead it eastward as it became solidly HP. Usually not a favorite mode, but structure outside the rear and forward flanks was continuously dramatic and made for awesome scenes along the way.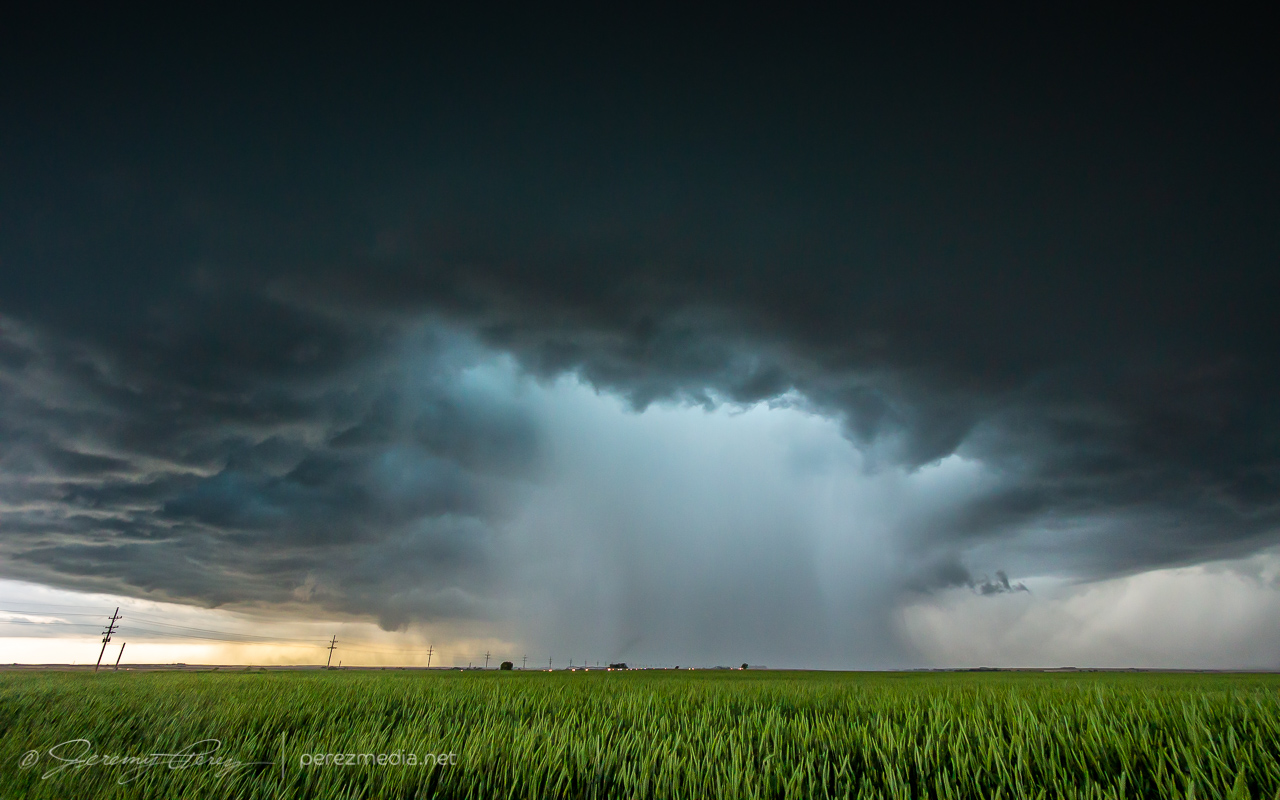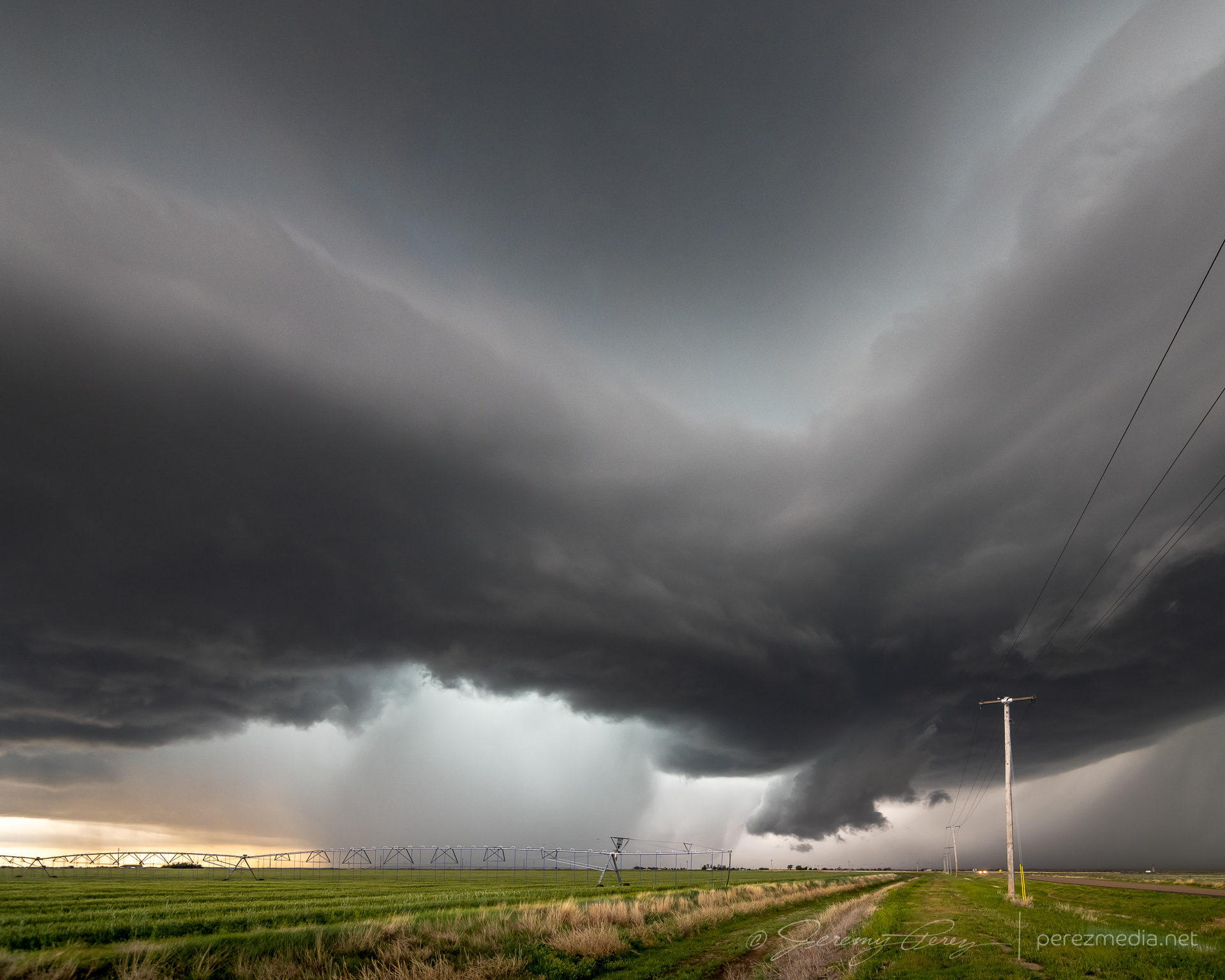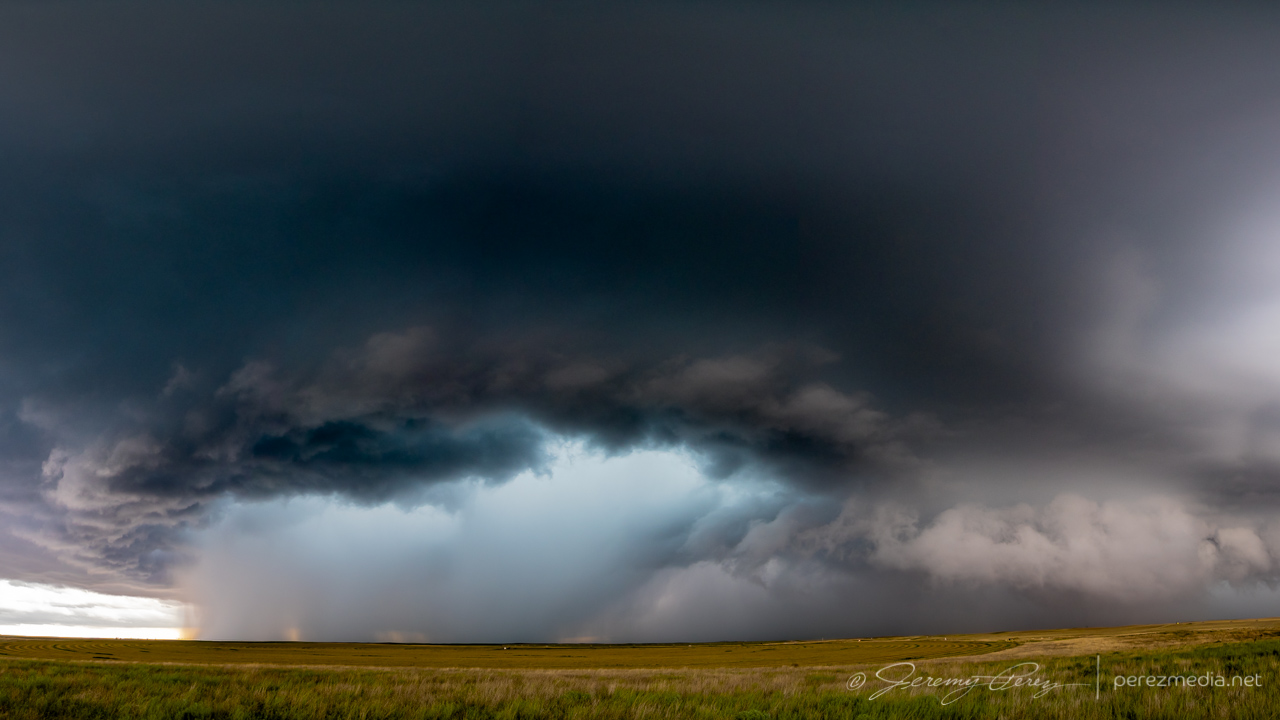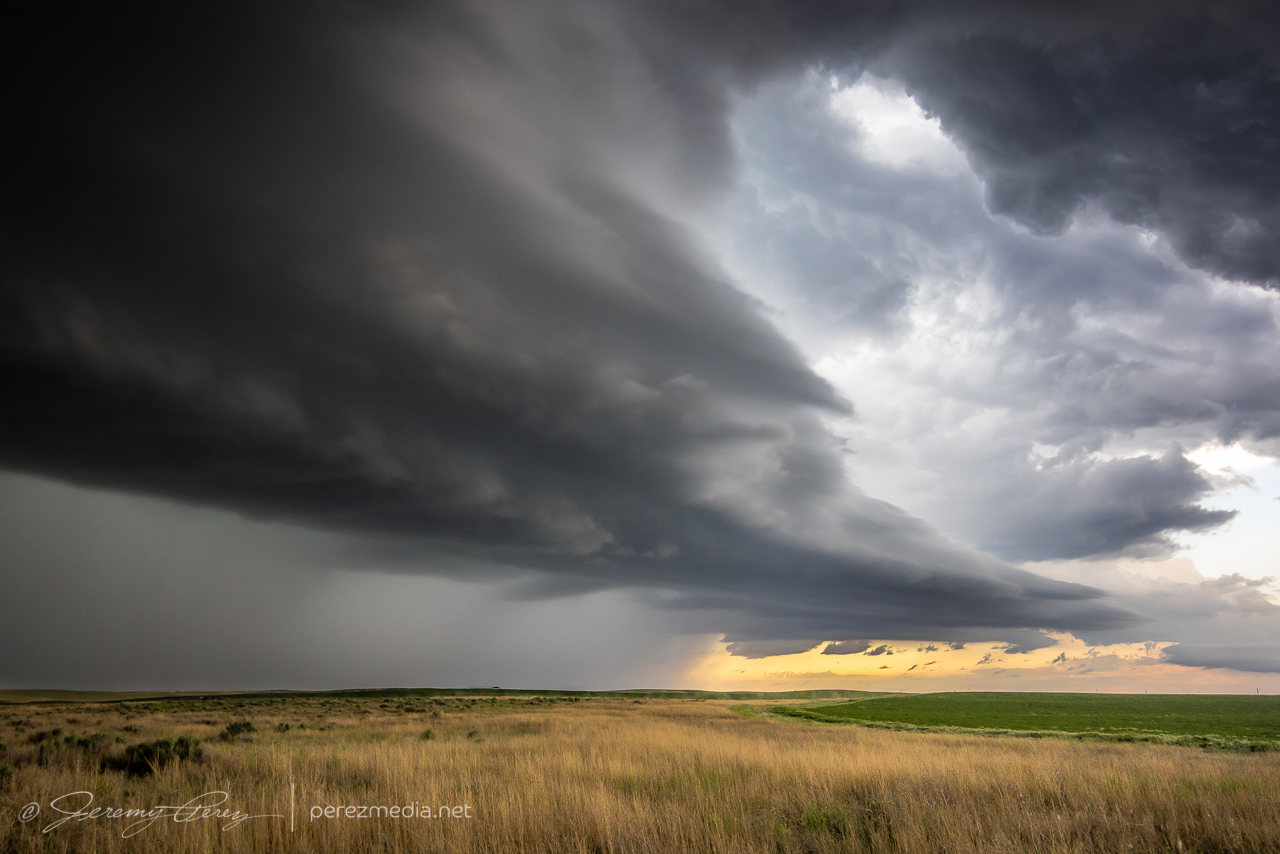 At one point, a shadow developed behind the RFD precip core. I haven't seen any tornado reports for that time and location, so it was probably just intense precipitation and/or scud. I still made an attempt at contrast enhancement to see what was in there as best I could.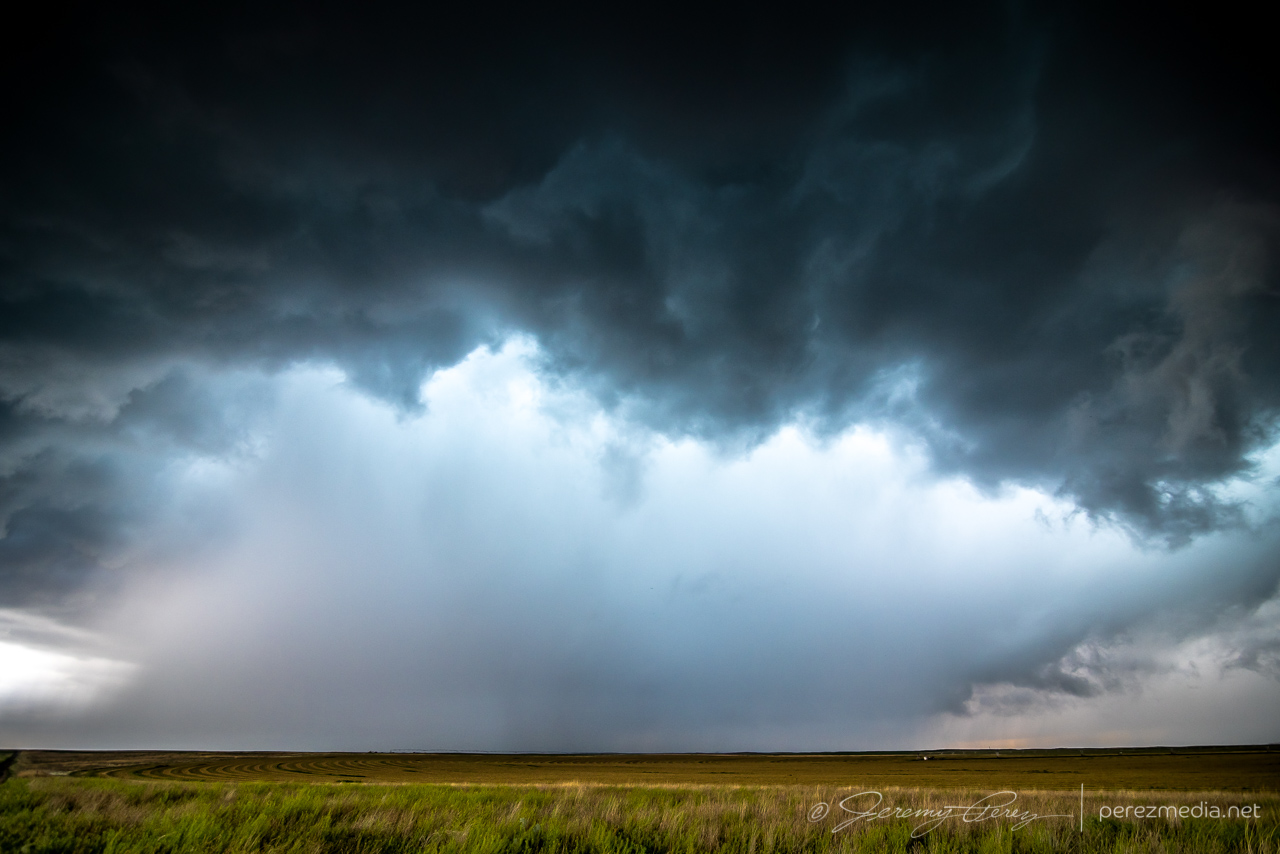 While hanging out on one of the sketchier dirt roads southeast of Deerfield, the forward flank started kicking up gustnadoes as I prepared to reposition eastward.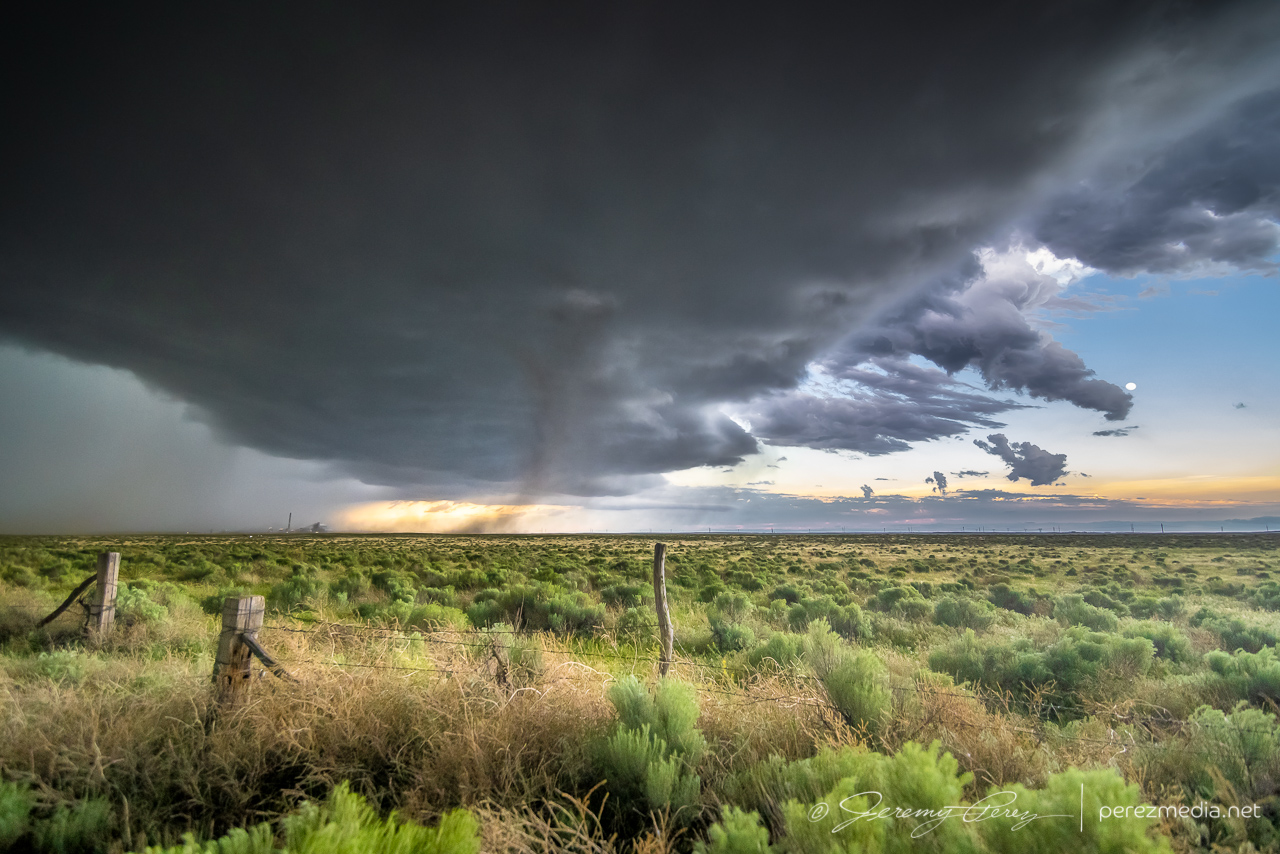 About five miles west of Plymell, sunset started to color the sky as the storm worked on reorganizing over some wildflowers.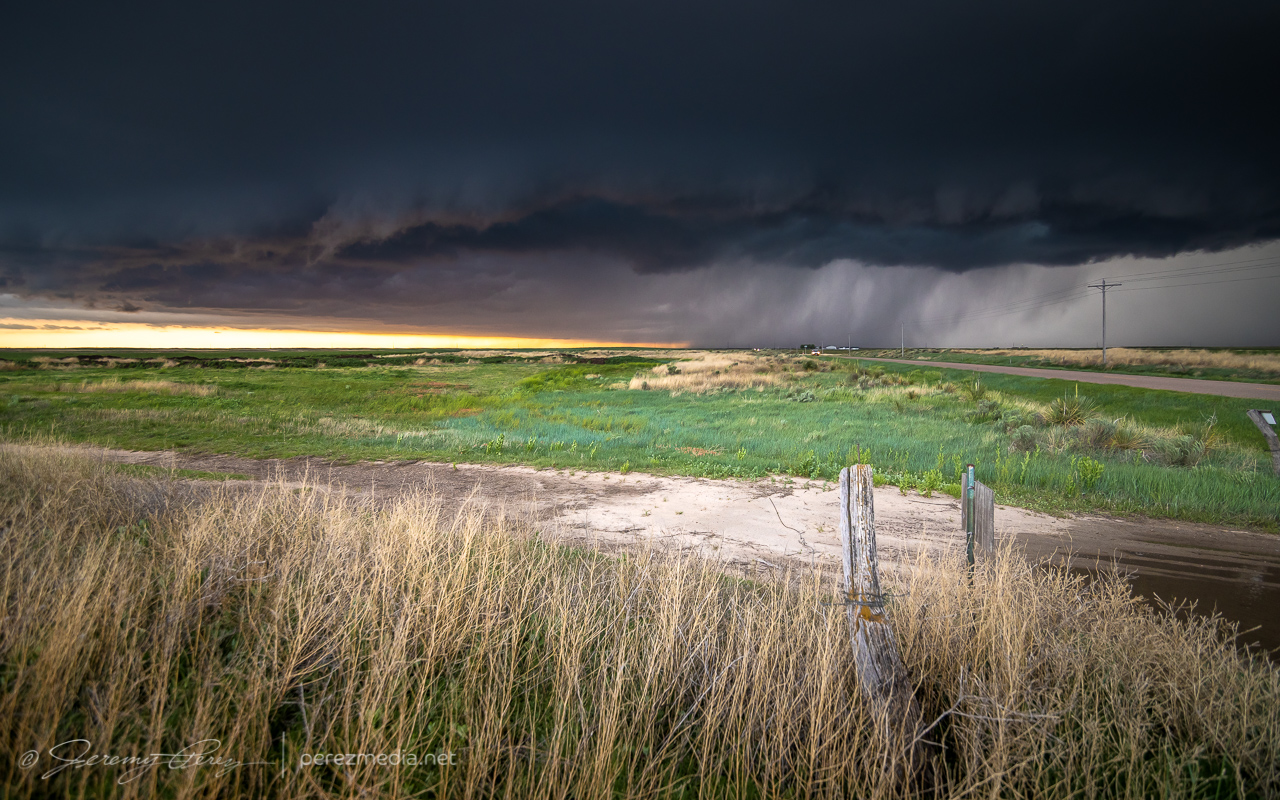 As blue hour deepened I tried to gain some ground on it for a time lapse, but I was too far north to get the great structure views that chasers a bit further south wound up with.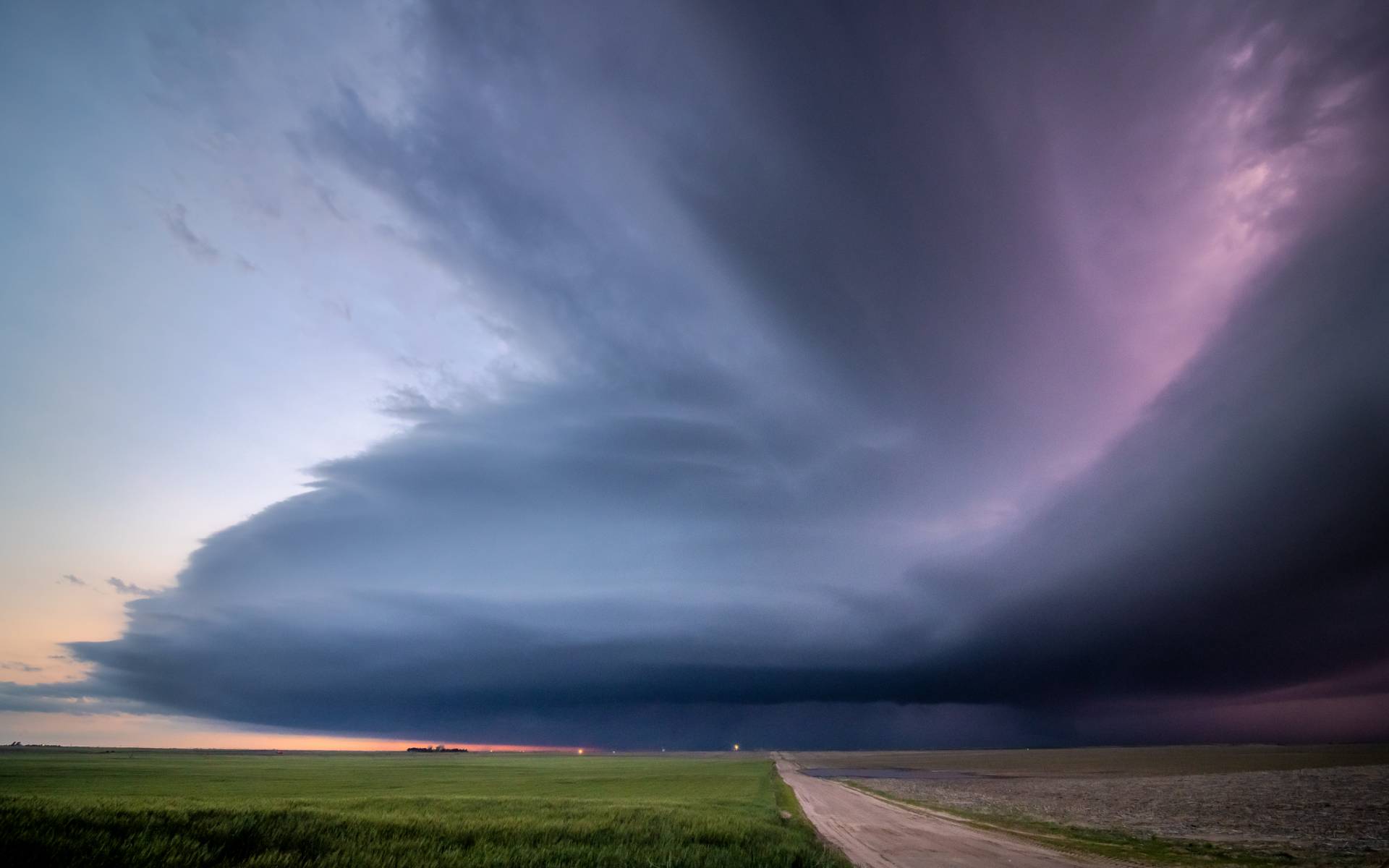 After about eight hours of chasing, I finished the day off with some lightning structure in between two inflow tails about three miles south of Ingalis. It was a long day, and a bit of a sting missing the Selden tornado, but the stormscapes were still awesome.