Published on
After a few hours sleep in the car, just north of Englewood, Kansas, I woke early, around 4:30AM, so I could find a spot to photograph the lunar eclipse at sunrise. I headed north and found a wind farm about six miles south of Minneola. It seemed like a unique way to kick start what I hoped would be a robust chase day.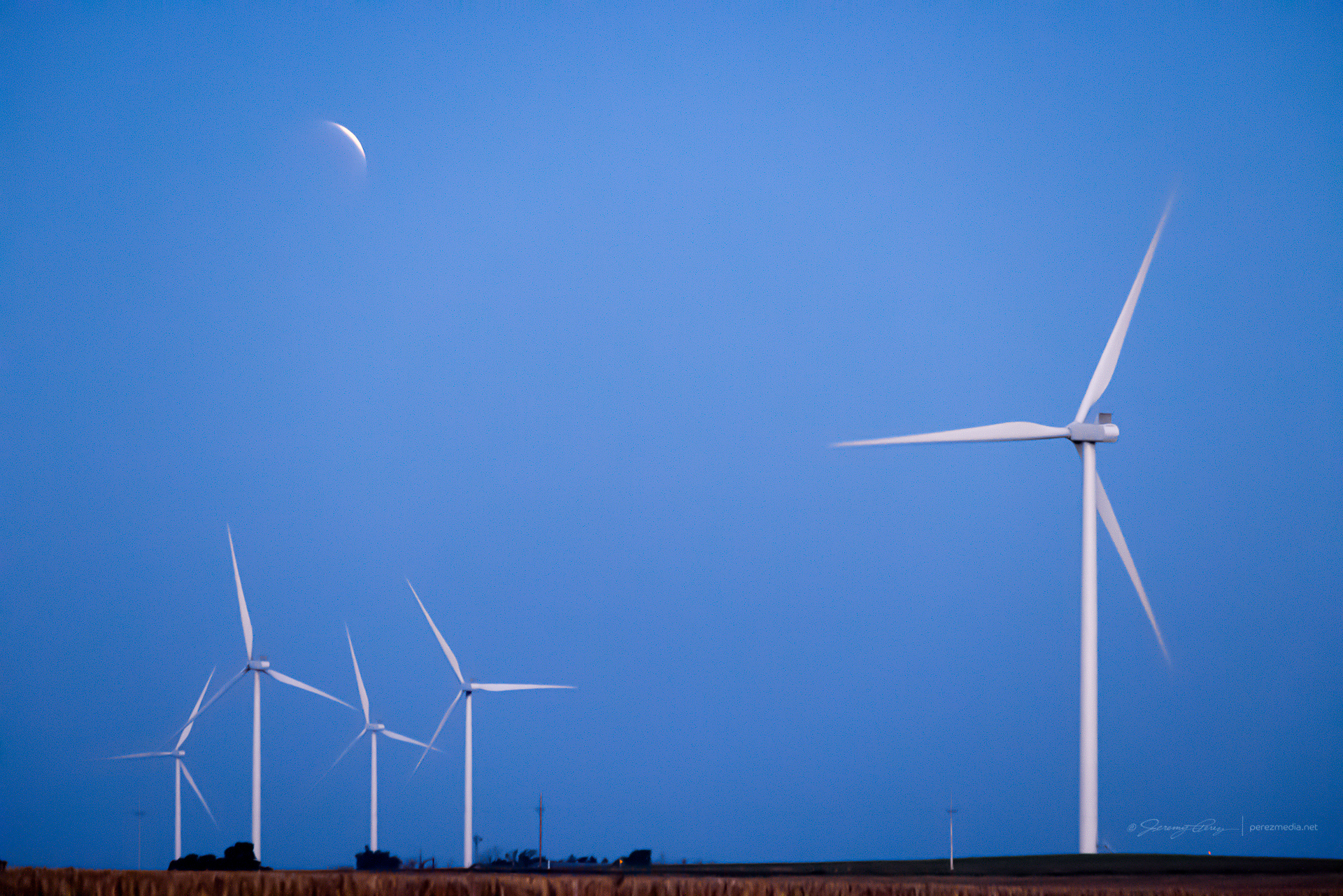 As the Moon disappeared into full eclipse, convection was already bustling on the eastern horizon as approaching sunrise silhouetted the towers and turbines. As the sun crested the horizon, the storm tops sculpted a great display of crepuscular rays. It was a beautiful thing to see, and worth the early start.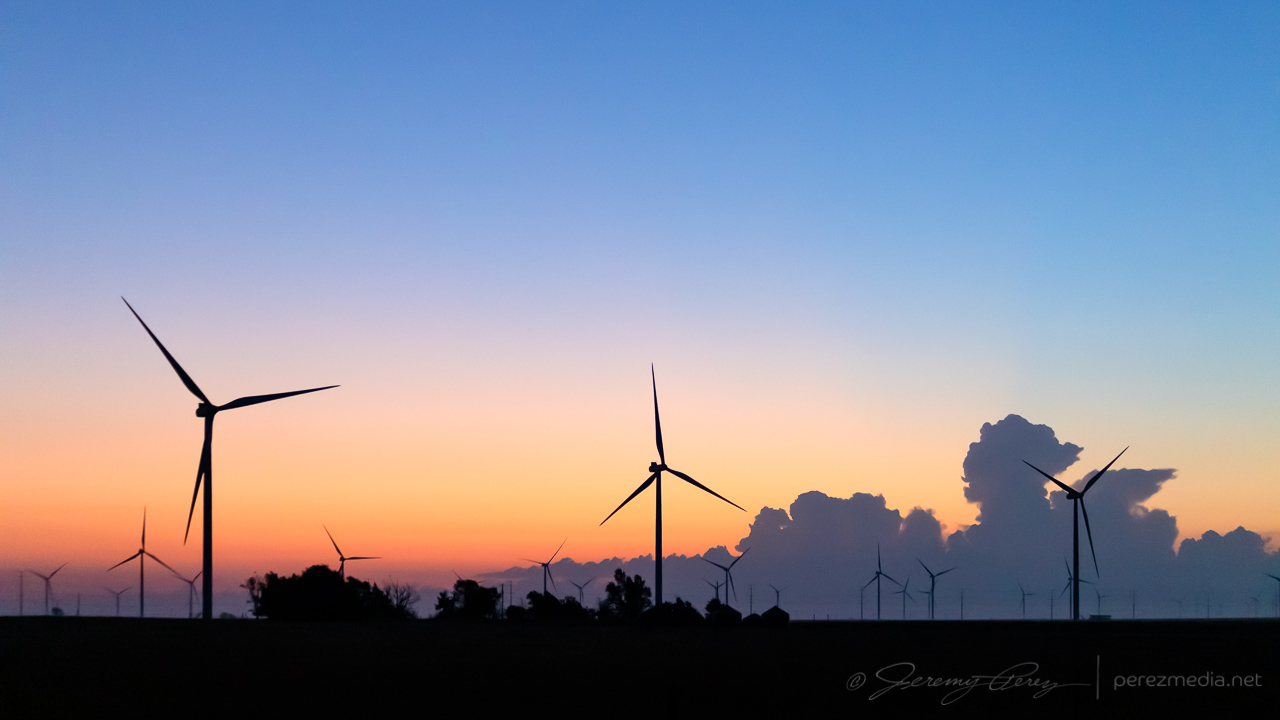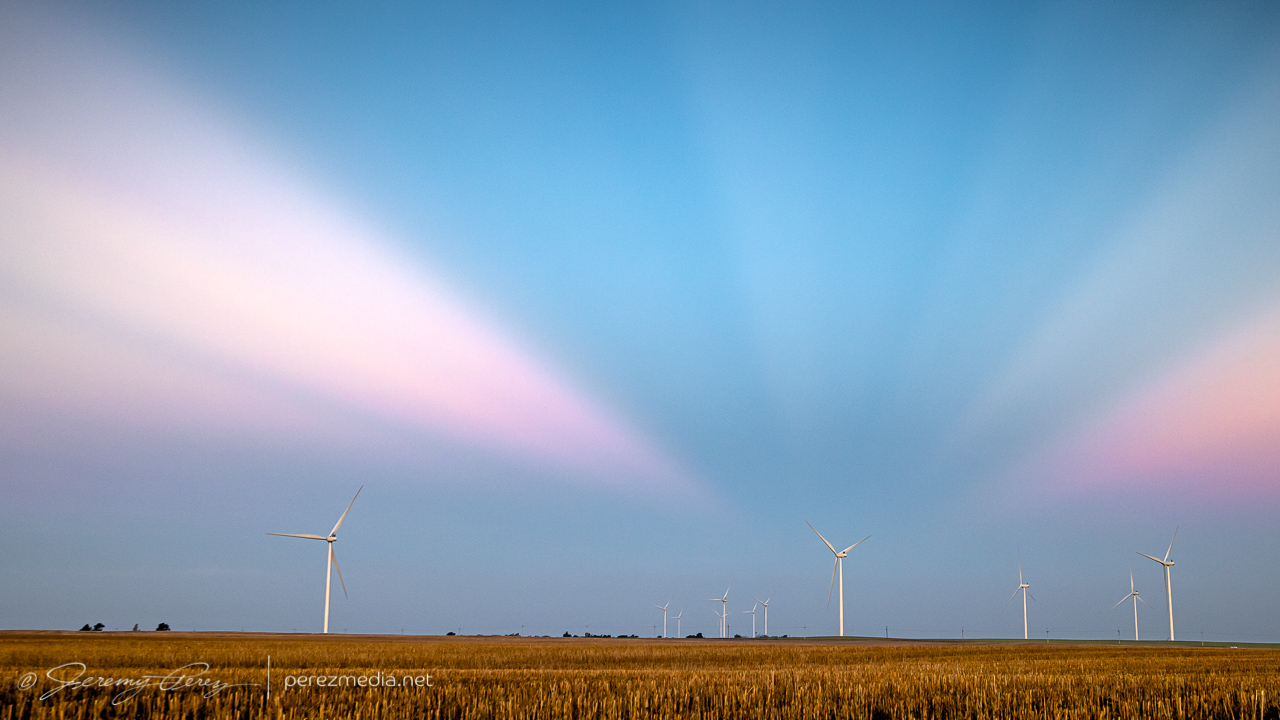 My chase target for the day was the dryline in far western Kansas. I was hoping for an isolated storm in that area rather than chasing a thicker bunch of storms on the warm front further north. My biggest concern was that a clean, isolated cell would lead to chaser logjams, so I was trying to prep for staying out of the mess as much as possible and hoping the unpaved grid had dried off enough to stay off the paved pain points.
Speaking of dried off enough, I was at my target south of Scott City early enough to do some maintenance on my wheels. The mud road adventure a couple days earlier was making for a very rough ride. I purchased small pry bar, found a remote dirt road, and went to work chipping all the dried on mud out of the wheel rims and everywhere else it was packed in. That made a huge difference in getting my smooth ride back.
Not long after 21Z, convection was firing on the dryline directly to the west. Strong storms were already bustling on the warm front, but this looked like the one I was hoping for.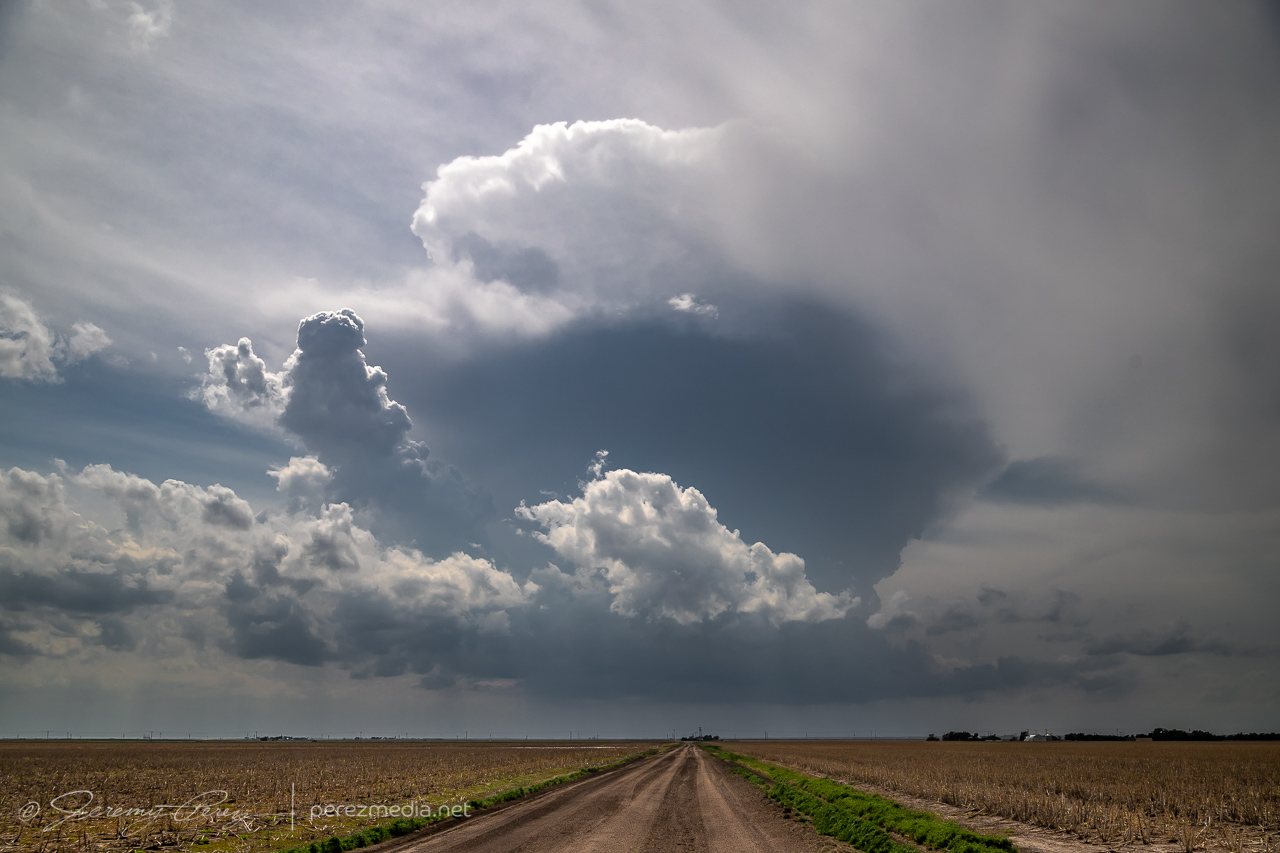 I took off after it as it drifted north and strengthened. The anvil was stretching straight overhead and I was pretty excited to run with this one on a good road network.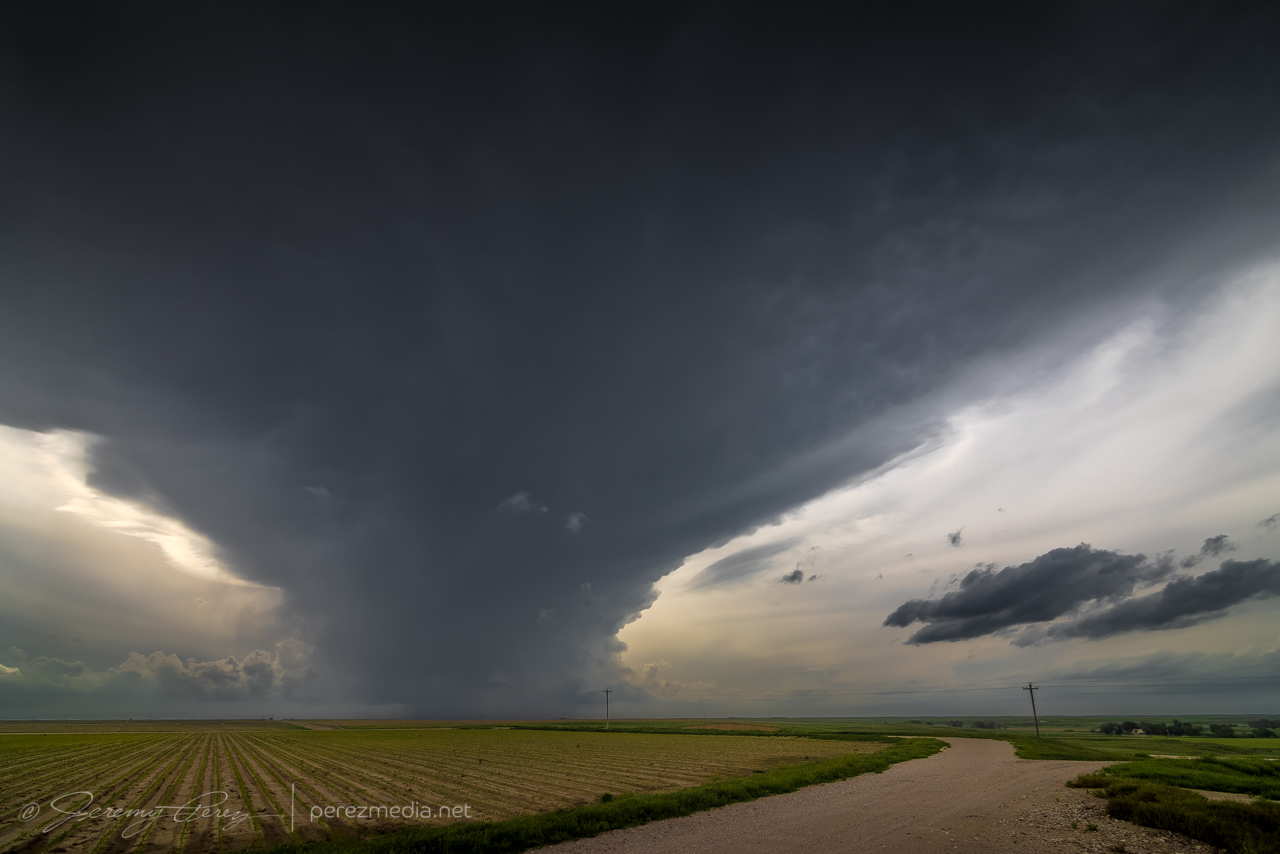 I headed west and north to get closer and wound through some interesting landscape in the drainage north of Pence. The cell was splitting and the left split was looking stronger on radar while the right one seemed to be diminishing. I wasn't going to try and run after the left one. The right one still had a decently sculpted look to it and I hoped it would recharge.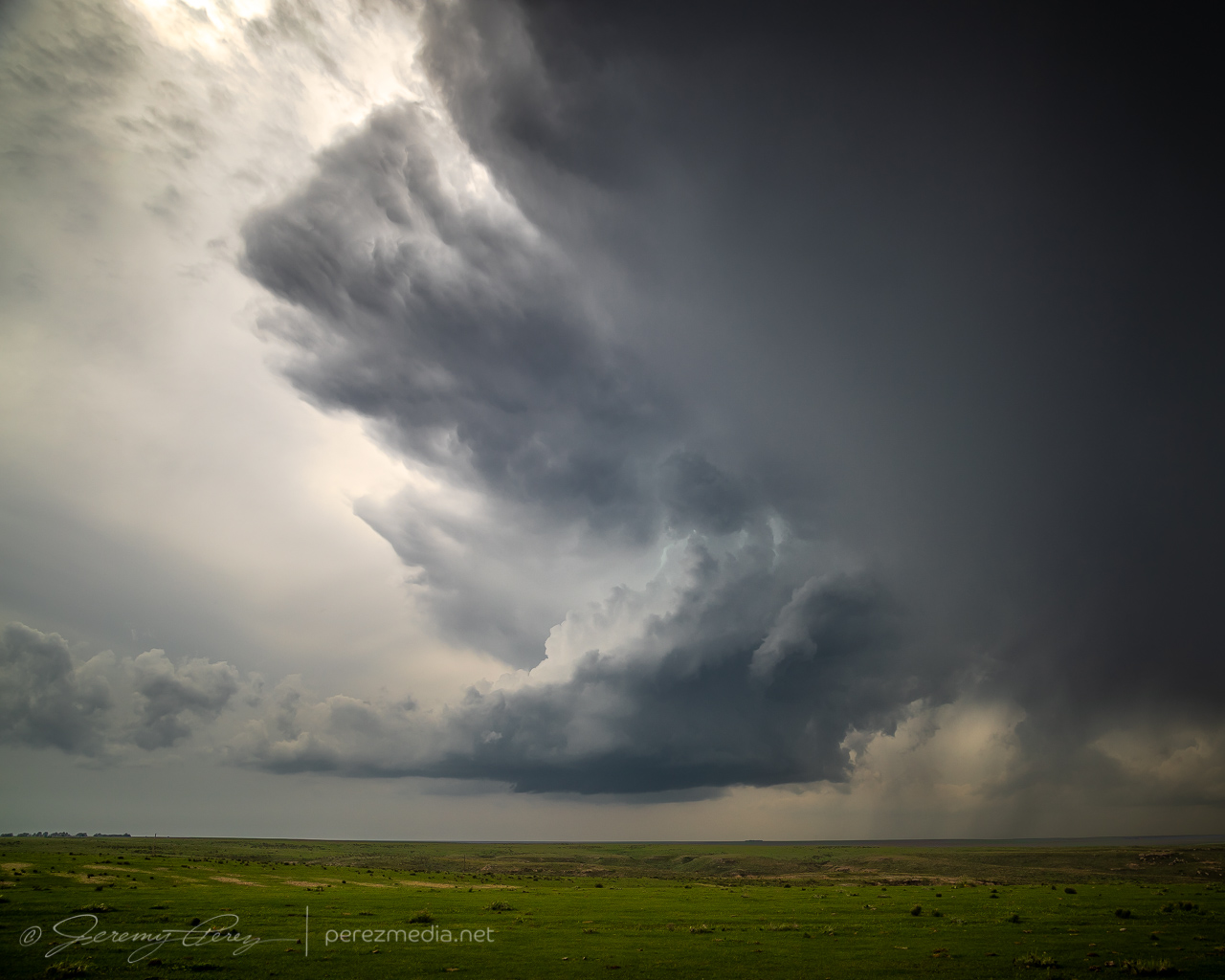 The cap was determined to smother this storm and dashed my hopes for it. So after some parting shots, I let it go and headed back to Highway 83 to try and salvage something with storms further north.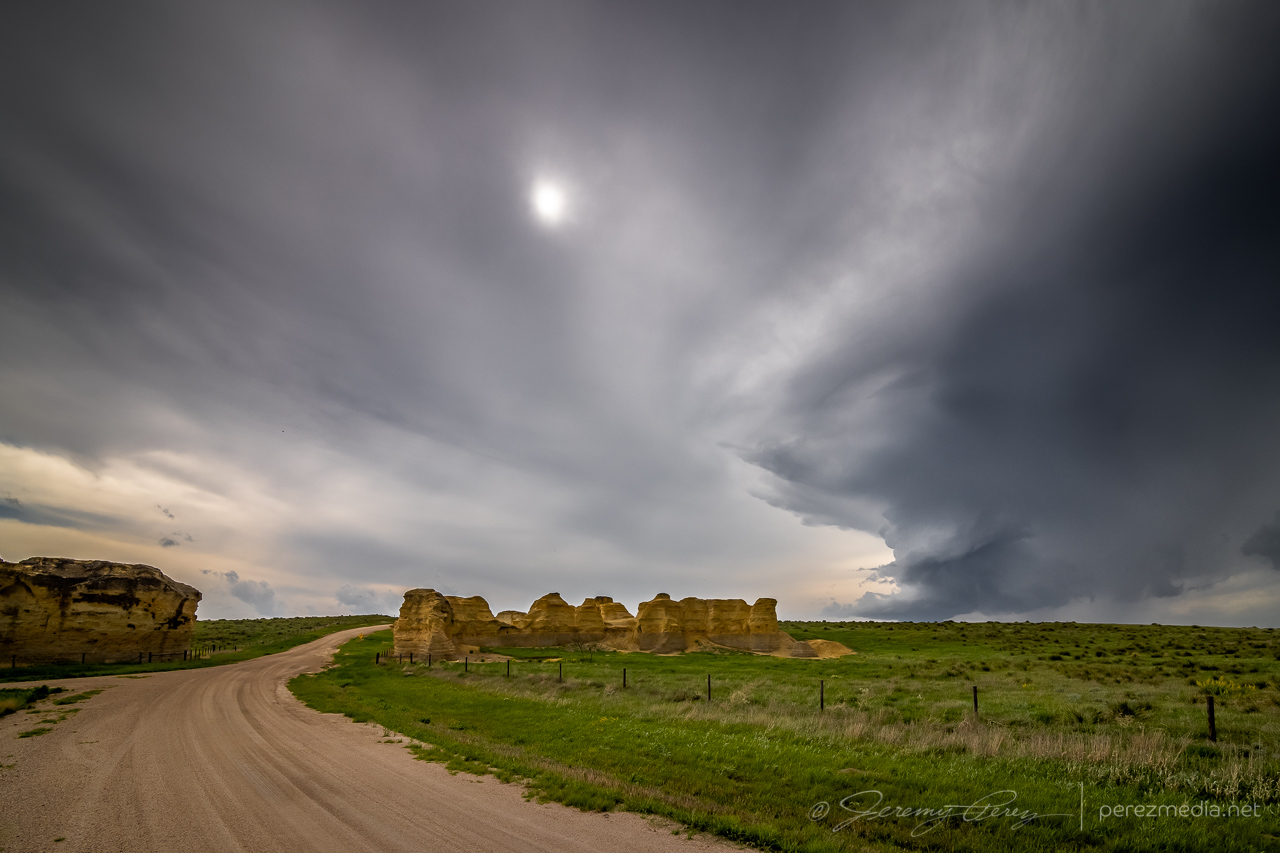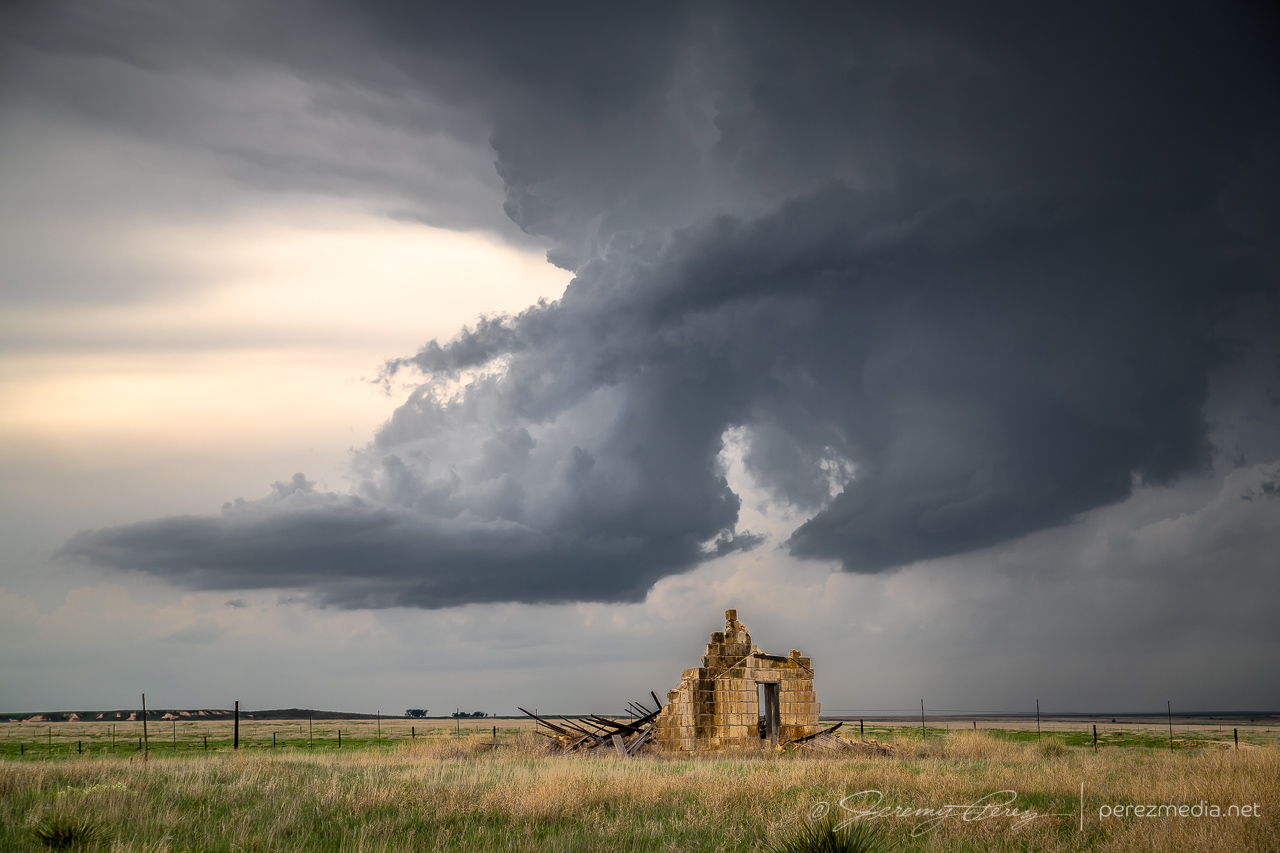 About an hour and a half later, up east of Hoxie, I was catching up to a new batch of development and worked my way further east and then north. Storms were ongoing and developing all around me, but were spaced enough apart to be able to avoid hail and get some clear shots along the way.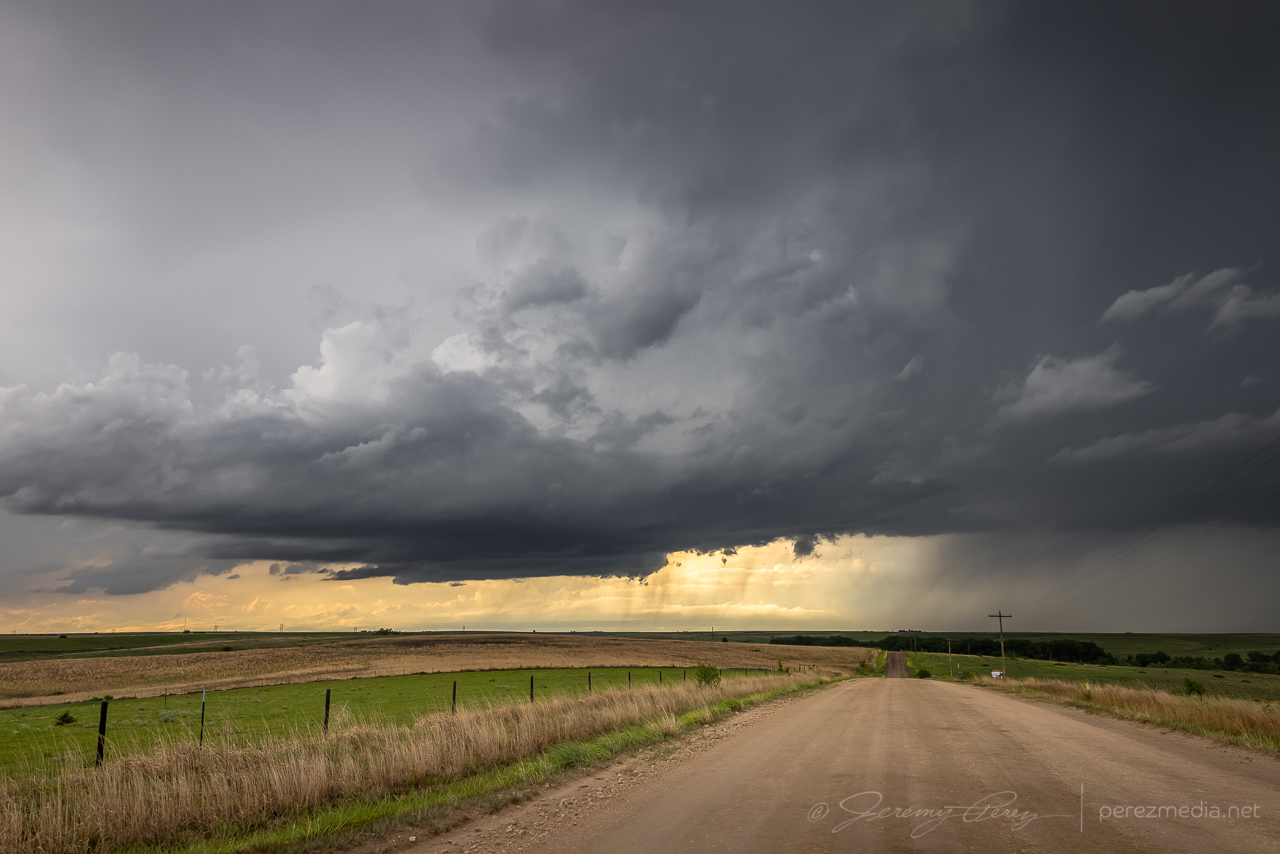 Terrain was a challenge in places and a couple miles West of Penokee, I took a gamble on an unpaved road that had been freshly rained on so that I could get a hill crest vantage. It seemed a bit slick on the way up, but not too bad and it offered a great view for a while. The trip back down the hill was sobering. Gravity threatened to turn every slight nuance of braking and turning into a slow sideways glide into the ditch. After successfully getting back to the paved road, I committed to staying off the dirt roads in this freshly soaked area.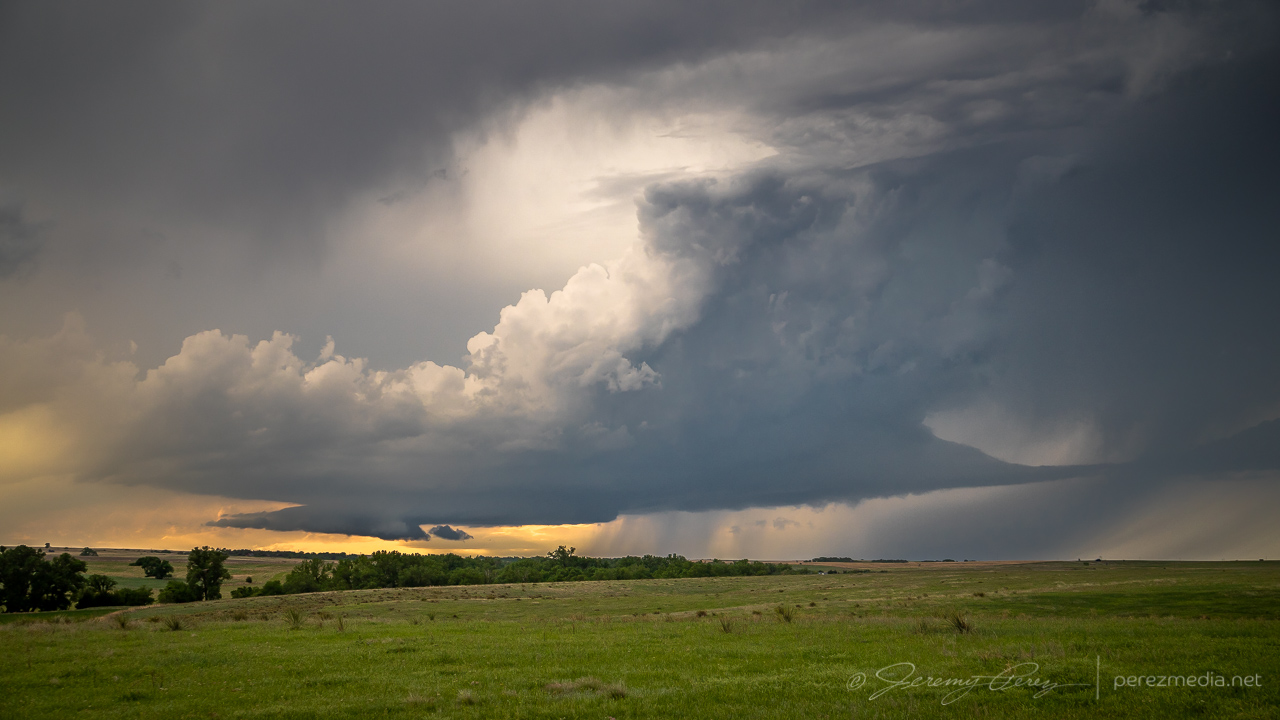 The cell I was following gradually shriveled away as I paced it north of Hill City. I detached and tried to see if storms coming up from the south would do any better. But that turned into a mess, being on the wrong sides of the cells and not wanting to core punch or get out on the grid for better angles. So I headed further north to get in the clear and try for some twilight shots.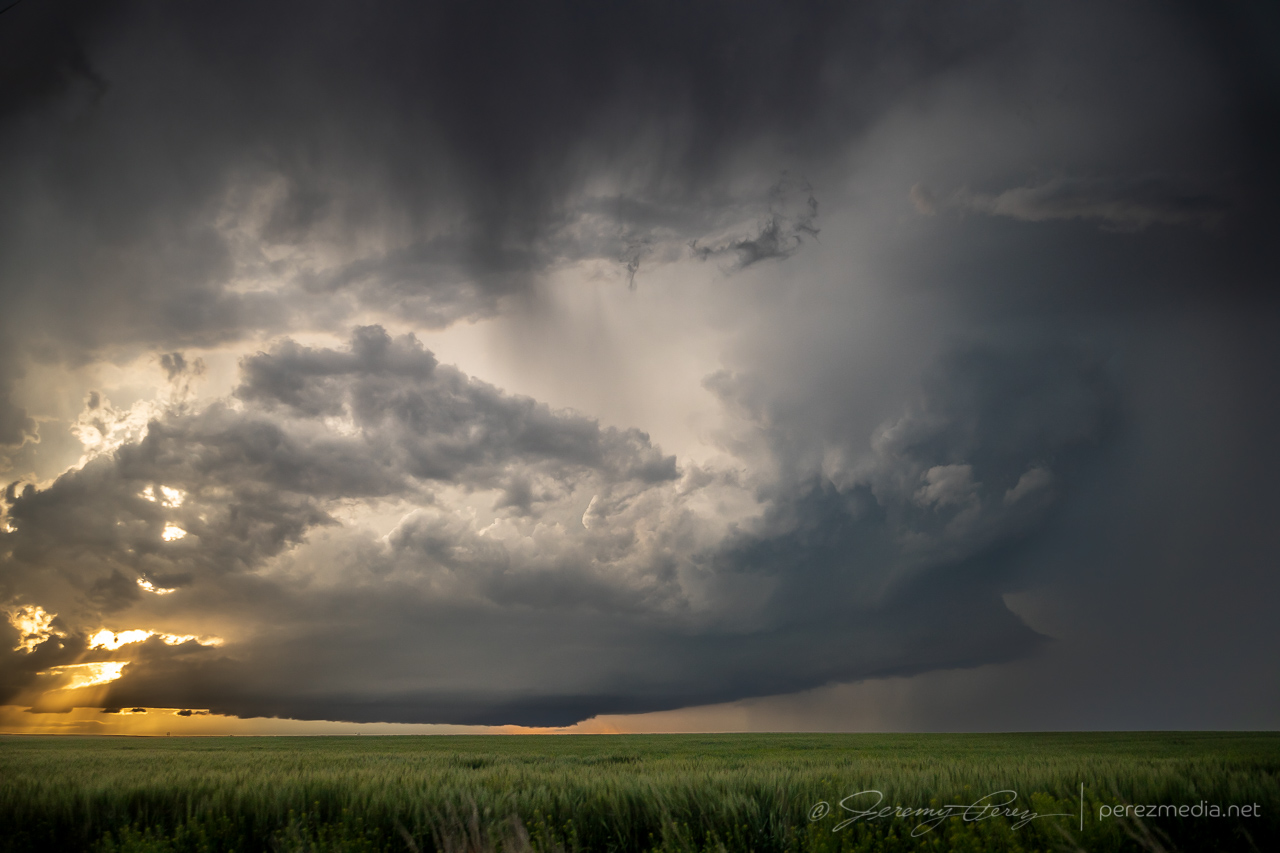 A couple miles west of Norton, I found a spot with a good view of a trio of stronger cells spinning away in the clear as twilight deepened. So I set up cameras on both of them and snagged time lapses with some beautiful structure and lightning. The day didn't serve up what I had hoped for, but getting shots of several supercells and twilight lightning was still a success.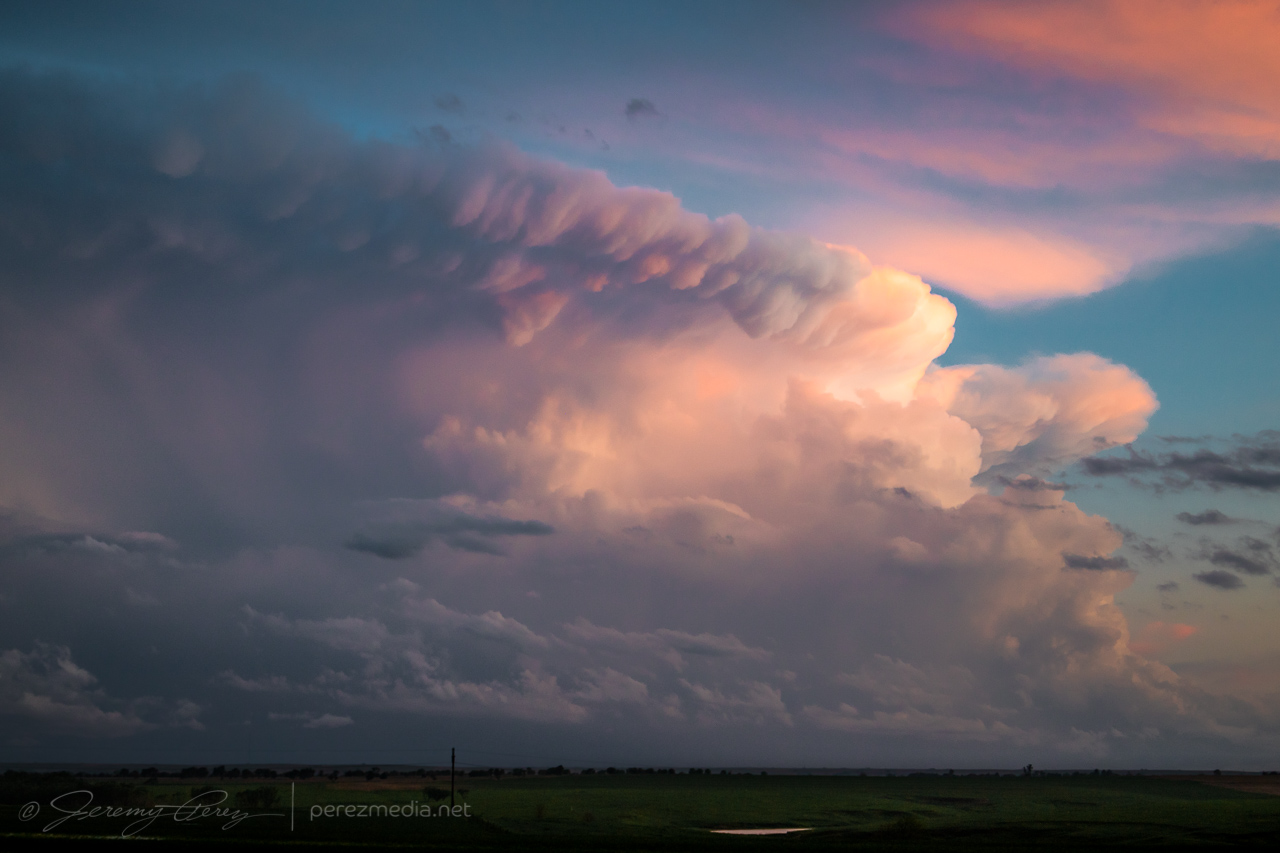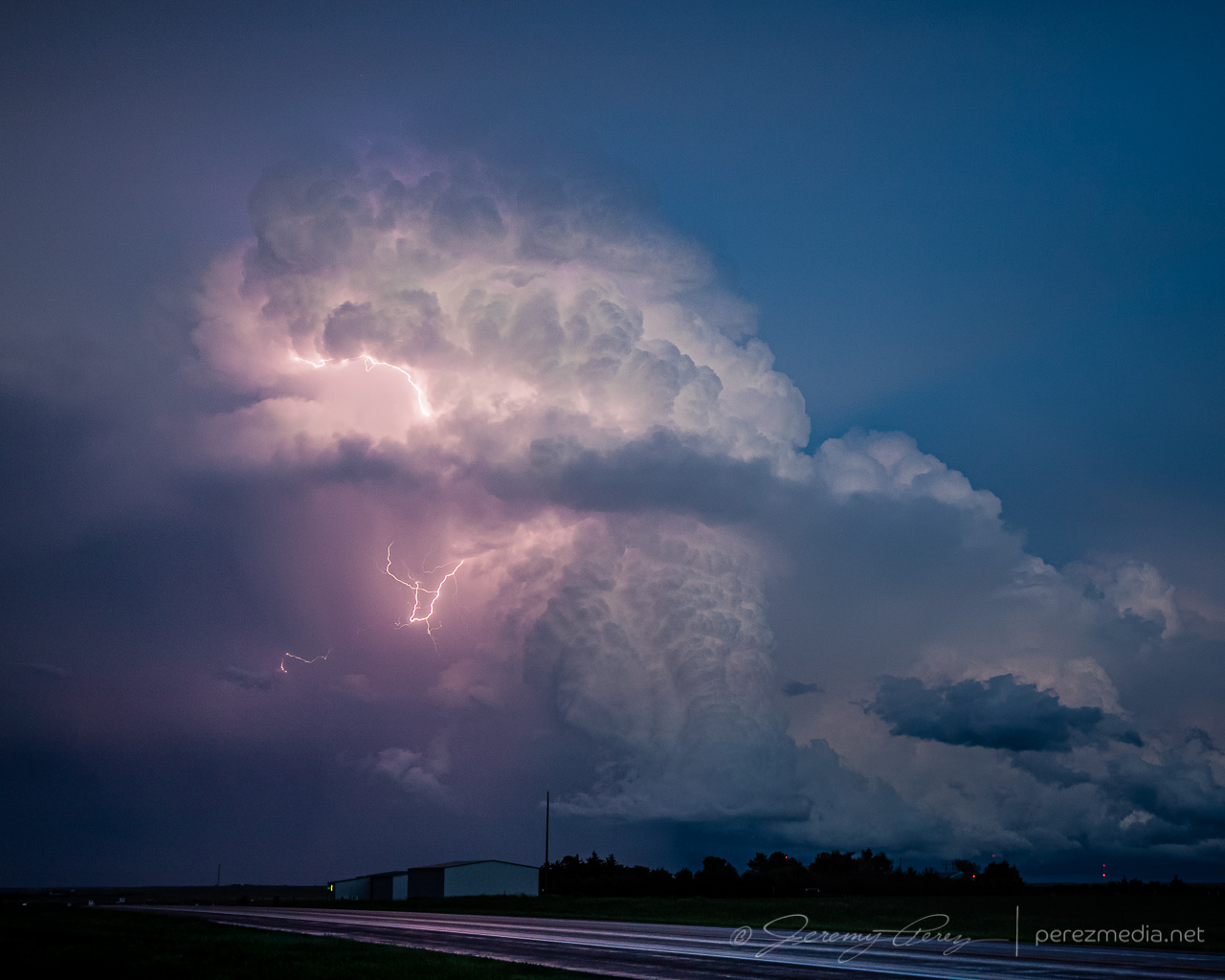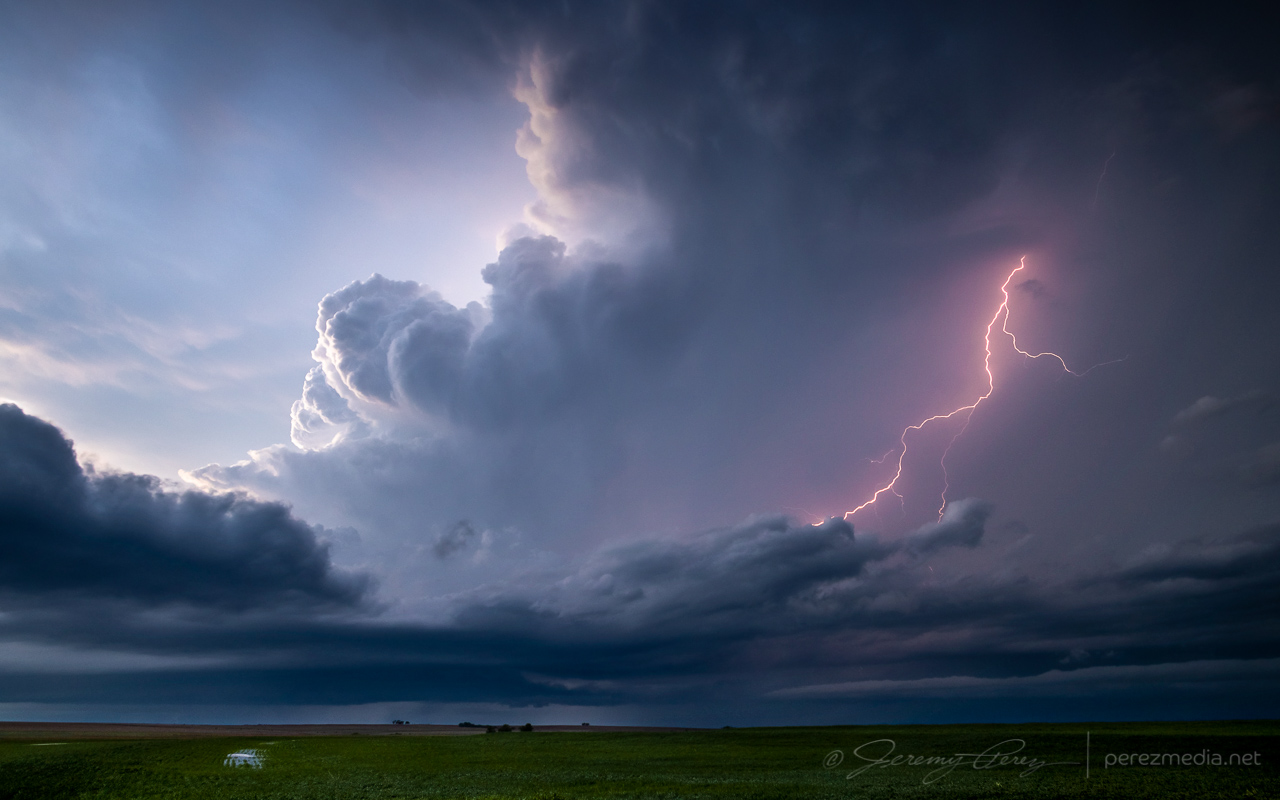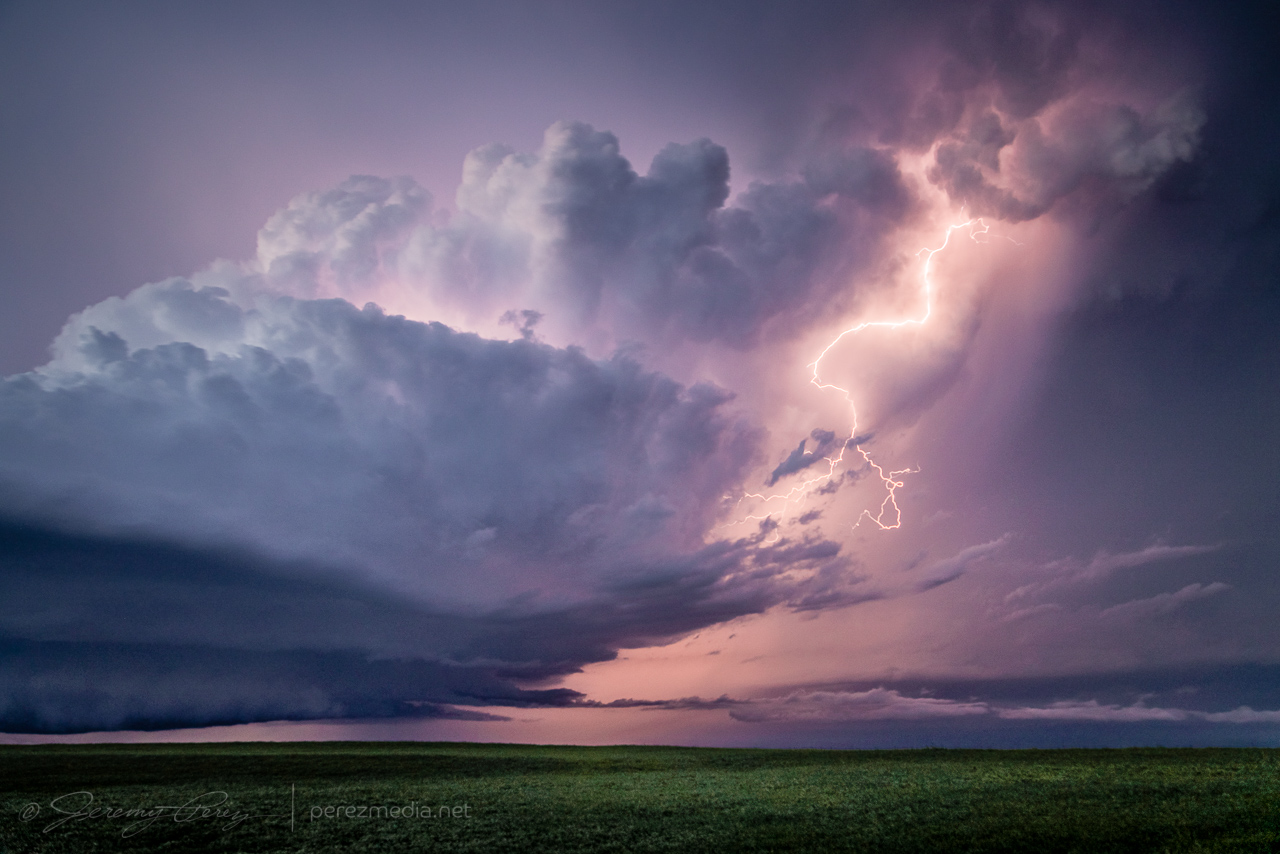 I was originally planning to get a hotel for the night, but gave up on that option and just boondocked again south of Plainville so I could save time and grab as much sleep as possible before a long drive the next day deep into the Texas Panhandle.
A couple cell phone videos of the lightning display posted during the chase are below.