Published on
May 17th was the first day of our 2019 chase vacation. The evening/overnight day 1 drive out from Arizona is pretty tiring, so I opted for the southern play in south Texas. The Kansas-Nebraska target looked good too, but I was worried I'd be too wiped out getting up there in time for convective initiation.
By dawn, we were entering southeastern New Mexico with impasto textured clouds painted on a bright blue sky. Road construction near Pecos held us up for an unexpected half hour as clouds began to agitate over the Davis and Glass Mountains further south. Until you clear the logjam, it's pretty stressful wondering whether these are the number of minutes you'll wind up behind whatever awesomeness is in store for the day.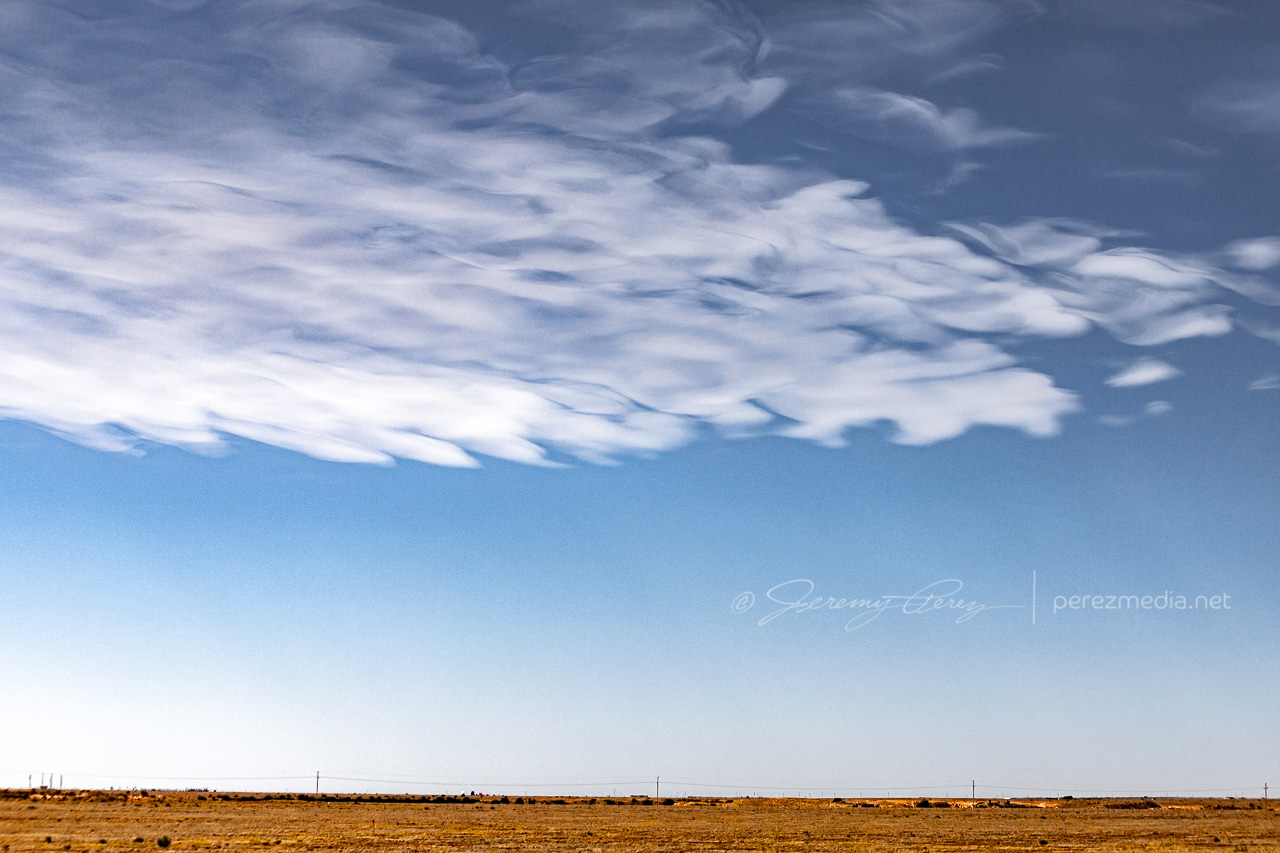 By the time we wrapped up a quick fuel stop in Fort Stockton, what was soon to be our storm of the day was spattering raindrops on us as we pushed east on I-10. Once we gained some ground, we could stop to appreciate how things were building. The first shot immediately below shows a view that is difficult to convey in a photo. The updraft and growing feeder bands framed a window up to the distant, looming, mammatus filled anvil. There was so much depth and enormity to that scene it just filled me with awe.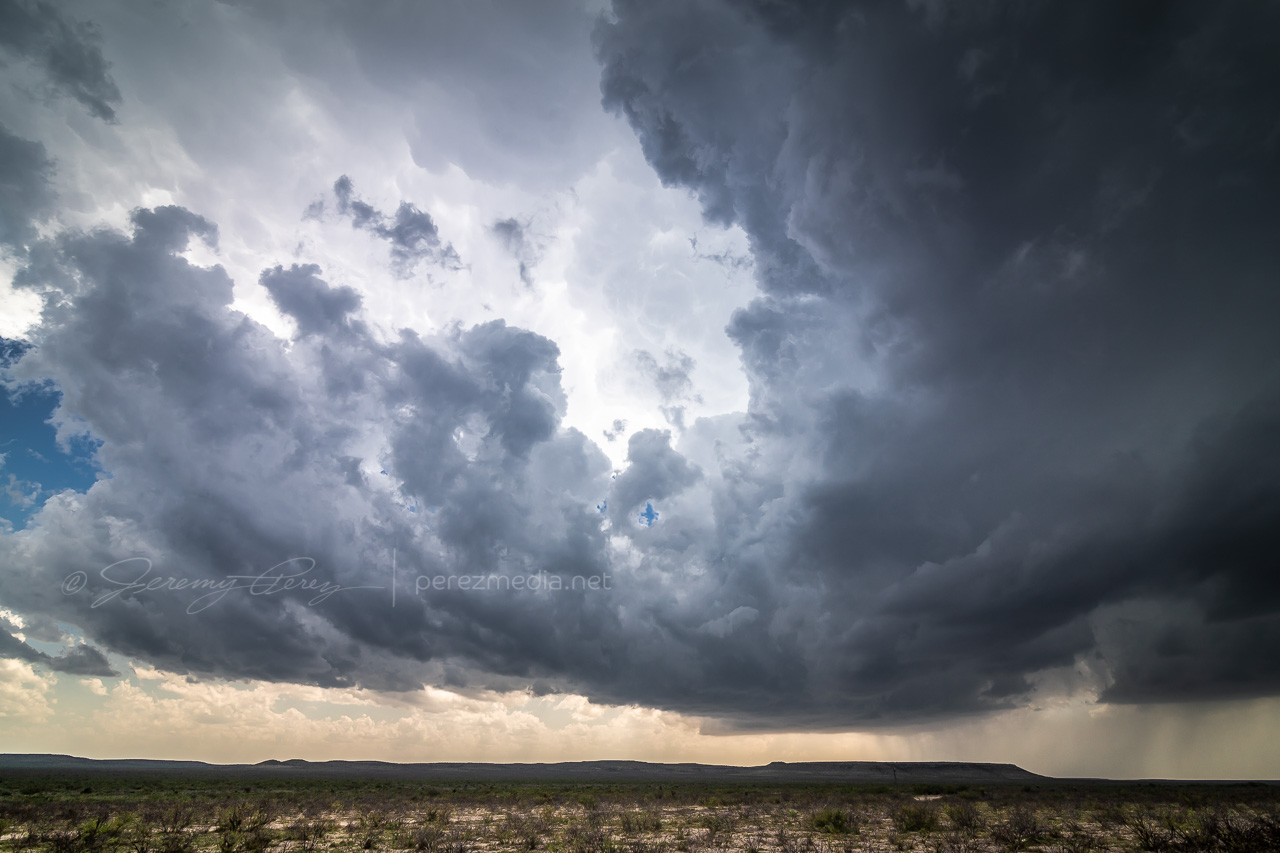 Further east, the interstate was paralleled by an excellent service road, and we used that to grab elevated vantages as the storm grew in strength.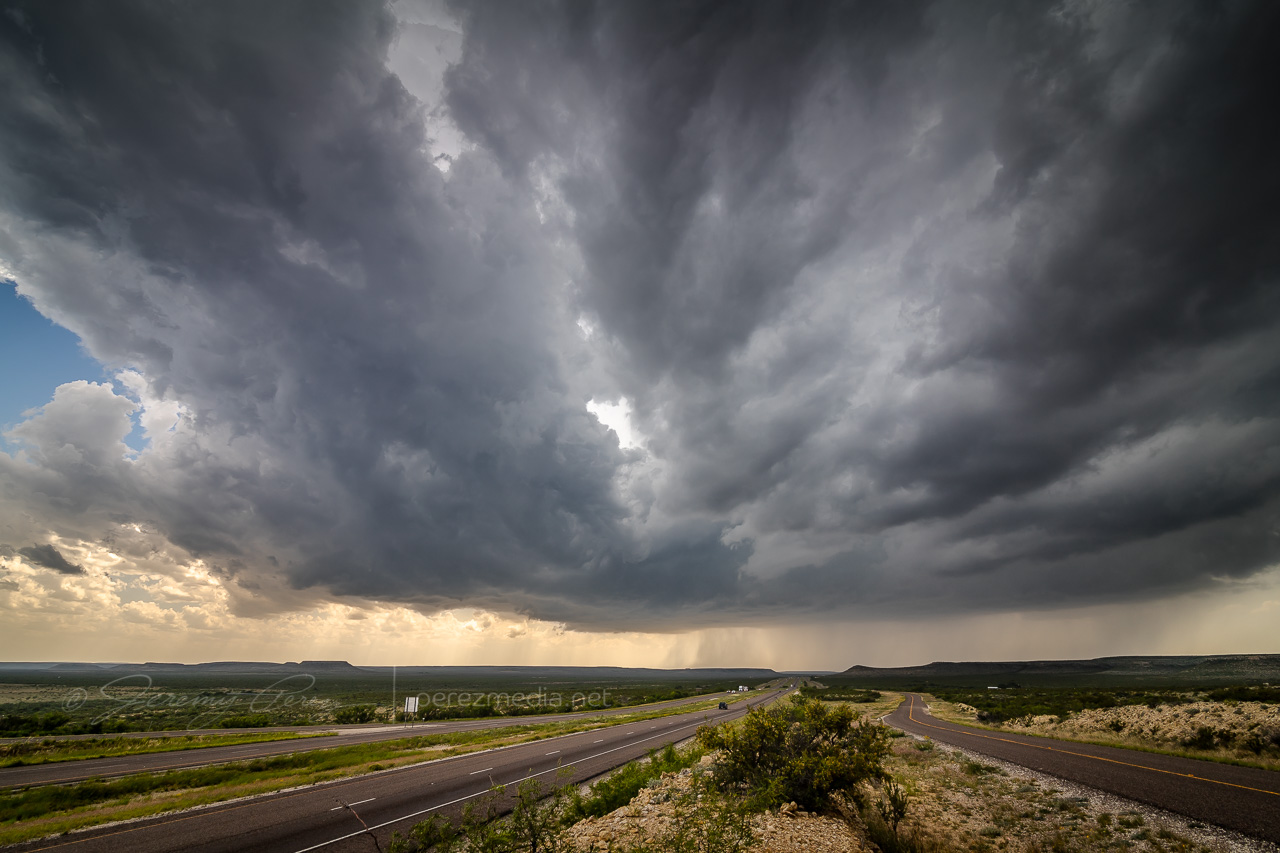 By 2110Z a disorganized wall cloud started to develop. It spent about thirty minutes toying with this idea before kicking into the next phase.
By 2143Z, things started to happen very quickly. The base was strongly backlit at this point and contrast made it difficult to tell what was happening up in the ragged mess of the wall cloud. I thought I could see a funnel enmeshed in the profile, but wasn't certain. I then caught sight of a dust plume up on the mesa beneath the base, but still wasn't sure whether or not it was an RFD gust (our pics & video confirmed this was tornado contact).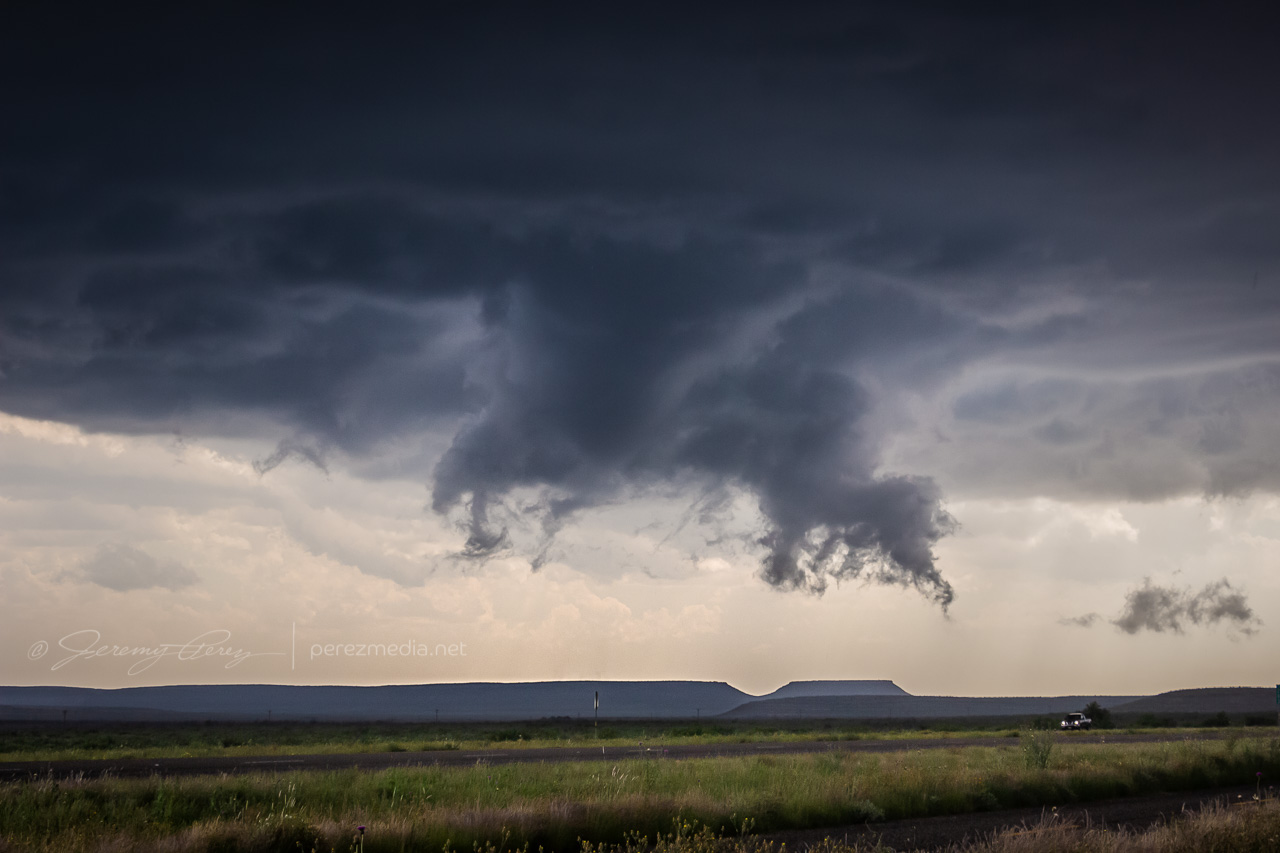 While trying to figure that out, the first hailstones were starting to bounce and shatter around us while growing in size. It was my first month with a used but new-to-me RAV4 and I was in enhanced hail-avoidance mode. So we pulled up stakes with the idea of heading a couple miles further east to stay out of the bigger stuff. A couple miles further east at 2147Z, my daughter called out that it was definitely down.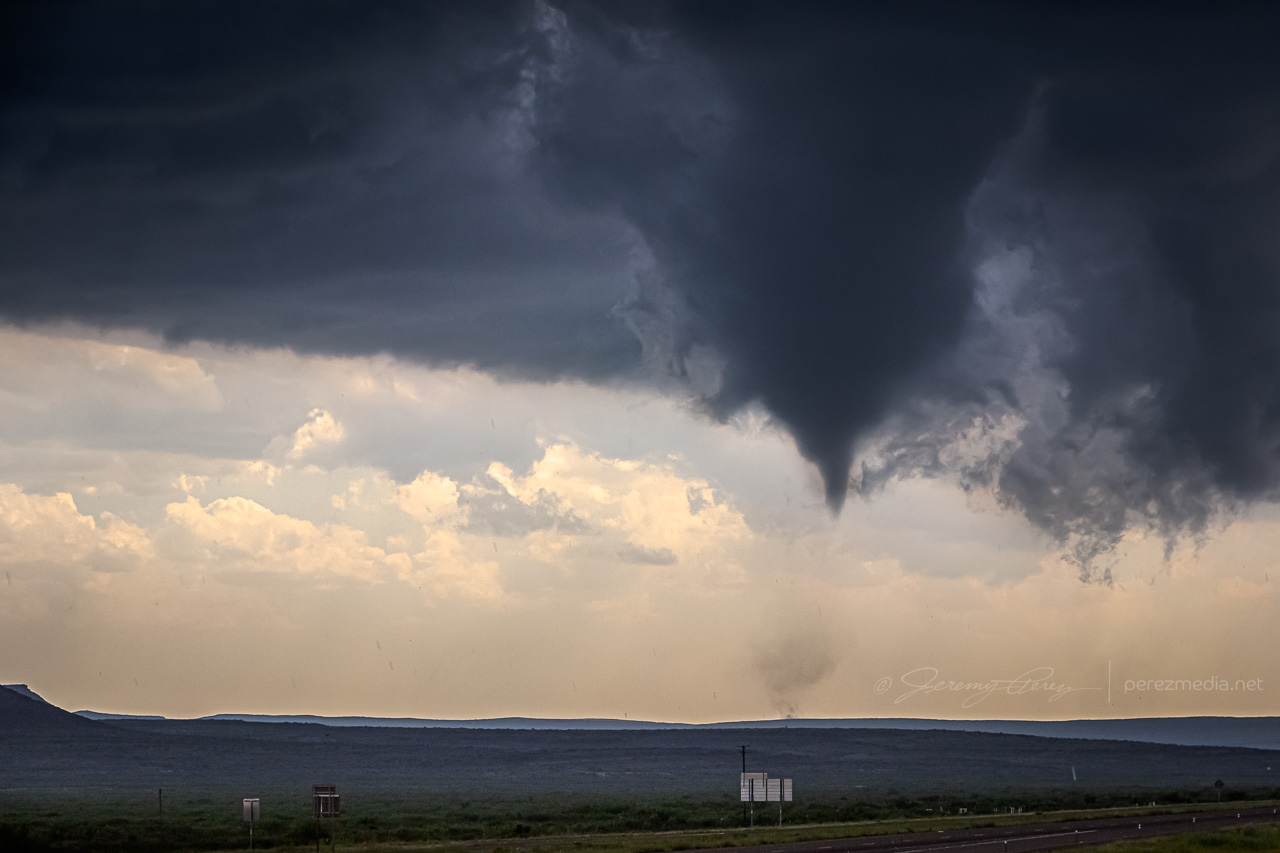 After realizing that getting out of the hail wasn't an option, we cruised back west for a good vantage and let the ice explode around us as the tube fully condensed. It was a spectacular tornado. High based, high contrast and beautifully formed. It didn't last long and by 2154Z, it was engulfed by the storm's surging forward flank and simply dissipated.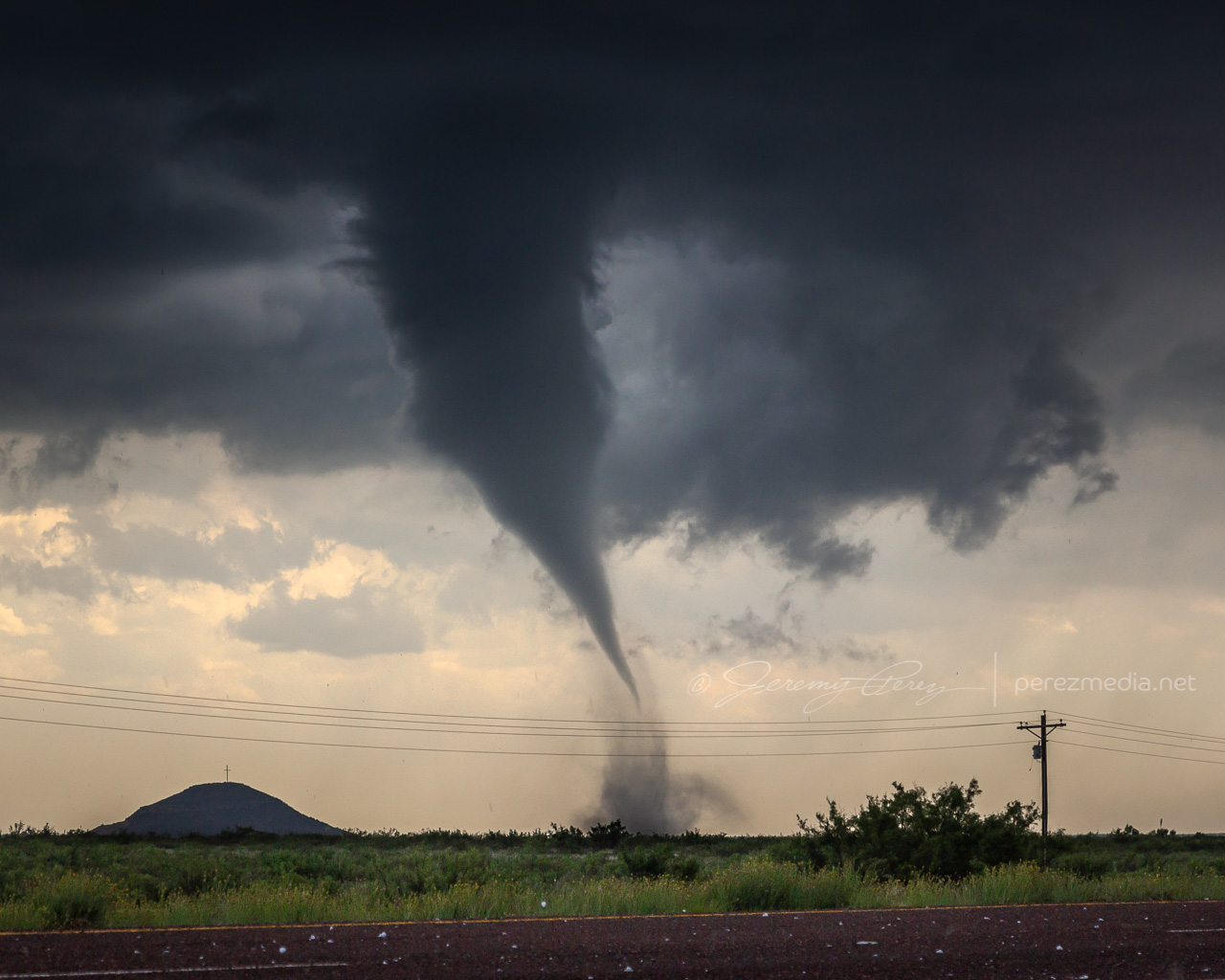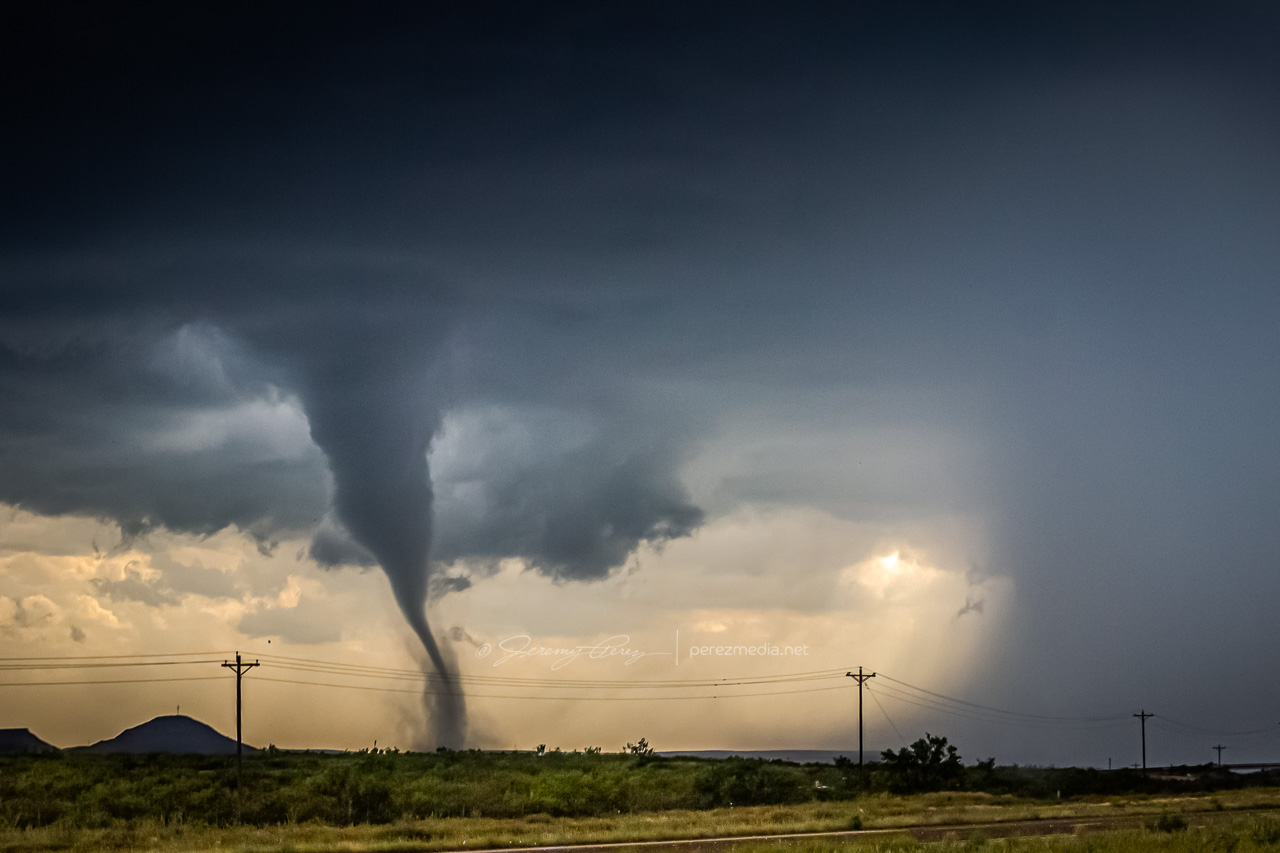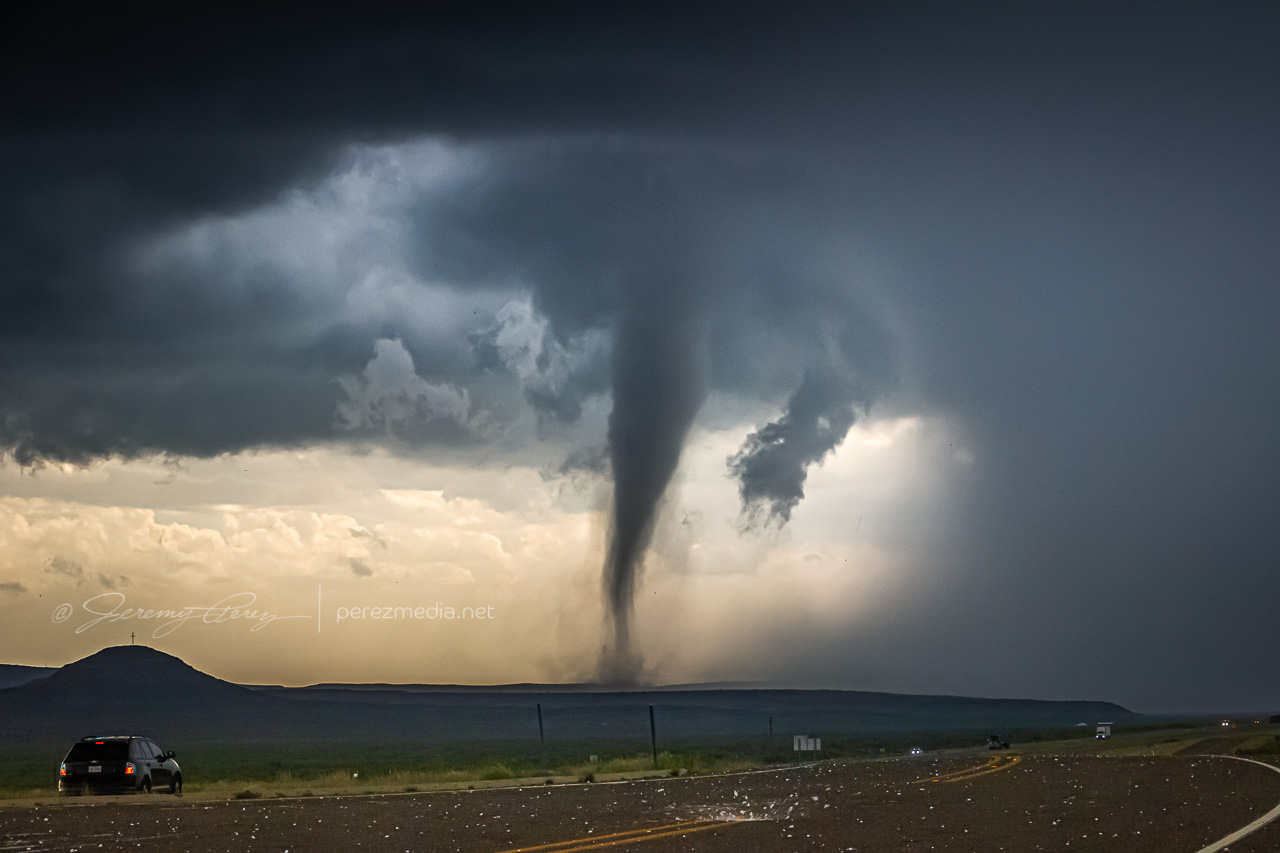 We raced east out of the hail and spent the next four hours surfing the storm's spectacular structure east on I-10 before calling it off and heading to San Angelo for the night where we had the best burger, fries and shakes I can remember at the Twisted Root Burger Co.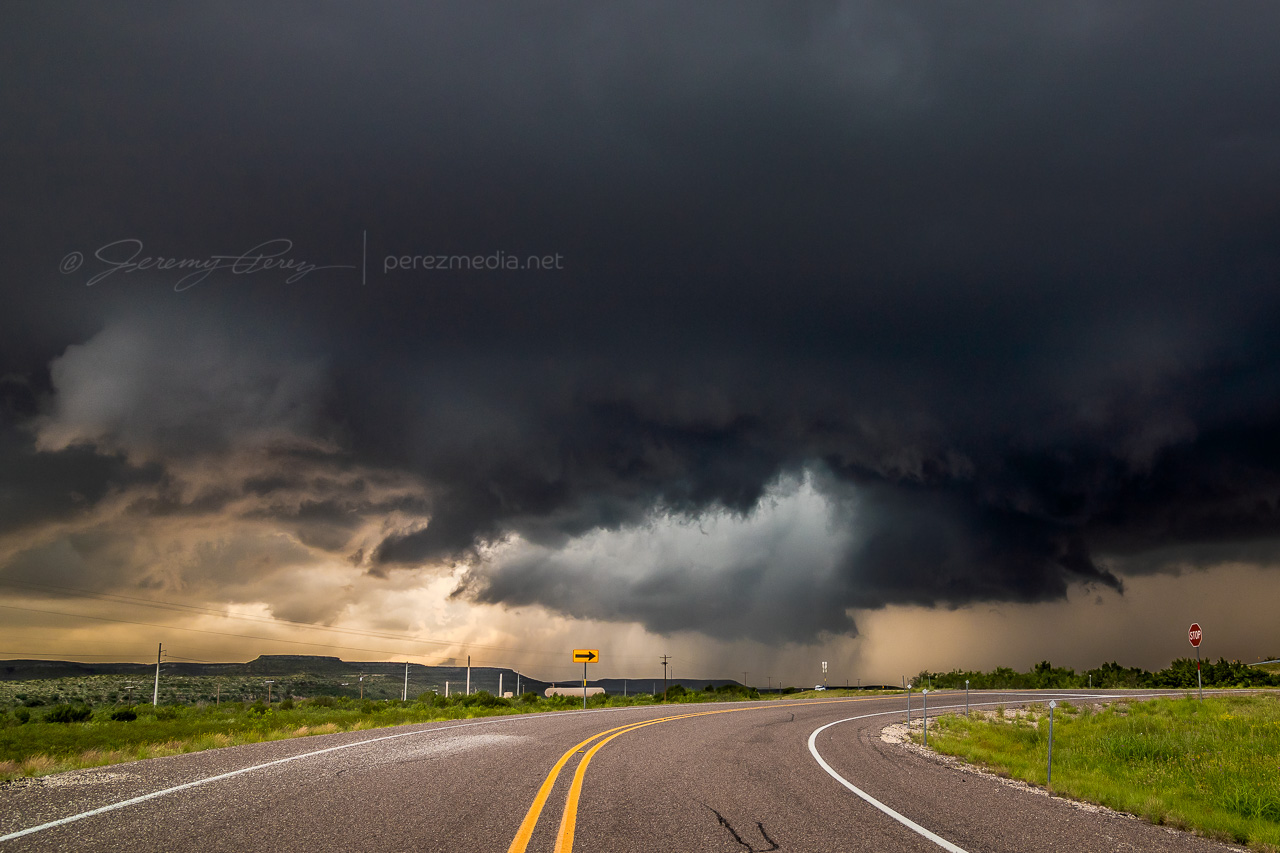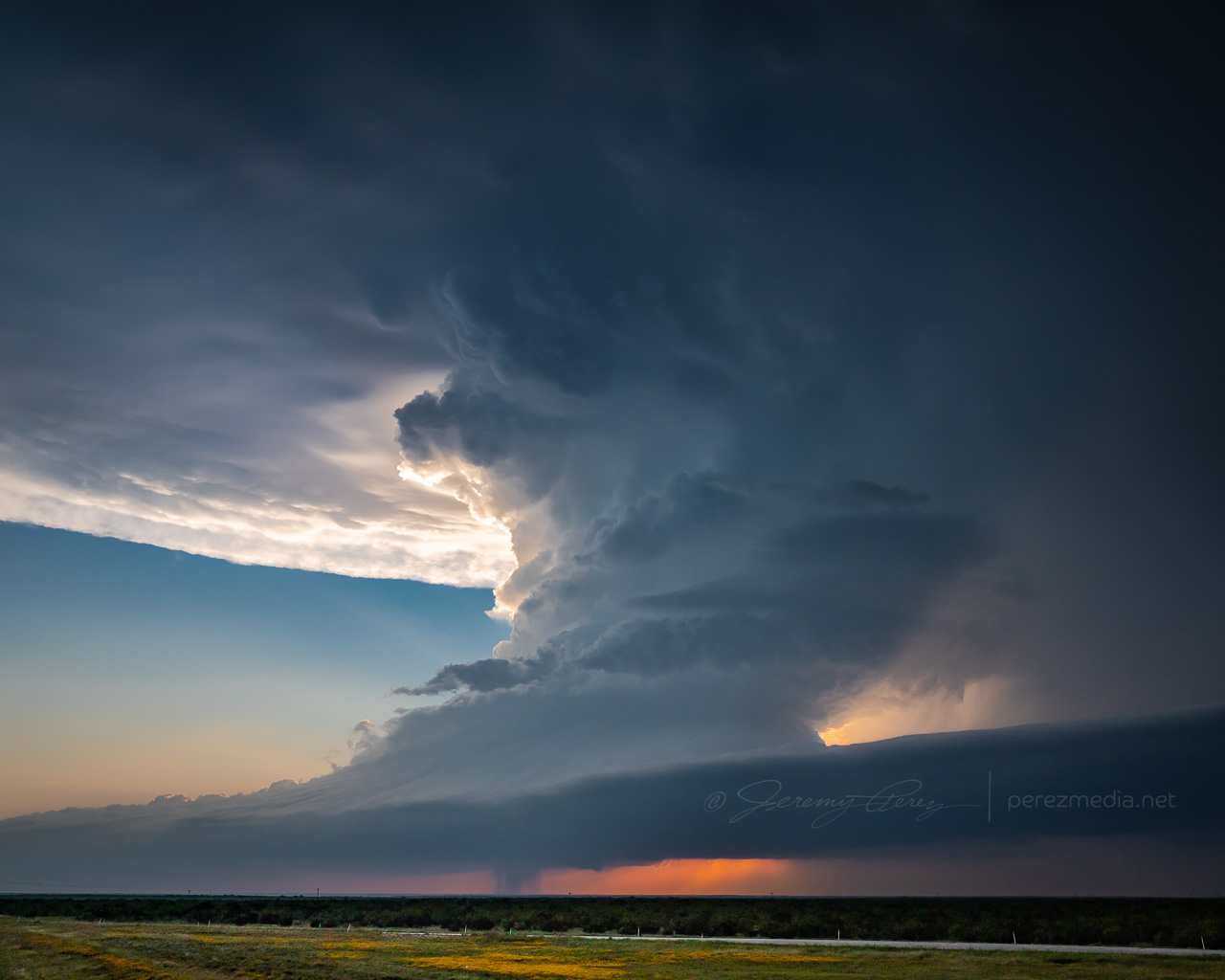 NOAA Severe Event Report — Pecos County, Texas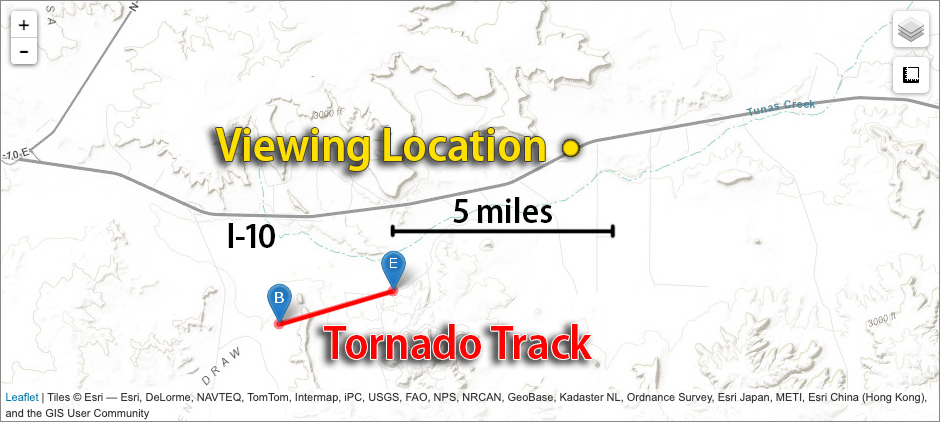 An interesting postscript to the chase was realizing that new severe storms were a possibility overnight. So I kept the phone cranked loud and a couple alarms set to wake up and check radar. Sure enough, about 5AM, a beefy, inbound, tornado warned supercell sent us out of the hotel and to the car to get out of the way. I was too tired to try a nocturnal chase including threading this storm and whatever might be trailing it to the south in the dark, so I maneuvered us north and deep into the forward flank to wait it out. By 6AM, we threaded our way back, avoiding flooded streets and and eventually making it back to the hotel—power out, residents hanging out in the dark lobby, relieved the storm had passed.
We found later that the tornado track passed just one block north of the hotel. I guess if I was into plotting overnight, hotel, wake-up-to-your-tornado-intercept targets, I could've probably chalked that as a score. Fortunately only two people were injured and it seems the tornado wasn't flexing at it's highest EF-2 when it passed the hotel — mainly random tree limbs in the road around there, with utility trucks working to get power lines back up by morning.
NOAA Severe Event Report — Tom Green County, Texas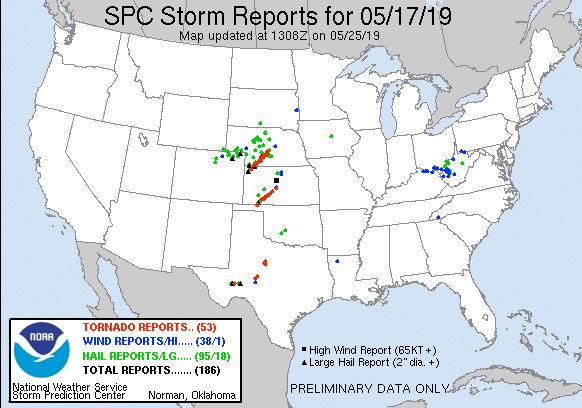 Jeremy Perez
Flagstaff, Arizona
perezmedia.net