Published on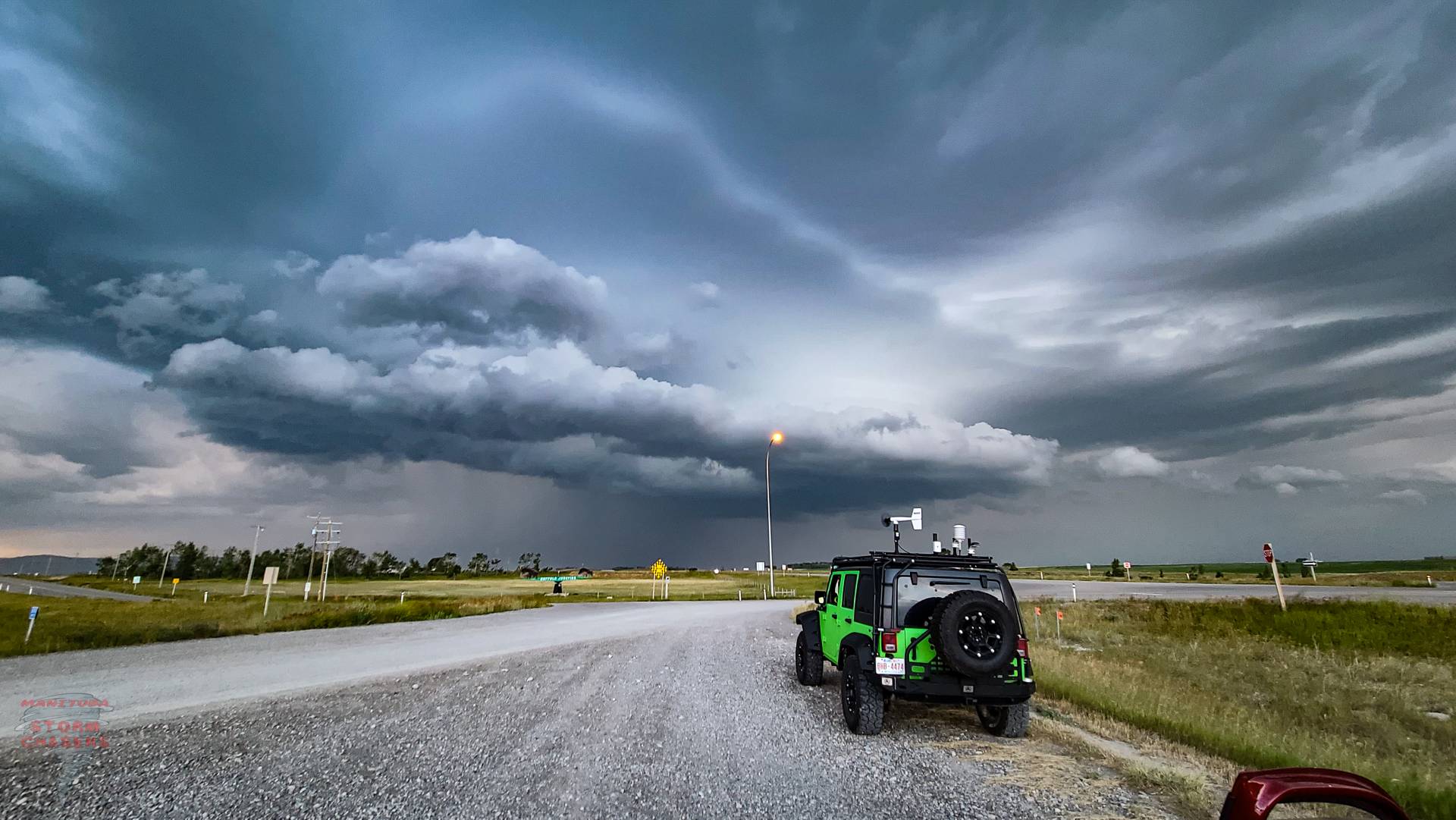 July 6th 2021: After watching the models all day long, And Contemplating whether or not to make a 10 hour drive for a "Maybe" kind of day, I took a look at how quiet the season has been lately, and made the decision that I needed to hit the road, the season has been too quiet so far to be picky, So I quickly grabbed some blankets and pillows to make a bed in the back of H3LICITY, grabbed my Camera gear, and hit the road at 10:00 pm
My plan was to make it to Moose Jaw, Where I would park for the night and catch some sleep in the back of the truck, After a long, uneventful drive, I pulled into Moose Jaw around 3:00 am local time (4 am at home), I took a few minutes to get out and stretch my legs before crawling in the back to go to sleep, The overnight temperature was only 9°C so I was glad that I brought some blankets!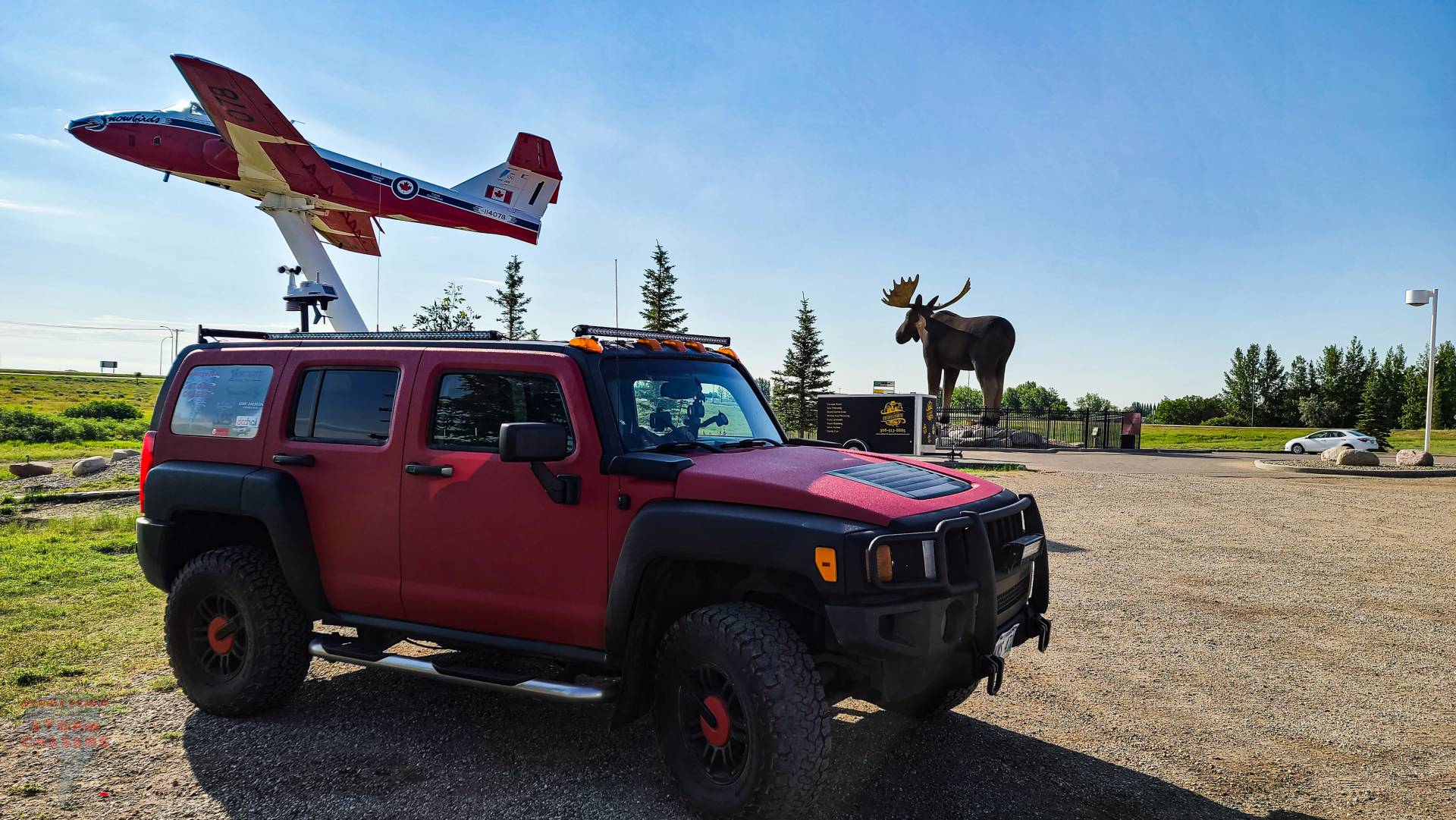 I woke up around 7:00am (2 hours before my Alarm was set to go off), Grabbed a coffee at the conveniently placed Tim Hortons across the street, Filled the gas tank, and hit the road. My plan was to get to Medicine Hat, And take a look at the models to decide a target, I arrived in Medicine Hat around 1:30 PM where I stopped briefly to take a look at the models and pick a target, At this time there was 2 potential targets, I could either stay in Medicine Hat and chase along the AB/SK border, Or I could head closer to the Foothills and hope for some of that "Foothills Magic" we always hear so much about, After asessing the models, I decided on the foothills Target, and started making my way towards the town of Nanton, Which is located on Highway #2 South of Calgary.
Upon Arriving in Nanton, I linked up with Braydon Mourisseau, Tom Smetana, And Connor Mockett, We had plenty of time to spare while waiting for Storms to develop, So we did what all good storm chasers do on a hot and sunny day and went and grabbed Slurpees! after our Slurpee stop we came across a Candy Store which we absolutely had to stop and check out!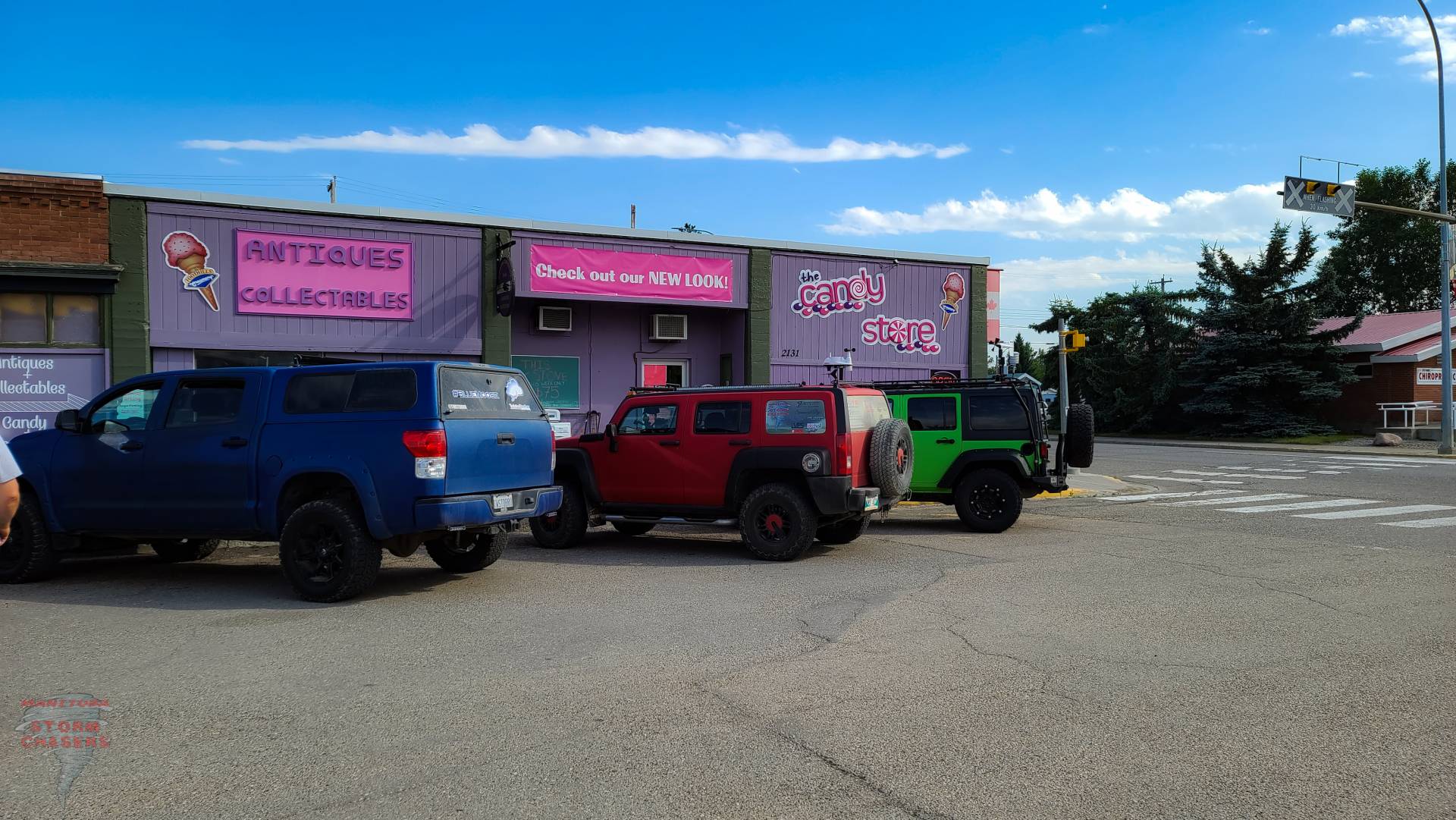 After Filling our sweet tooth, We found a gas station with a decent view of the sky where we could sit and watch for development, Hour after Hour passed, with still nothing happening until finally, Just before sunset a storm began forming over the mountains West of Crows Nest Pass, So we hit the road south towards Brocket, AB to get into position to watch it come over the foothills.
We stopped a few miles NE of Brocket, as we saw the storm coming over the foothills, It was beginning to show some signs of broad roation and a little bit of structure as well.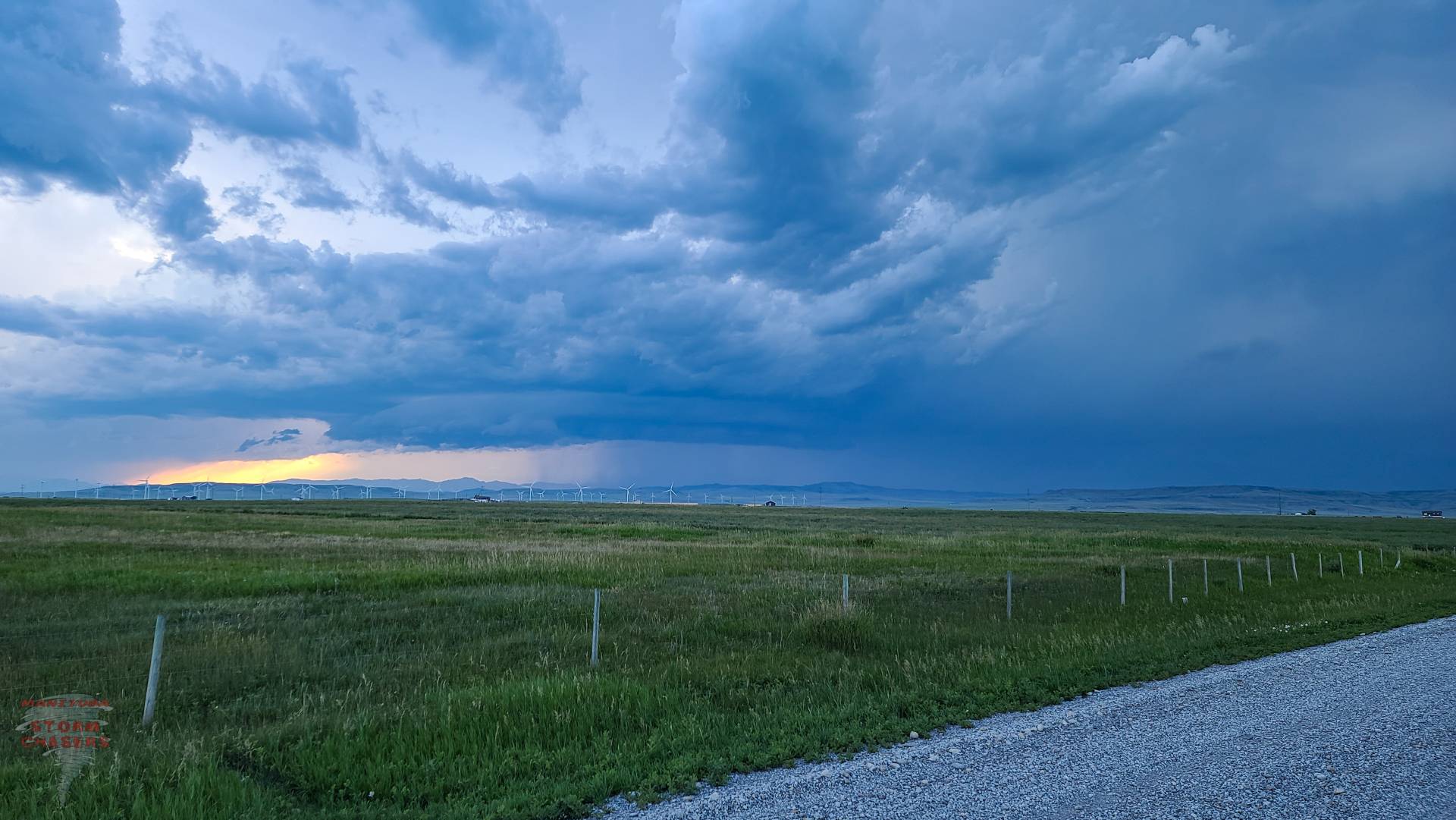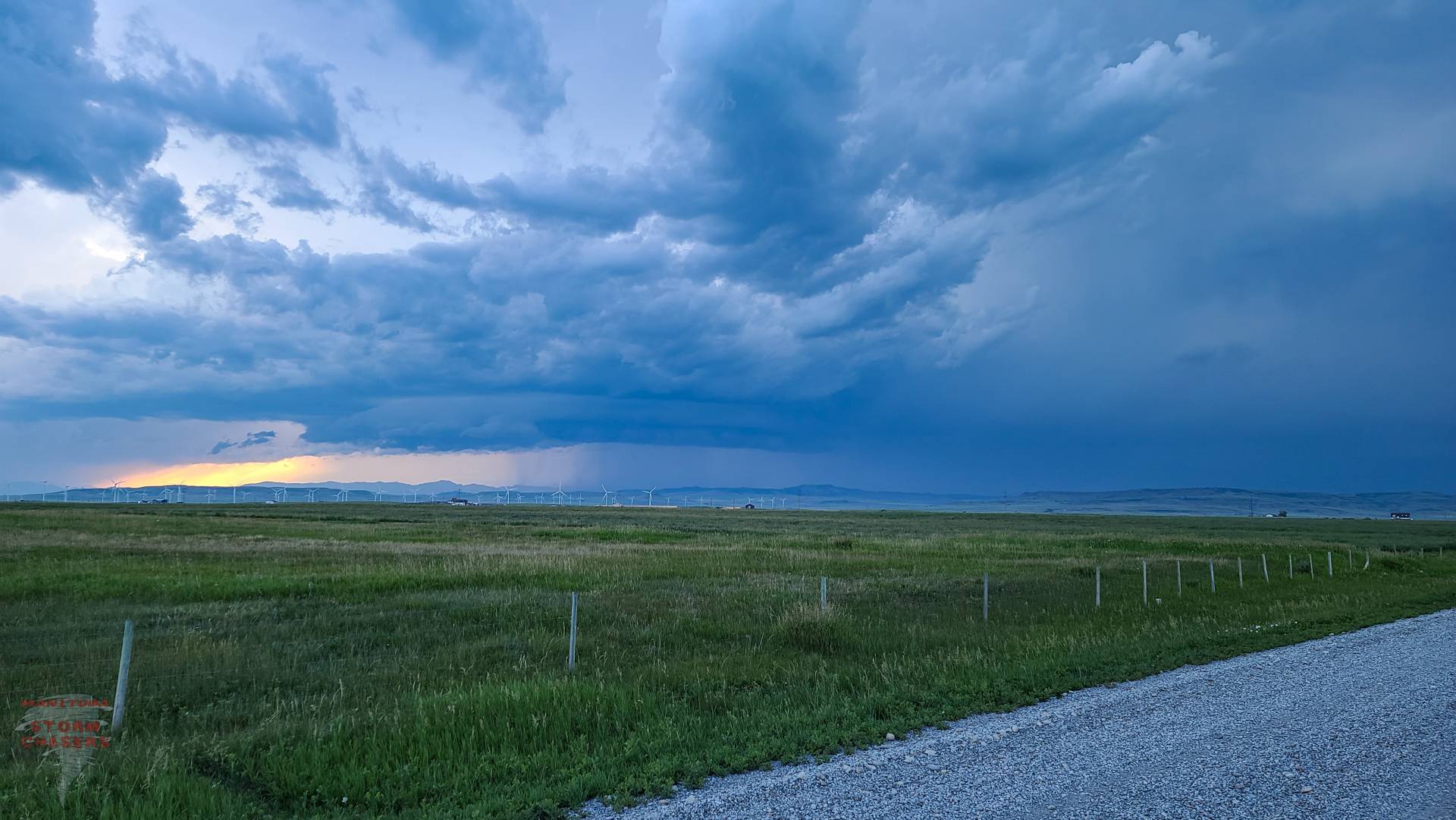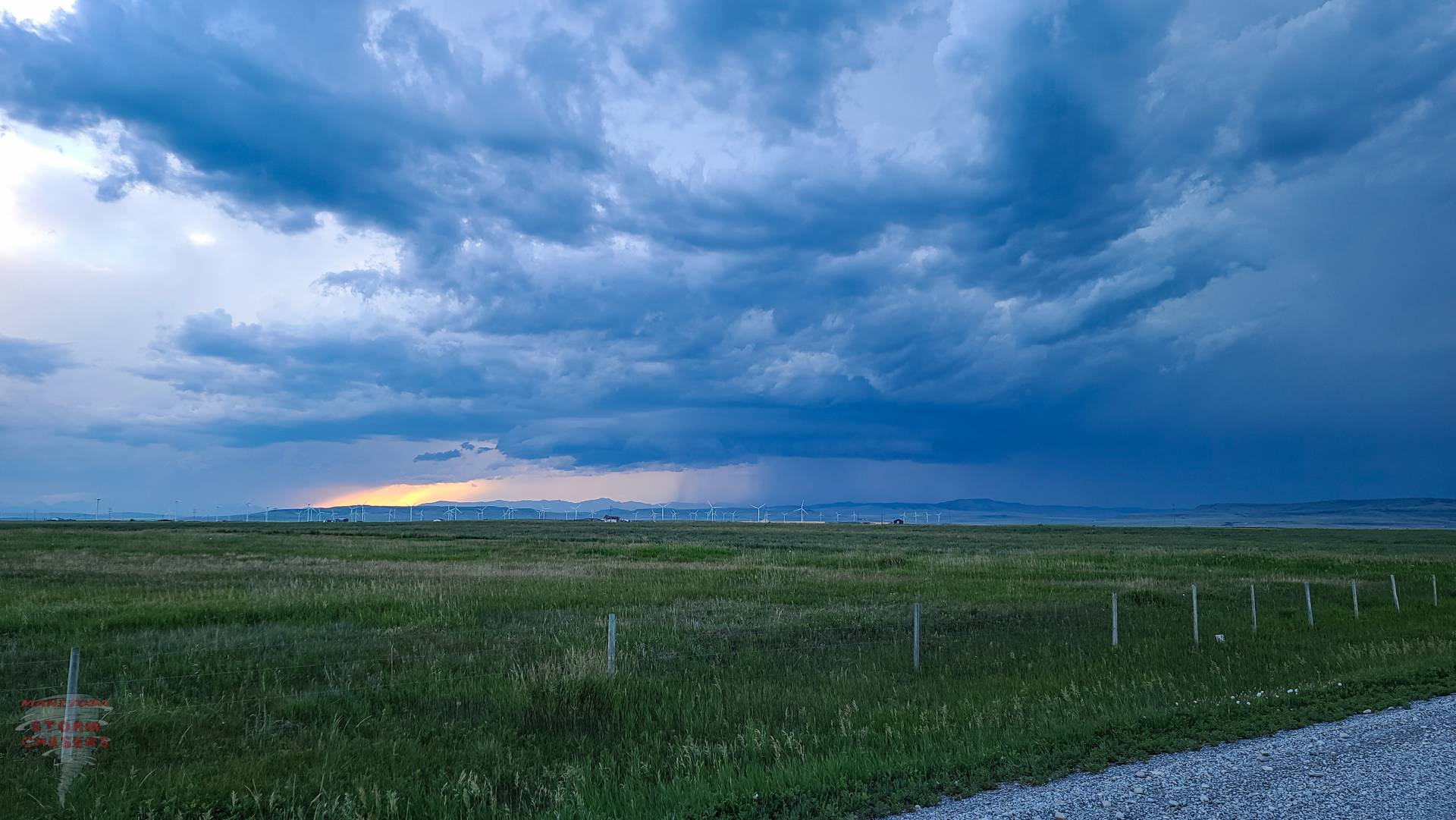 We sat in this location, for roughly 30 minutes as the storm approached us, before moving NE back towards Hwy #2 where we would be in a better position for intercept, Unfortunately as the storm approached highway #2 it began to merge with a line of storms to its north and become Outflow Dominant, Which obviously wasnt ideal, However it did produce a beautiful structure briefly and gave us a great opportunity to stop and take some lightning photos!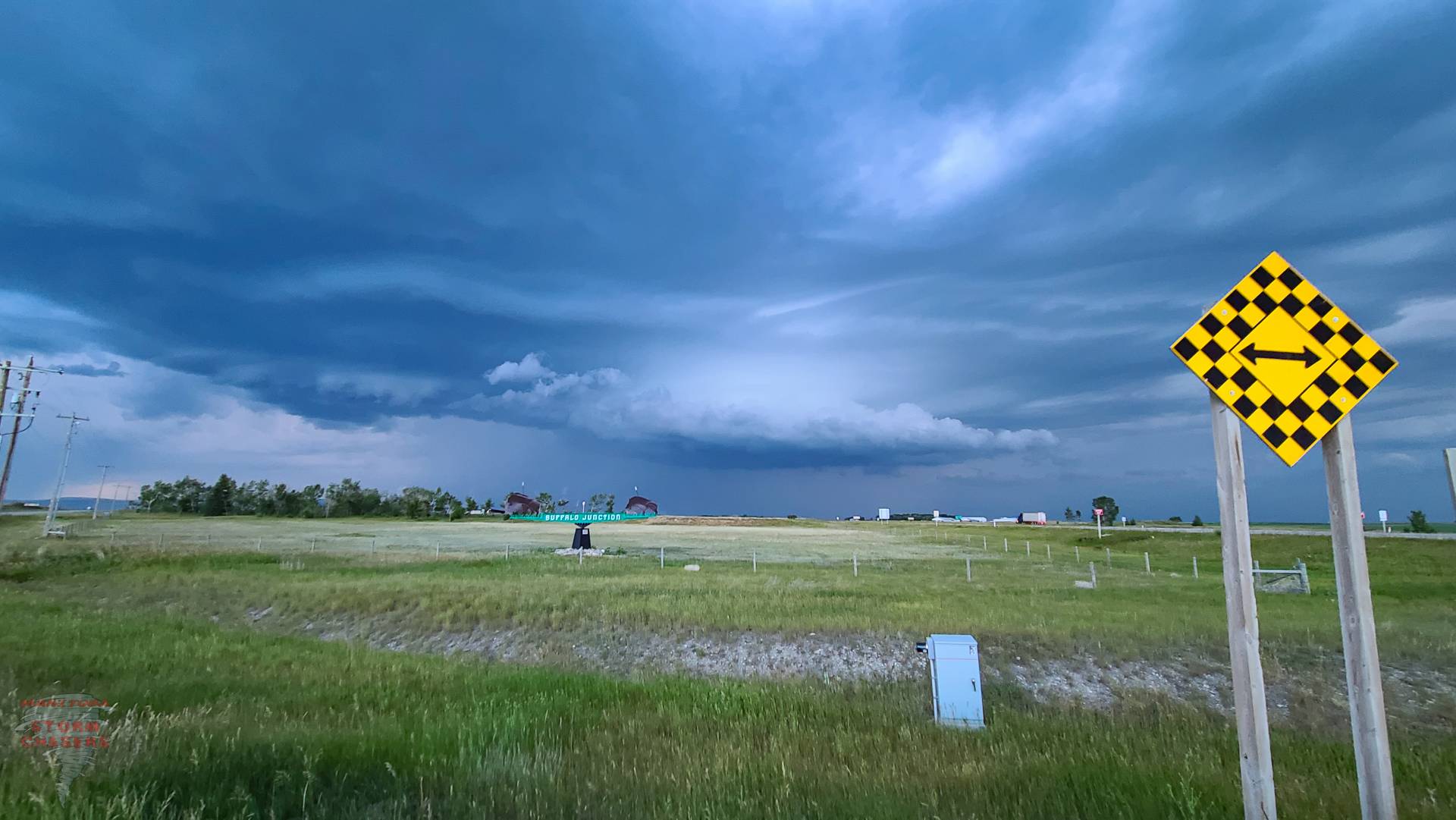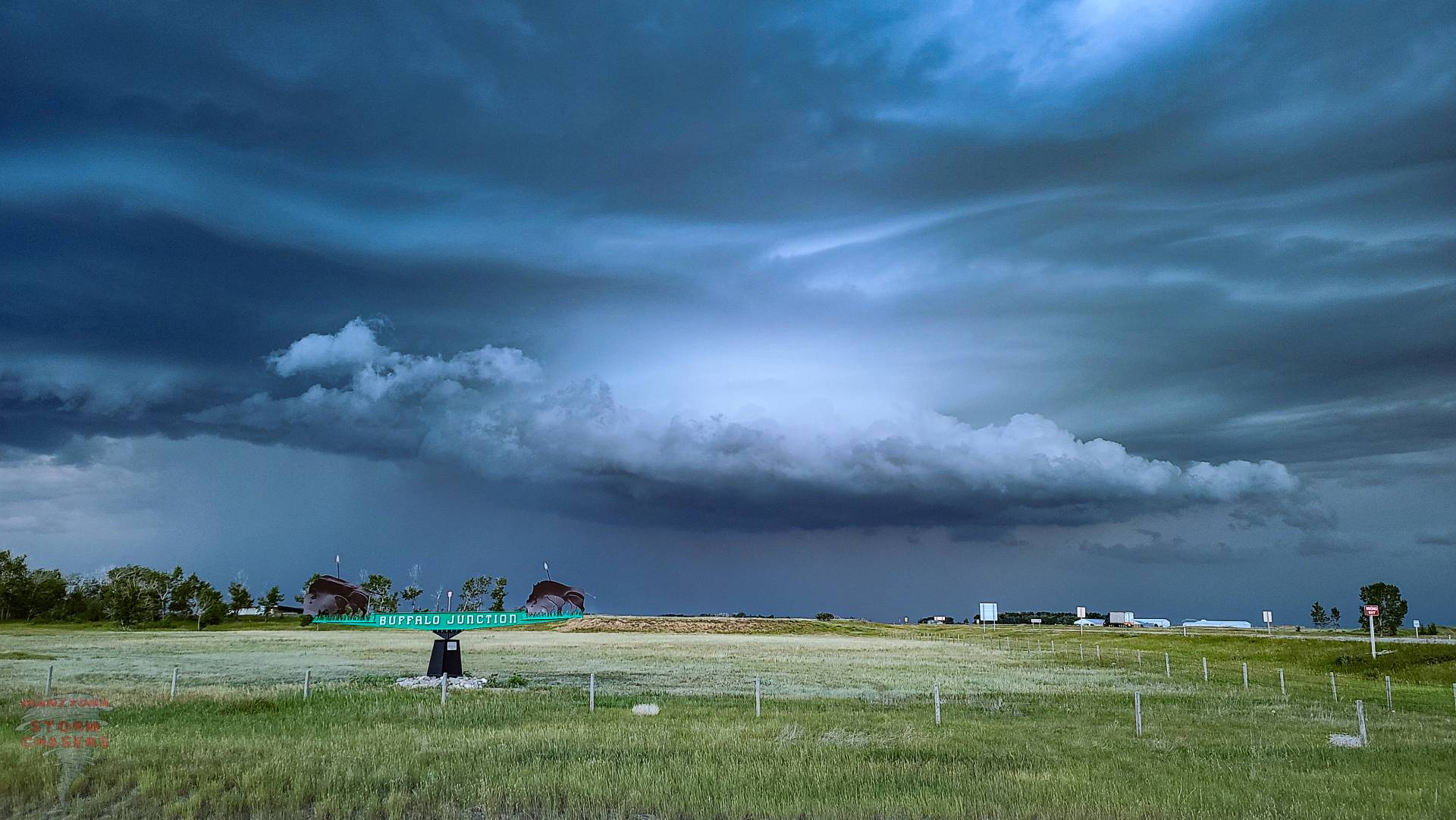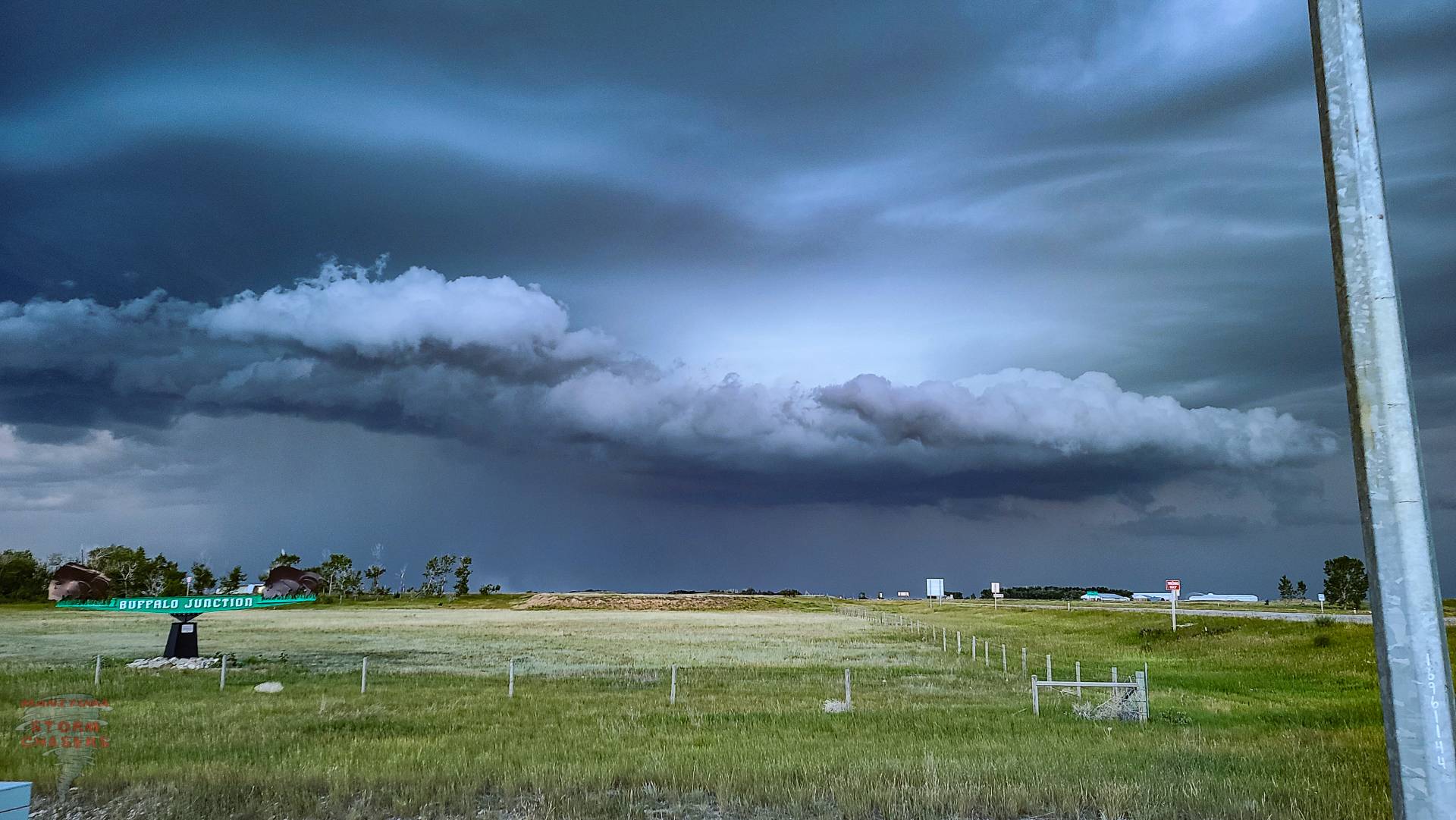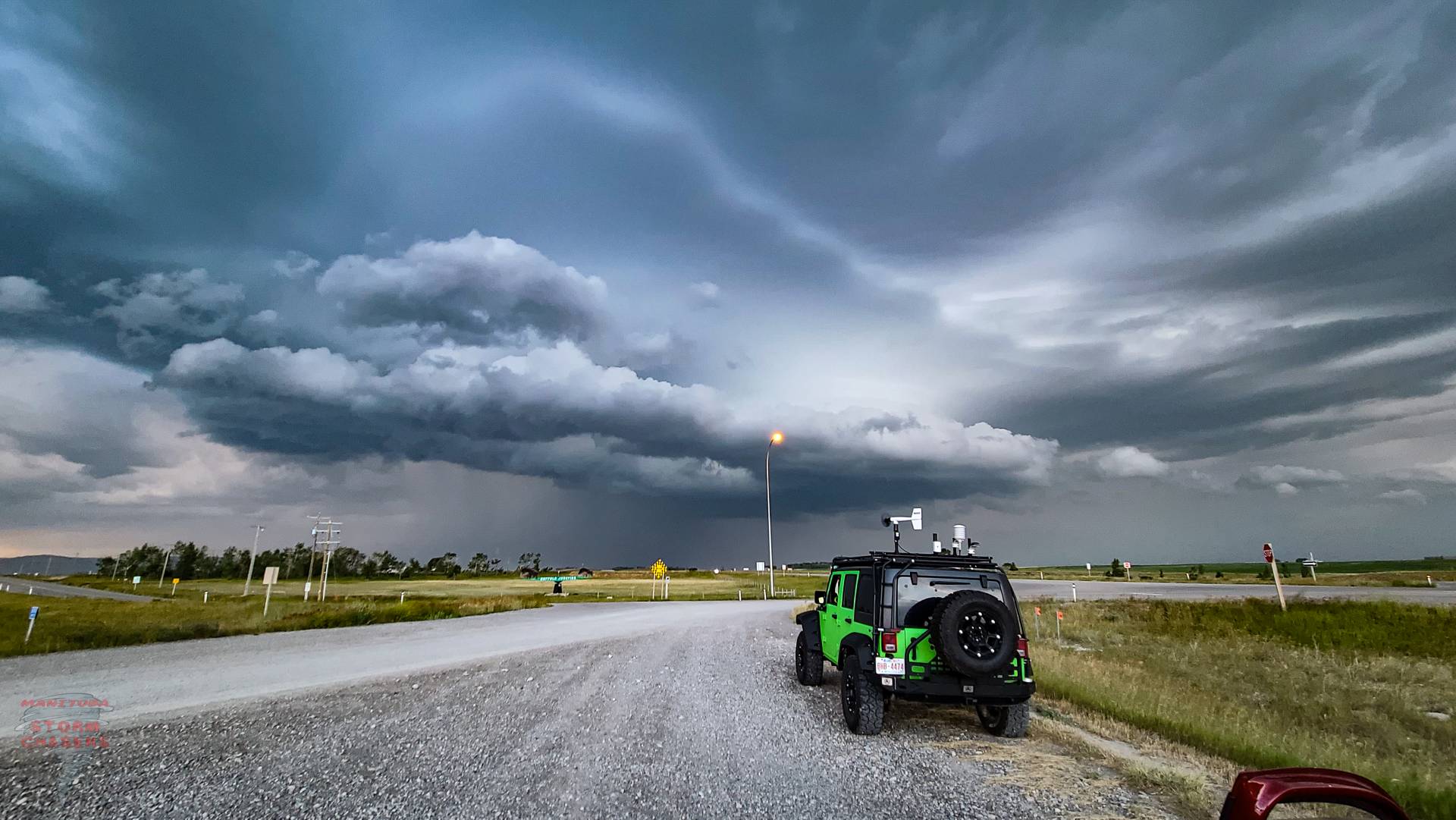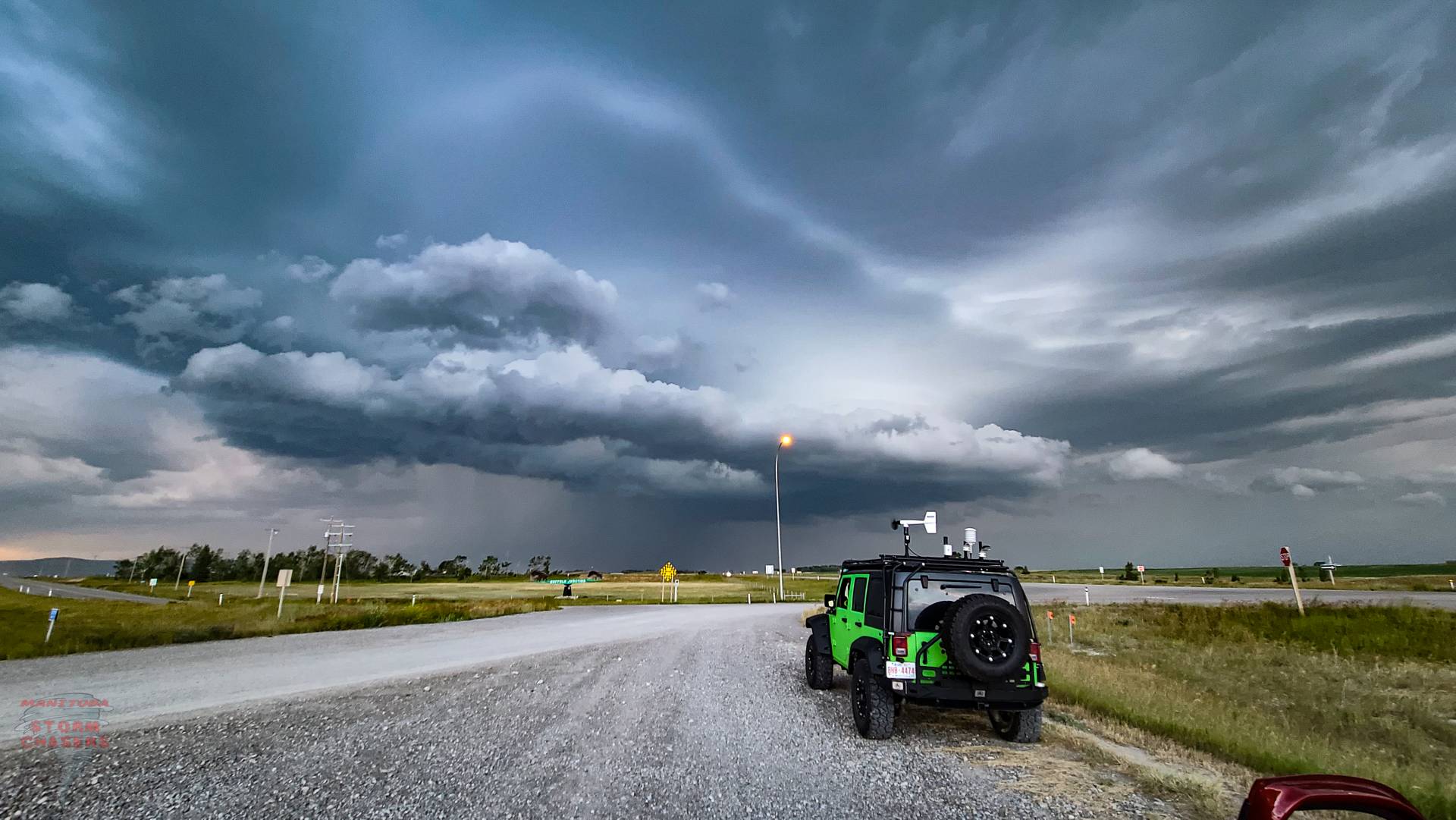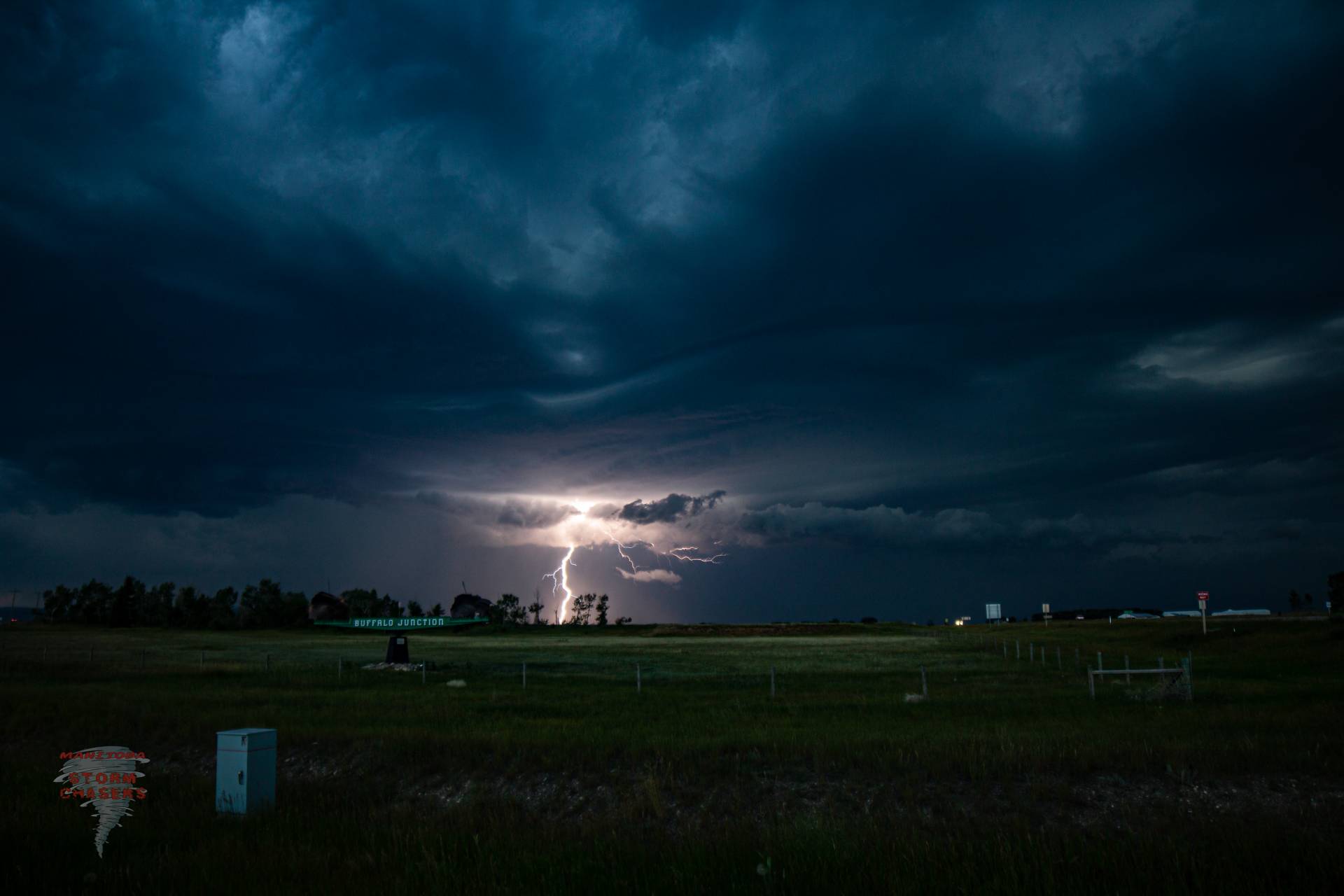 As the storm went outflow dominant, It began creating major wind gusts, to the point where we could almost no longer see through all of the blowing dust in the air, Thankfully these wind gusts were short lived, and we were able to begin making our way towards Medicine hat where we would be stopping for the night, The entire drive towards Medicine Hat was filled with beautiful nocturnal lightning strikes in the rear view mirror as we gained distance between us and the storm, We stopped in Taber, AB at a FasGas for fuel, and the lighting on this gas station was just too perfect, we had to take the following glamour shot of H3LICITY, PredaTOR, And Blue Moose all together for the first time of the season!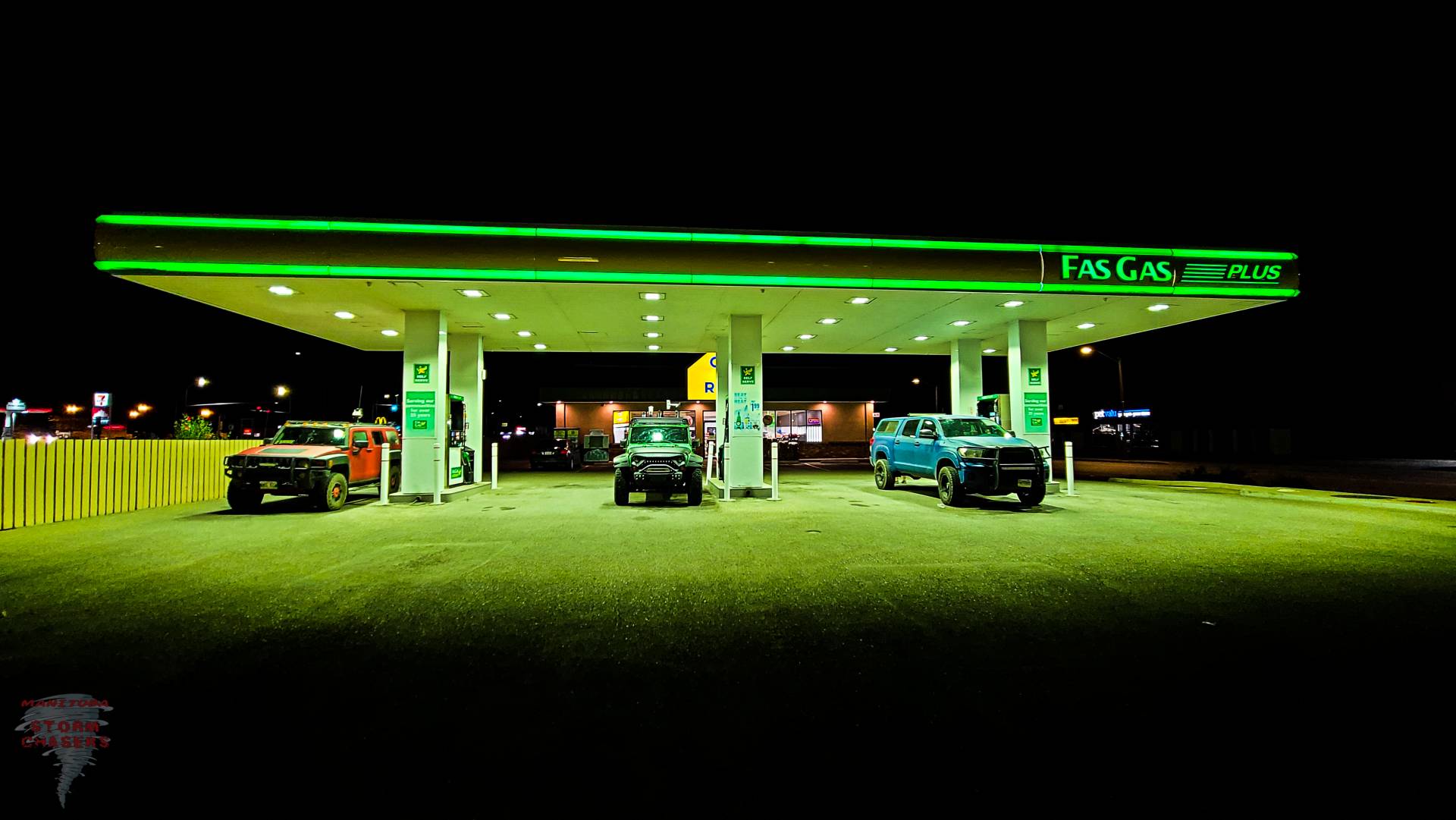 As we were getting close to Medicine Hat, the storm was getting closer to us, So we decided to stop briefly just before arriving in town to try and capture a few more lightning photos, I was shooting with my Wide Angle lense, So the individual photos were kind of boring with alot of empty space around the bolts, So instead i took 5 of my favourite photos and blended them into one to make this wide angle, Multi-Strike photo that I am very happy with!

Check out our Live Stream from this chase below! Unfortunately I lost cell service a few times, So the Live stream got cut short!