Published on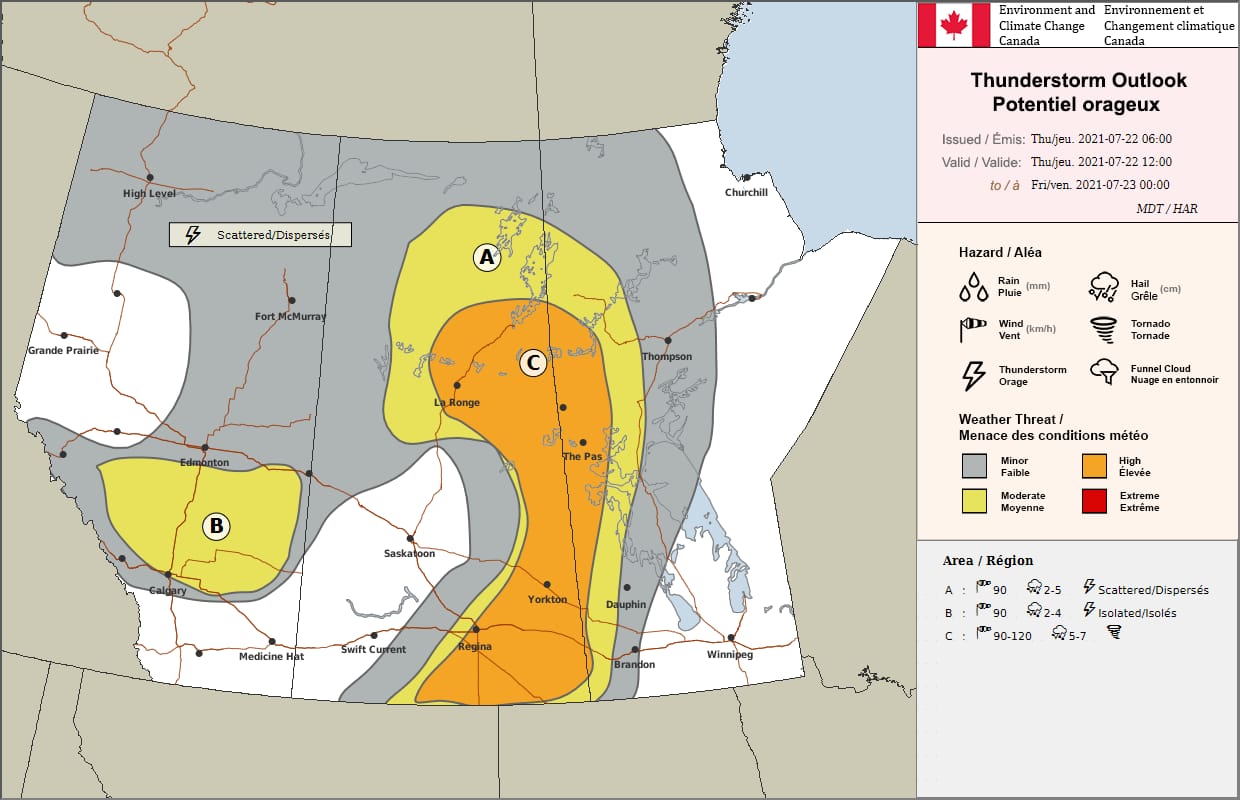 The Stage Was Set! ECCC was forecasting Severe Thunderstorms, With all Potential Hazards Expected, The FOCN Read:
EASTERN PRAIRIES…TROUGH OF LOW PRESSURE CROSSING SK TODAY SHOULD SERVE AS TRIGGER FOR SEVERE THUNDERSTORM DEVELOPMENT THIS AFTERNOON THROUGH THIS EVENING, AND INTO THE OVERNIGHT HOURS FOR MANITOBA. SURFACE ANALYSIS SHOWING PLENTIFUL MOISTURE, WITH DEWPOINTS OF 18-20 OVERNIGHT AND A LARGE AREA OF STRATUS DEVELOPING AS SEEN ON SATELLITE IMAGERY INDICATING DEEP MOISTURE. COOLING ALOFT AS UPPER LOW DRIFTS EASTWARD COMBINED WITH DAYTIME HIGHS AROUND 30 DESTABILIZE THINGS THIS AFTERNOON, WITH PROGGED SBCAPE VALUES IN THE 1500-2500 J/KG RANGE IN AN ENVIRONMENT WITH 40-50 KNOTS SHEAR. GIVEN THESE INGREDIENTS SUPERCELL DEVELOPMENT SEEMS VERY LIKELY THIS AFTERNOON, WITH LARGE HAIL…PERHAPS UP TO BASEBALL SIZE…AND DAMAGING WIND GUSTS TO 120 KM/H ASSOCIATED WITH THE STRONGEST STORMS. TRANSVERSE BANDING DENOTING JET STREAK NOTED ON WATER VAPOUR IMAGERY EARLY THIS MORNING IN SOUTHERN MONTANA WHICH SHOULD MORE INTO SOUTHERN SK THIS AFTERNOON GIVING ADDITIONAL UPPER SUPPORT/LIFT. FURTHERMORE, STRONGLY VEERING WIND PROFILES IN THE LOWER LEVELS SUPPORT A TORNADO RISK WITH ANY STORMS THAT DEVELOP IN A LOCALLY FAVOURABLE ENVIRNOMENT.GIVEN FAVOURABLE JET DYNAMICS, SHEAR, AND THE LOW LEVEL JET FEEDING INTO THE DEVELOPING LOW, SEVERE STORMS SHOULD BE ABLE TO CONTINUE THROUGHOUT THE NIGHT AS THEY MOVE THROUGH MANITOBA, ALTHOUGH THE SEVERE THREAT SHOULD END OVER SOUTHERN MANITOBA WITH THE LOSS OF DAYTIME HEATING. THE TORNADIC THREAT SHOULD LIKEWISE DIMINISH SHARPLY AFTER SUNSET.
We Left Home Around 7:30 AM, With our Target being Francis, SK. Where the HRRR Was showing an Isolated Supercell, With Explosive Updraft moving Just North of Francis in the 4-5 pm Timeframe, As we approached closer to the MB/SK border we entered a Thick Fog, Which meant the Dewpoints were exceptionally high, Likely due to the previous days steady rainfall in the area, It was nice to finally see some moisture in the environment, That has been the main lacking feature which has made this season so poor.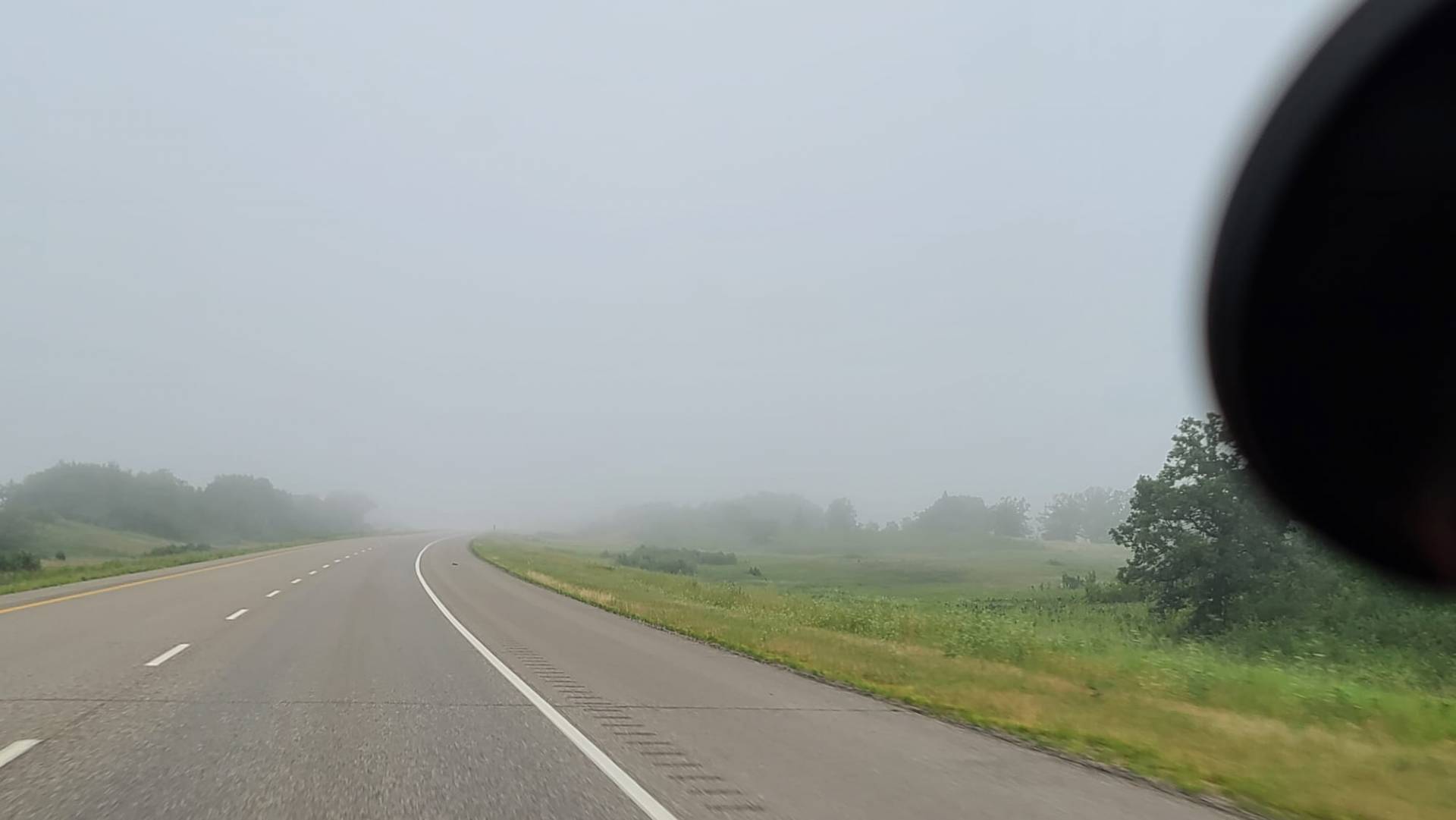 As We neared Wawota, SK The fog began to lift, Leaving us with Clear, Blue skies! This was great, as I was Worried once the fog cleared we may be dealing with wildfire smoke, which could act as a CAP/ Inhibitor, So I was feeling great that there was very little smoke in the air! All signs were beginning to point at this being a good chase day (Finally!)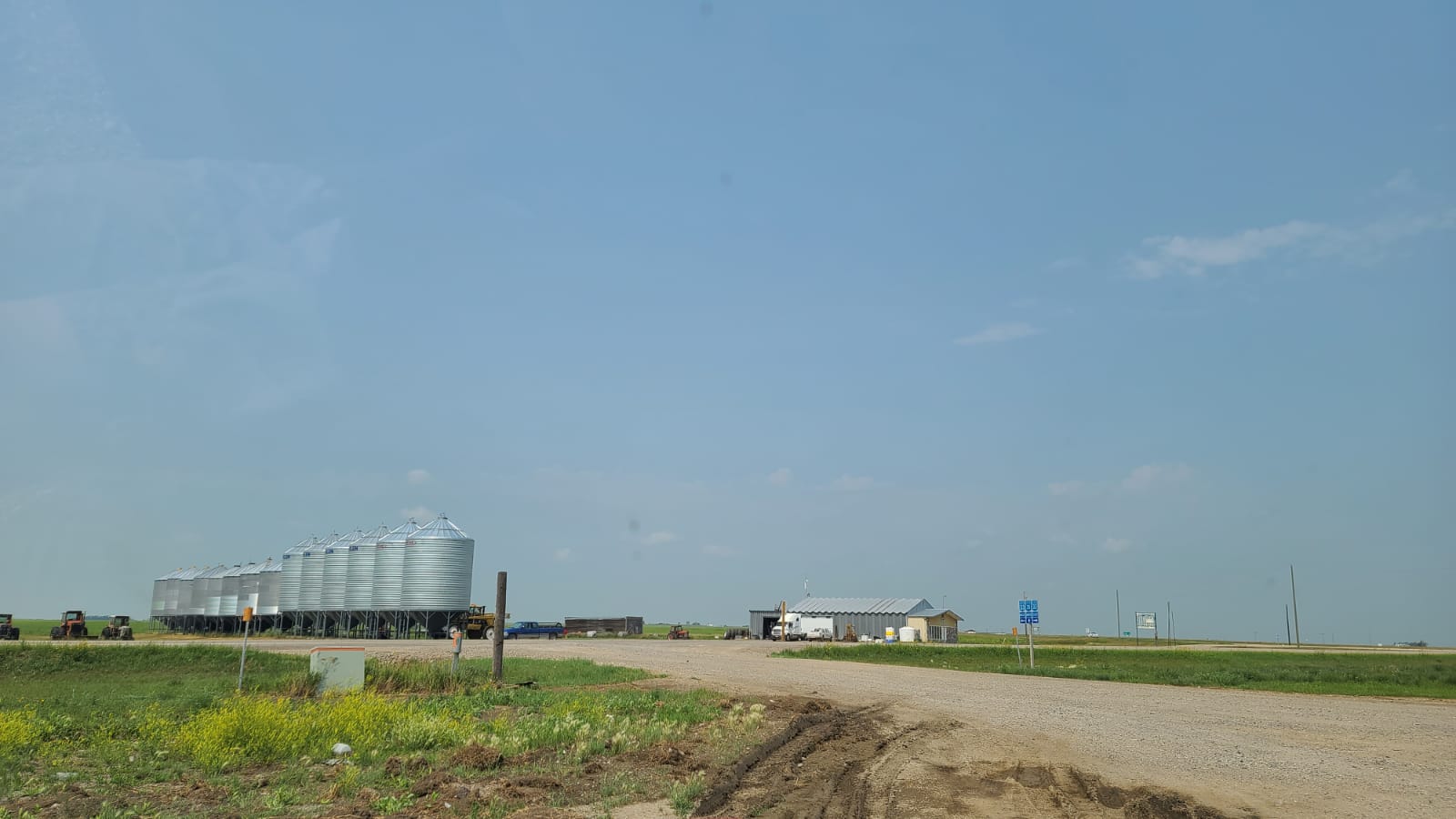 After Arriving at Francis, Sk I began Reassessing the models to see if I needed to move my target, And of course, the latest runs were showing Storms developing further North, Meaning I was a little too far South, So I made the decision to move North about 35 Minutes, to Qu'Appelle, SK.
Upon Arriving in Qu'Appelle, I met up with Fellow H&H Chaser Kurtis Fafard (You should go check out his H&H page, He has some awesome stories!) We Sat in Qu'Appelle for a few hours, Soaking up the sun, Drinking Gatorade, Eating Snacks, And Waiting for storms To Develop.
Around 5:30 pm, We noticed Storms beginning to Fire in the Avonlea-Assiniboia area, These were a little out of our Target Region, But we figured we better get in front of them just in case they end up being the only storms of the day! (We have been skunked by that a few times this season) So We went back down To Francis, Where we Re-Assessed yet again, as the first storms began to die, We made a quick pit stop at the Francis Gas station to grab some drinks and food, and use the restrooms, During this time a new storm quickly exploded near Avonlea, and was quickly growing into what looked like an isolated supercell, We were in a great position to get in front of this storm, so I quickly hopped into H3LICITY and Kurtis quickly hopped into the "Rainbow Wagon" (His Minivan!) and we hit the road towards Gray, SK. where we planned to intercept this storm.
As we approached the storm we could see what looked like a beautiful LP (Low Precipitation) base forming on the SW side, and it looked like it was ready to go Surface-based at any minute.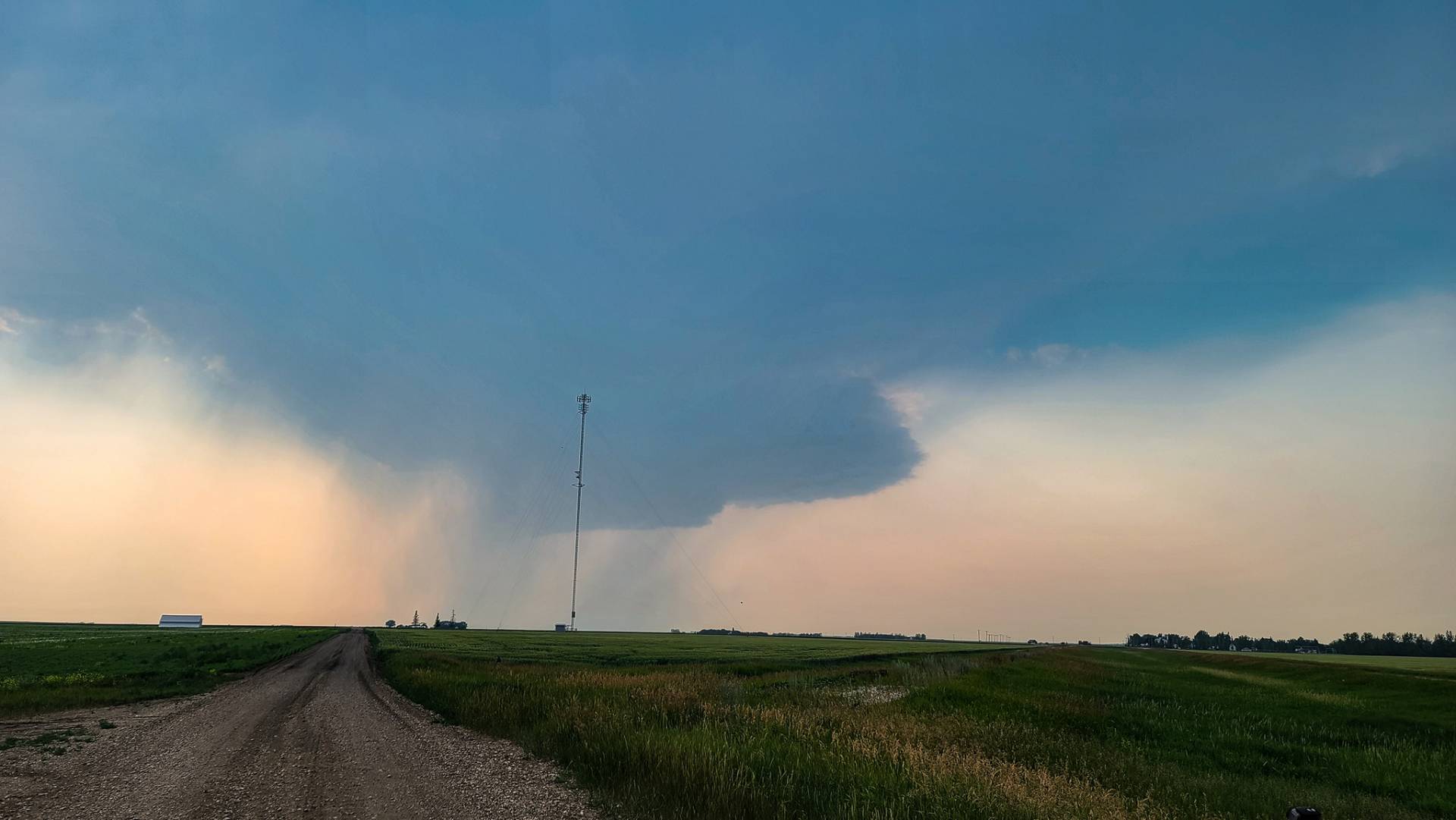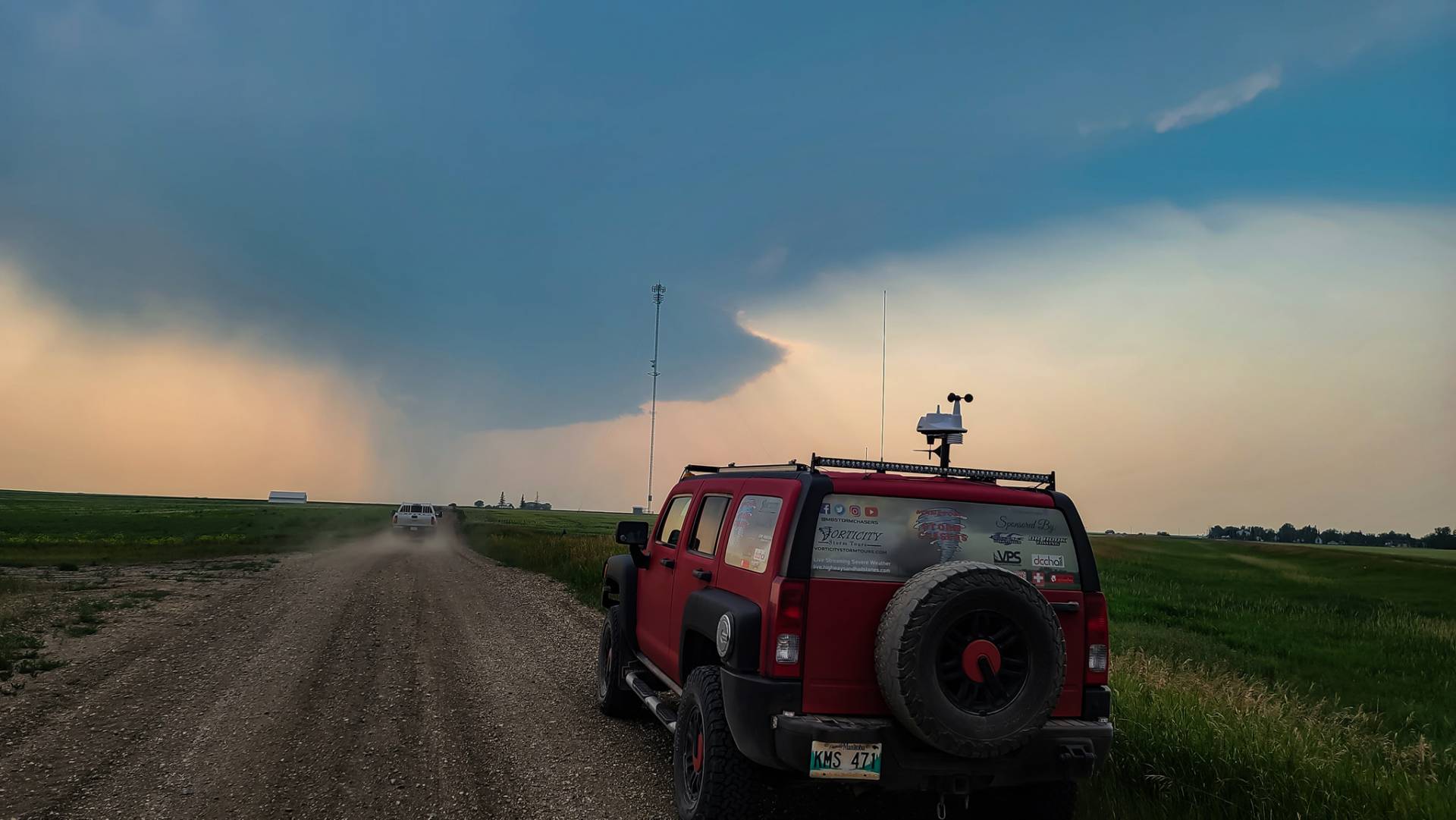 Unfortunately, 2021 Had different plans for us (As seems to be the story this year) and this storm quickly sheared off and died, within what seemed like minutes it went from a great-looking LP Supercell To a Whisp in the sky. (I'm Really Considering changing the term "Busting" to "2021ing", In future years if you "Bust" you got "2021'd)
But not all hope was lost yet, We were getting close to sunset, BUT there were some new storms beginning to form to our West, Just south of Moose Jaw, So we made our way up to the Regina Bypass, in order to get into position, As we were Repositioning, Another LP Supercell began to form West of Weyburn, Unfortunately, we had already dedicated ourselves to the Moose Jaw Storms, And stuck with that plan in order to not risk getting close to the Weyburn Cell and having the same thing happen as the Avonlea Cell did, Our Moose Jaw Storm was looking strong and healthy, and was growing quickly. We decided to take Highway 6 North of Regina to try and get in front of this storm as it was Travelling NE, Unfortunately, it was moving at the speed of light, and Quickly overtook us, It wasn't long before we were engulfed in Blinding rain, Hail, and incredibly strong wind gusts of 90-100 km/hr, We needed an East option, Unfortunately, the Qu'Appelle Valley was making those east options few and far between, We could either go back south to Highway 1 and east from there or we could risk hitting very large hail and core punching the storm to get to Southey, SK and go East from there. The Going South option would put us behind the storm and we would have a very hard time Catching back up, And hail wasn't a big worry for me as H3LICITY is built to take large hail, So we took the Corepunching option, I was a little disappointed, as the storm was moving so fast that we didn't even get to Corepunch, as the core was already north of Southey, SK as we arrived and were able to turn East.
Unfortunately, By this time we had run out of daylight, and it was getting dark very fast, So we made the plan to get Southeast towards Indian Head, SK where we were hoping to be able to shoot lightning on the Southern Edge of the line of storms, Once we arrived at Indian Head the Southern edge of the storm was already overtop of us again, So We decided to Travel East on Highway #1 to get out of the rain again and try shooting some lightning, By the time We reached Broadview area the Storm was North of Highway 1, and we could see a beautiful shelf cloud being lit up by the intense lightning, Unfortunately, the Lightning was all encased in the heavy rains, so While we could see the steady flashing, We were unable to see any bolts meaning there was no point in trying to photograph them, since they weren't showing up outside of the rain, But I did decide to pull over and take a long exposure photo to show the backlit shelf cloud being pushed out ahead of the storm.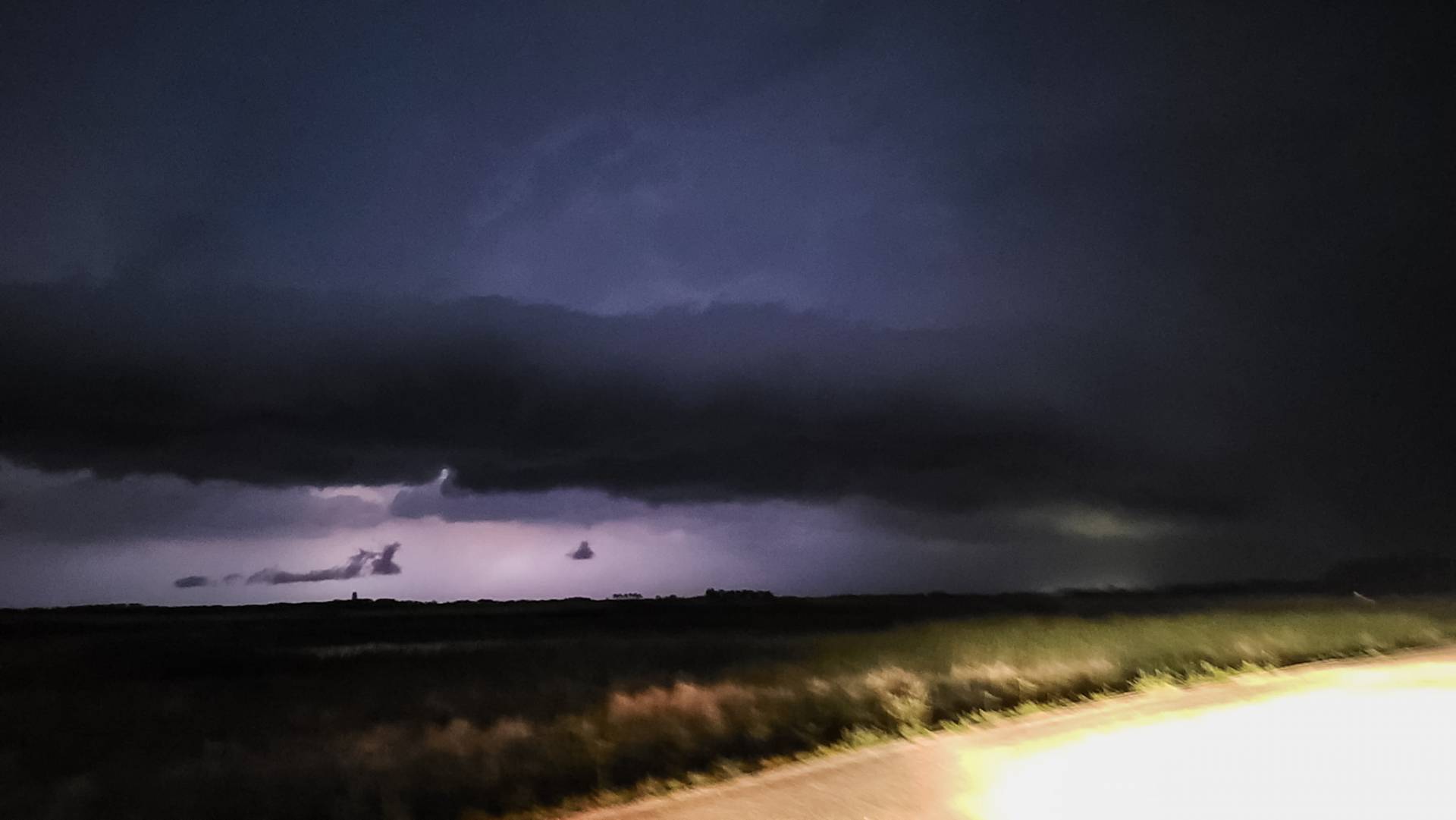 So While the storms weren't quite what we had been hoping for, They were still the best storms I have seen so far this season (That say's a lot for the 2021 storm season) And I am hopeful that all of the moisture these storms produced, will help fuel some even better storms in the near future! Below is a radar loop showing the progression of Thursday evening's storms, You can See Just how quickly those first storms went up and died, And how fast the Moose Jaw storm turned into a quick-moving line of storms.