Published on
July 27th, 2021.
Nearly every model was telling us to stay home, Except for one. The NamNest was showing a large isolated supercell capable of producing large hail, Damaging winds, and even an isolated tornado exploding Northwest of Norquay, SK around Sunset, Normally on a day like this with only one model showing anything happening, I would simply stay home, but I had a gut feeling about this one, So around noon I hopped into the driver's seat of H3LICITY and started making my way towards Norquay, SK which was roughly a 5-hour drive.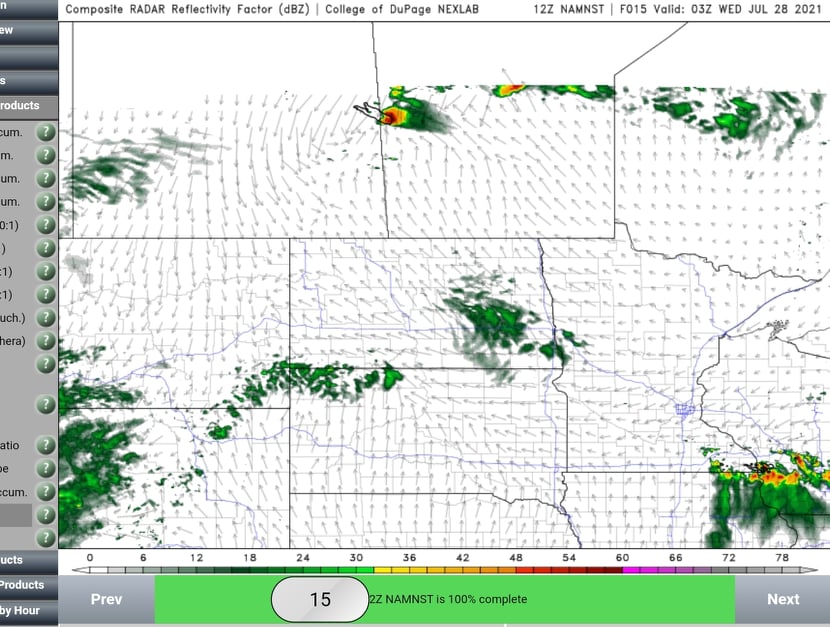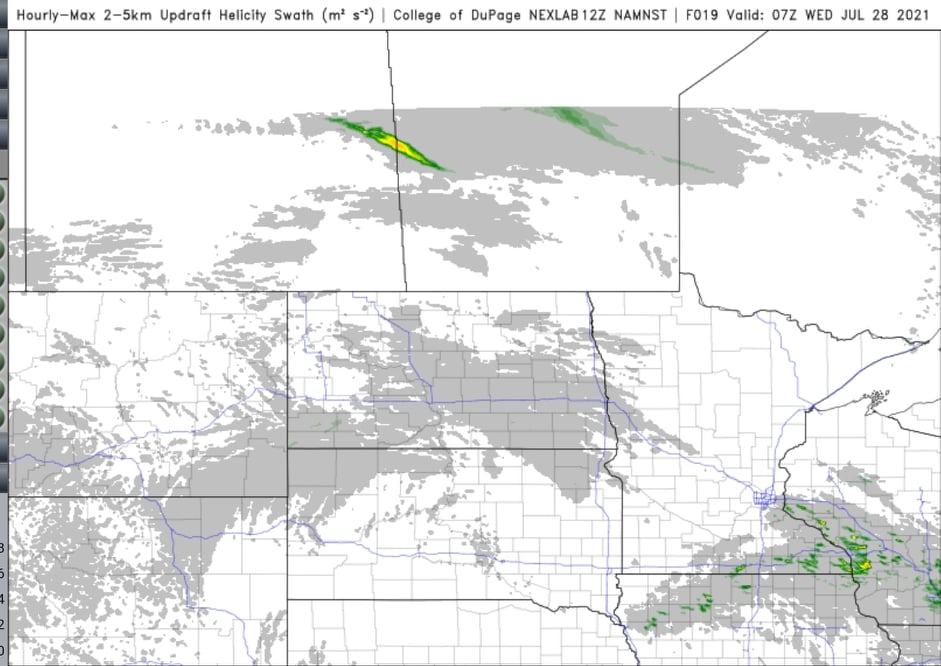 The Drive to Norquay was rather uneventful, I was hoping to see some wildlife while driving through the Duck Mountain Provincial Park, But I didn't even see a squirrel, let alone a bear or a moose. Upon arriving in Norquay I topped up the tank at the local Co-op then found a nice little park on the NE end of town where I could watch the sky (And pig out on beef jerky of course).
A Few hours had passed, and it was getting close to sunset, I was beginning to get worried as I wasn't seeing many Cumulus clouds forming, but I wasn't losing hope quite yet, And then like clockwork at 8:30 pm, A Thunderstorm popped up on radar to my Northwest, Practically exactly where the NamNest was predicting it, After watching a few radar scans to make sure it wasn't going to die right away, it kept growing rapidly, so I went for it! I didn't have to go very far before I could start to see a base forming on the southwest side, With a very noticeable hail core to its north, I pulled over on the side of the road to watch and take a few pictures as it approached me.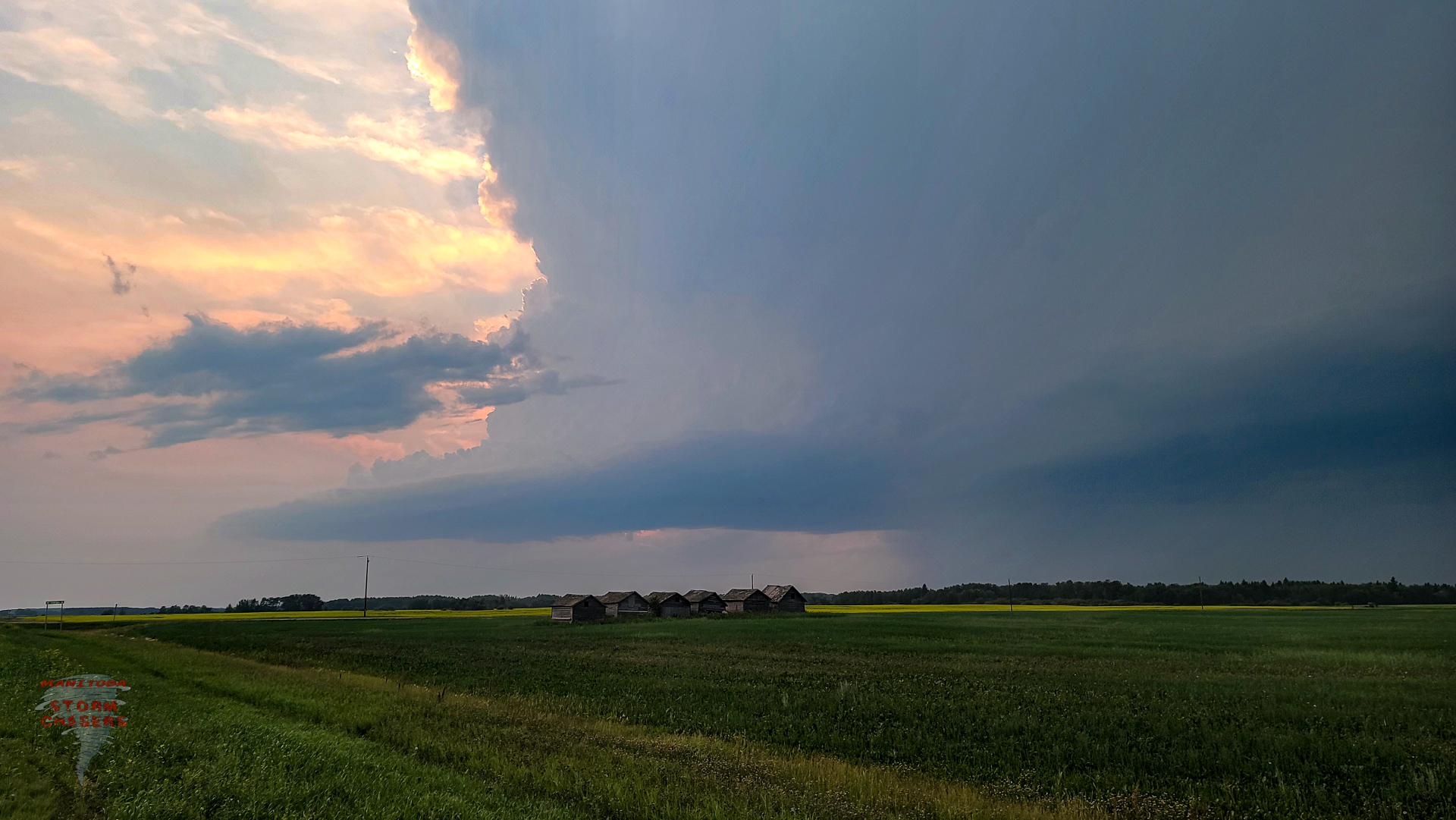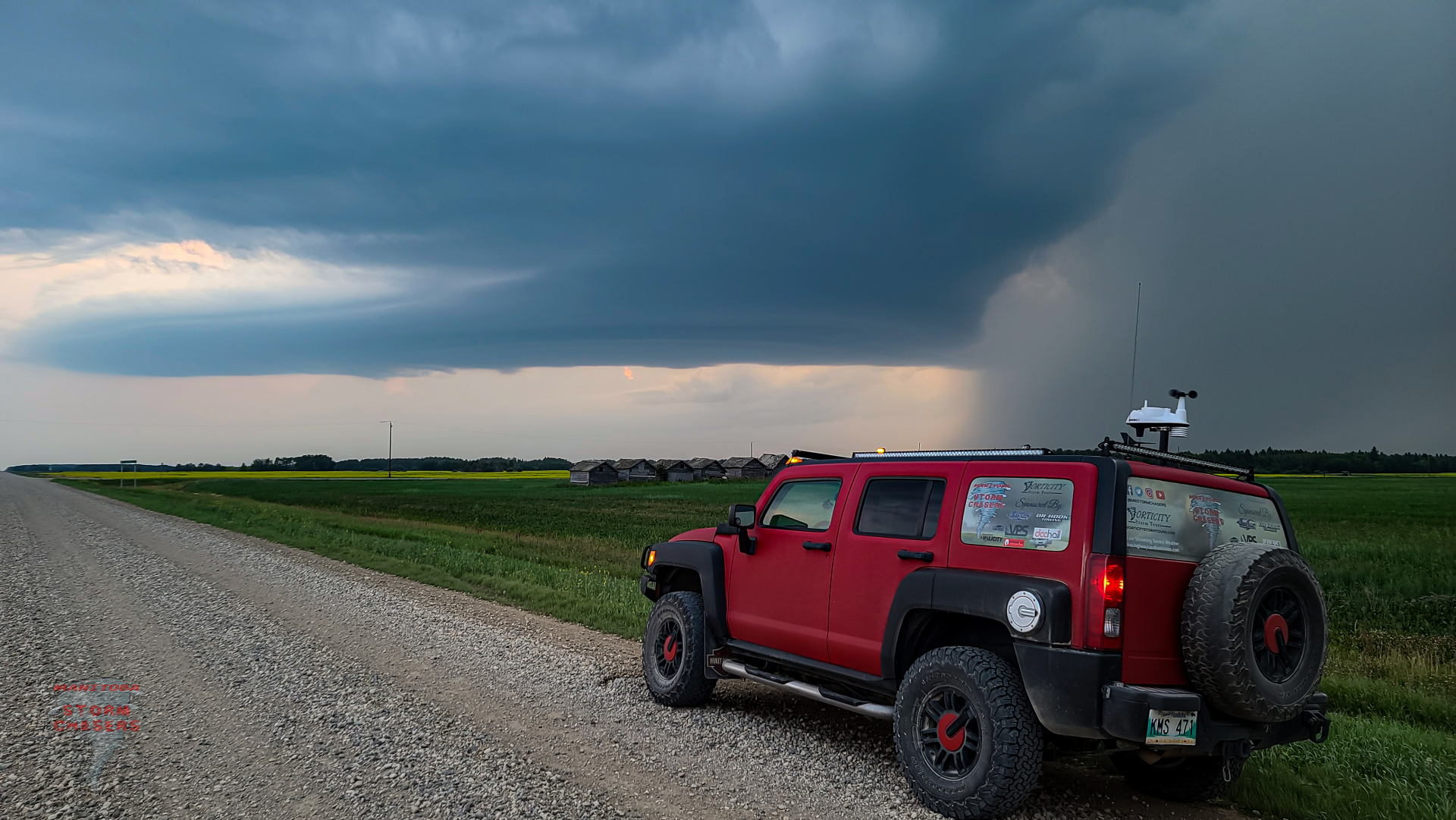 At this time, My friend, and Fellow Storm chaser Sean Schofer came down the road from the west, The storm was beginning to move incredibly fast, so we decided to punch directly through the hail core in an attempt to get back ahead of it, As we entered the core we began getting bombarded with Nickel to Quarter sized hail, We kept going until we found our next south option, Which would take us towards Kamsack, to get back on the Southeast corner of the storm.
As we emerged from the core, we could see a robust wall cloud forming to our east, we stopped briefly to watch it, but it quickly fell apart.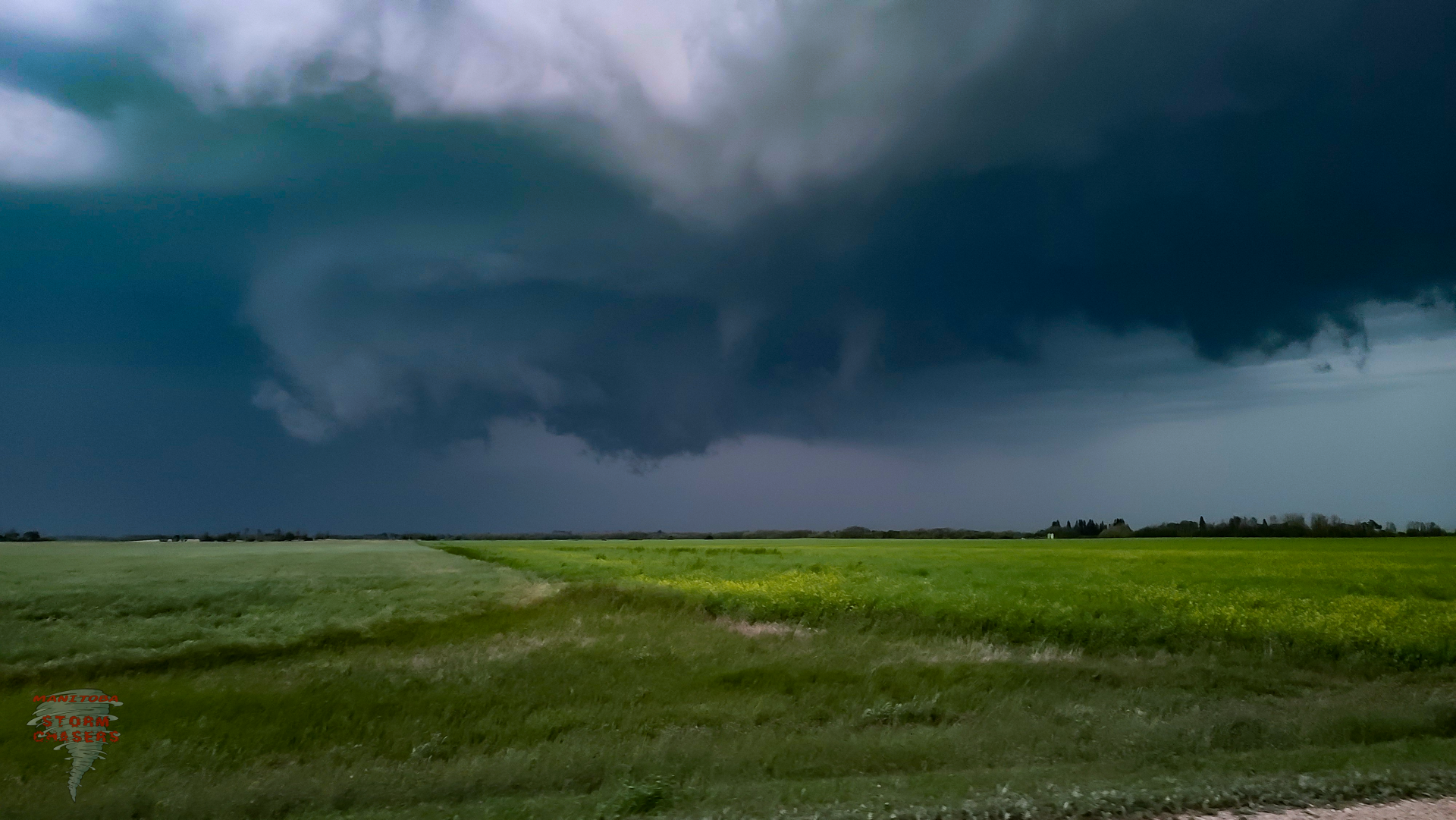 At this point, It was getting very dark, And I only had a 1/2 tank of fuel left, I knew open gas stations were going to be impossible to find in that area of Manitoba and Saskatchewan, But thankfully Kamsack had a 24 hour Petro Canada, Kamsack would take me away from the storm for a bit, but it was a choice that I had to make because the next open gas station was Neepawa, and I wasn't going to make it that far on half a tank, I figured worst-case scenario, I could photograph some lightning on the back end of the storm on my way home.
After fueling up in Kamsack, I actually managed to catch back up to the back end of the storm around Ministik beach, Where it had just dropped a ton of hail, The highway was green and white, a mixture of hailstones, and the leaves they knocked off of the trees, with a thick layer of hail fog floating above the surface, you could say it was a scene of "Highways and Hailstones" (See what I did there? LOL)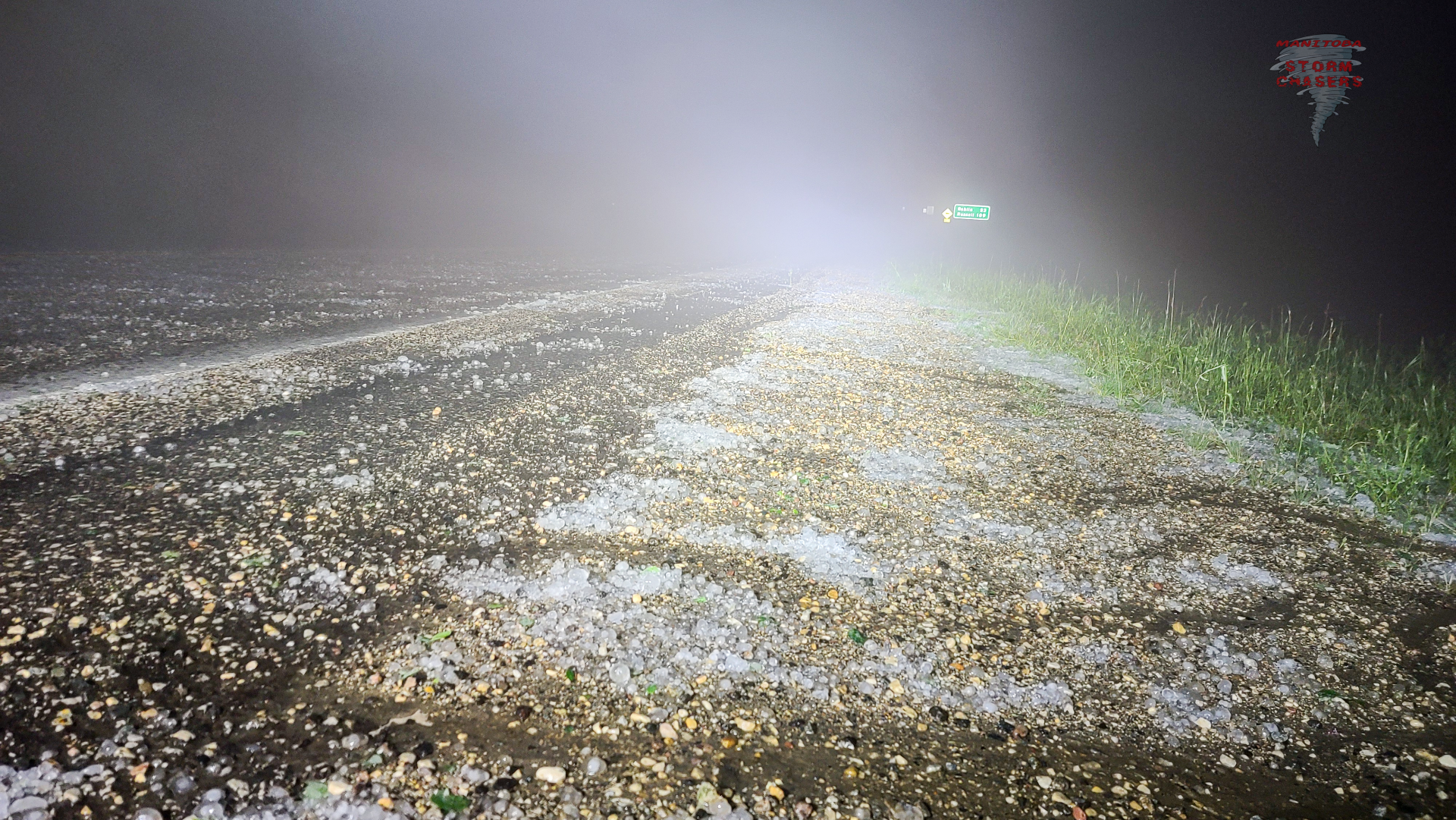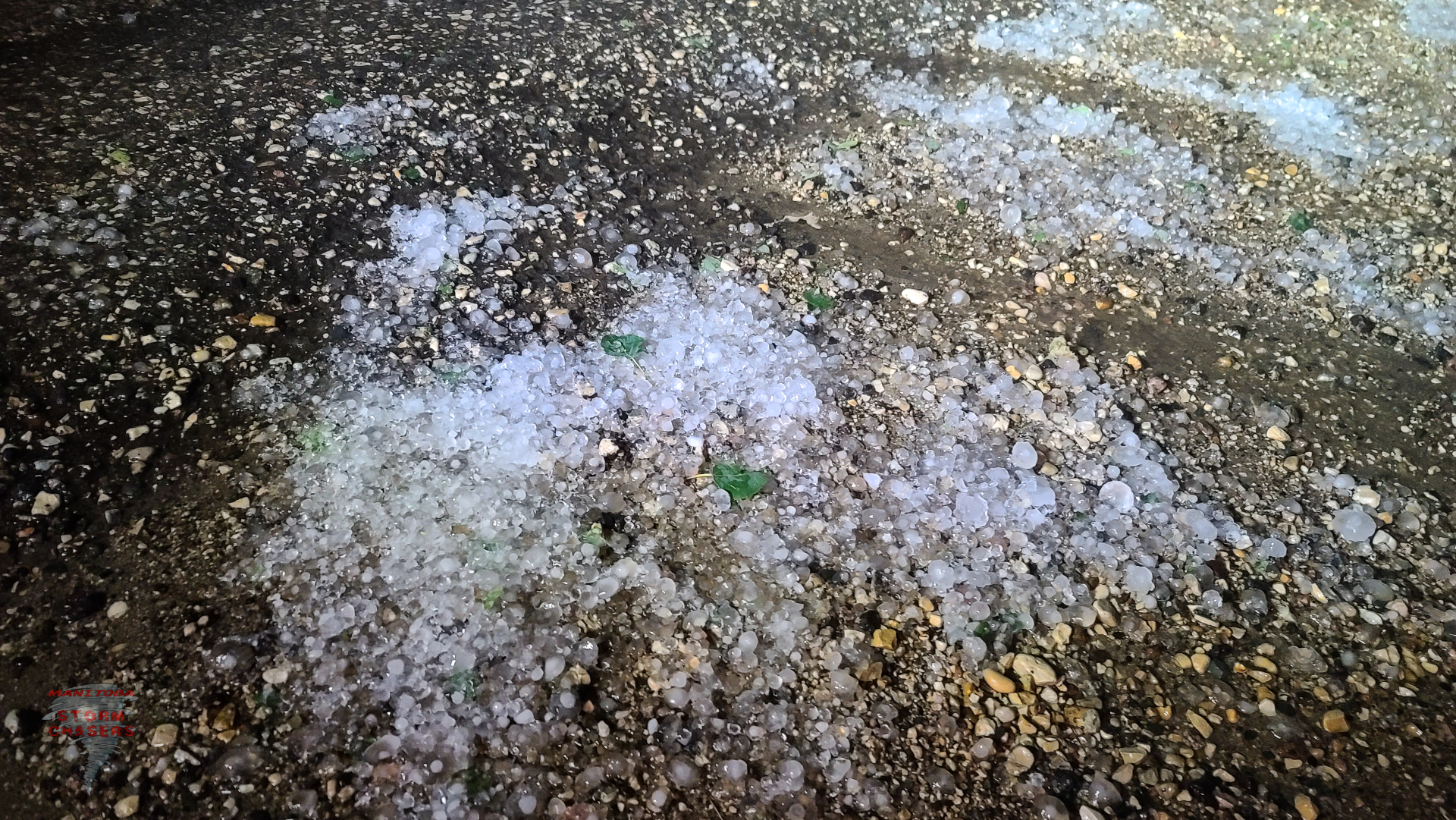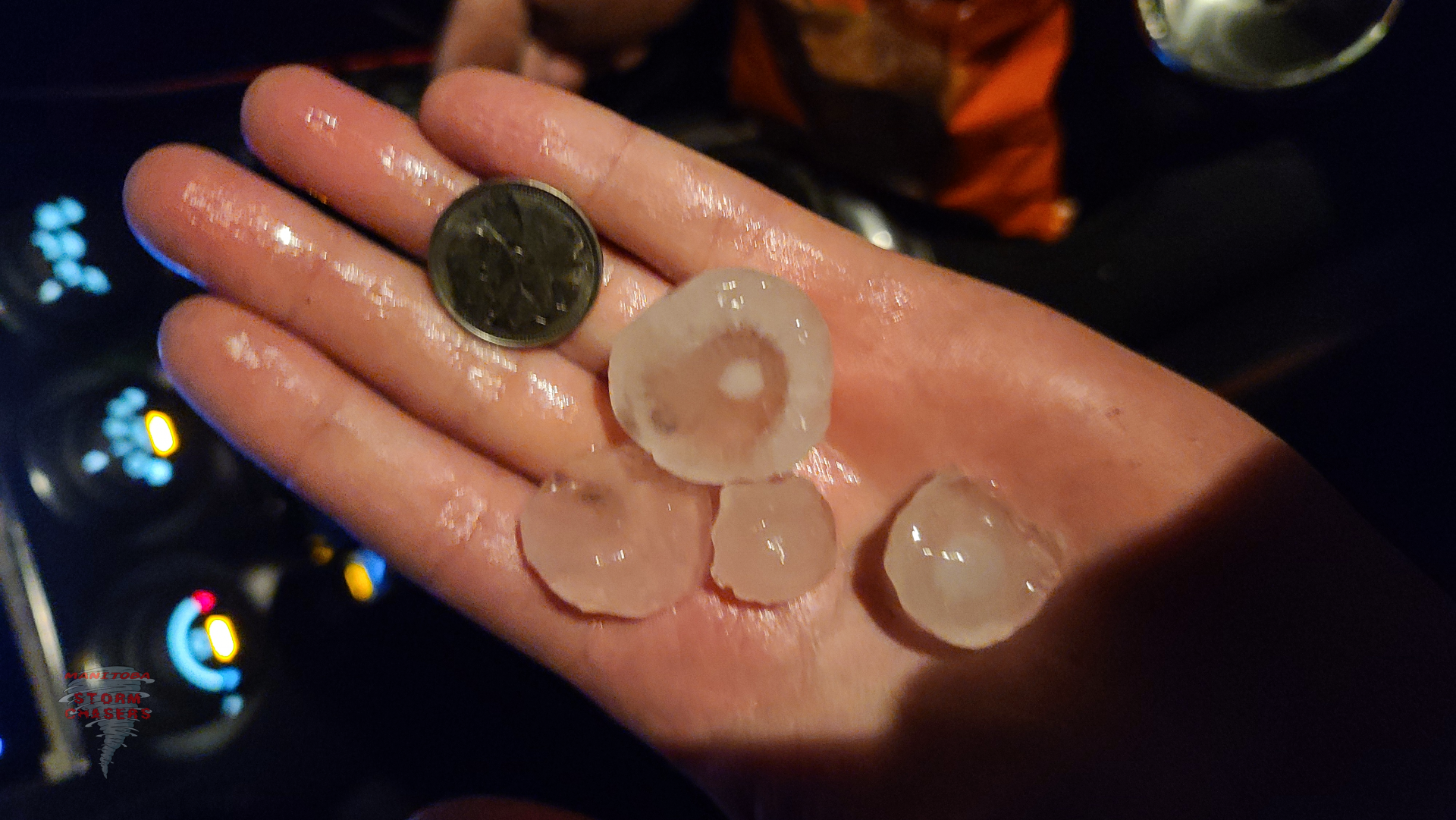 After taking a few photos of the hail covered highway, I followed alongside the storm all the way to Dauphin, Before it weakened off and died, This was by far the best supercell I have chased so far this season, Hopefully, it is a sign that the season is beginning to take a turn for the better for the remainder of what season we have left! take a look at the video below to see our footage from this chase!