Published on
July 13th, 2015, was a great chase day for a number of reasons, although not one that yielded tornadoes. I flew into Madison, Wisconsin, to meet up with Alex, Adam and Adam, planning to chase Northern Illinois that afternoon. Morning convection would leave outflow boundaries draped across the region that would later provide a focus for supercell development in an extreme CAPE environment. SPC extended a moderate risk from Eastern Iowa, through much of Illinois and Indiana, with a 10% hatched area for strong tornadoes across the Illinois portion. Liking the area extending between Davenport, Peoria and Bloomington, we set our initial target as Galesburg and headed out.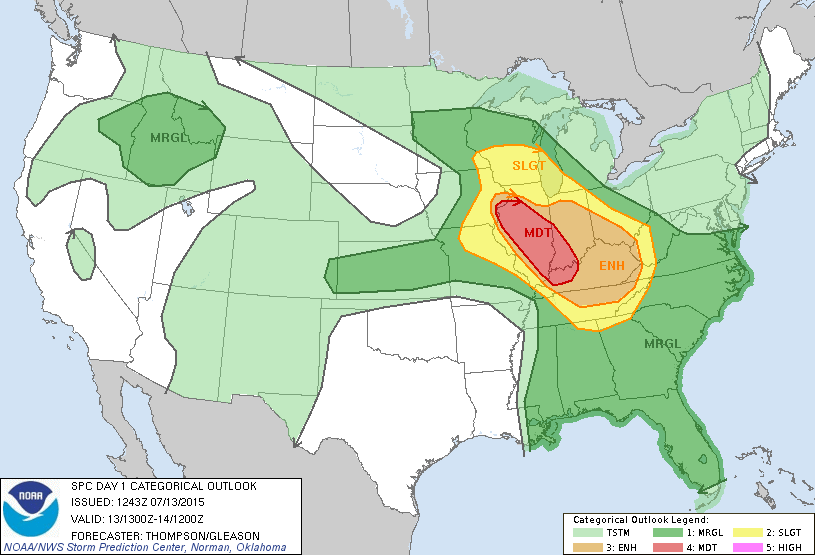 The SPC severe weather outlook for July 13, 2015; a moderate risk area extended through Illinois, Southwest Indiana and Western Kentucky.
As we approached Davenport on our way to Galesburg, Alex suggested we readjust to Peru instead (this turned out to be a great suggestion!). The forecast was still very unclear; supercells might form up in Southern Wisconsin along the warm front and travel southeastward into Northern Illinois, and / or they might initiate along the outflow boundary to our south. We decided to split the difference at Peru, which left us with excellent routes in all directions and the opportunity to get to the storm (or storms) of our choice. We did not have to wait long before storms began to go up to our east, near Ottawa, and to our west, northwest of Davenport. As we waited to see which of these might take off, a new storm exploded right next to us on the east side of town. This was our storm.
We drove a mere ten minutes east and were under the updraft of this rapidly developing supercell. Adam found us an awesome vantage point on the north side of the interstate near the town of Utica, and we hopped out to watch a rapidly rotating wall cloud develop beneath a flat circular base. The lowering was large and bowled, and looked as though it might produce a tornado at any moment. However, that was not to be, and this wall cloud occluded as a new one developed ahead of it. For fifteen minutes we watched unbelievable rotation and upward motion as the updraft approached and passed just to our right.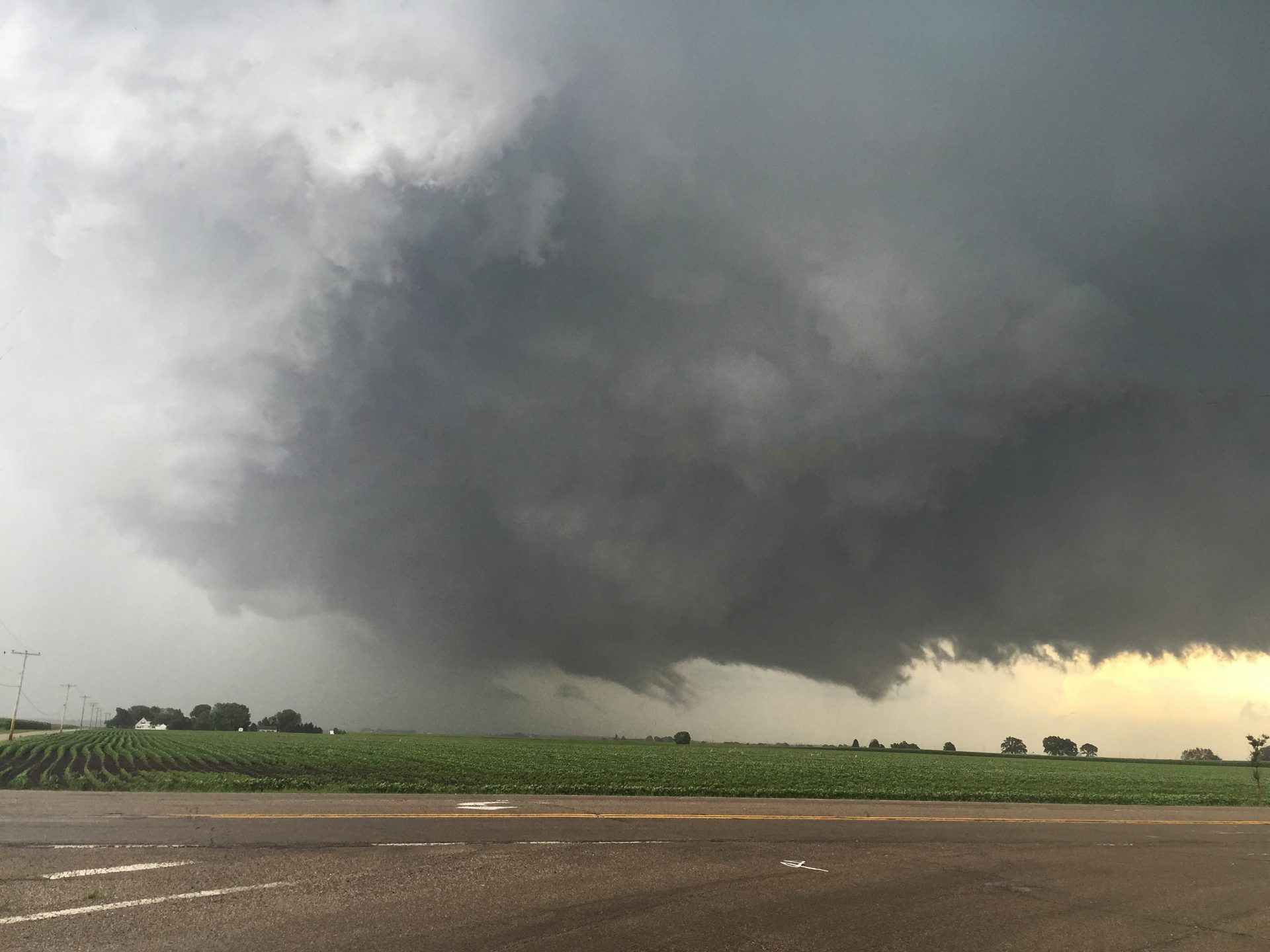 A wall cloud developed on a supercell near the town of Utica, Illinois, as Alex and Adam look on. July 13, 2015.
We jumped back in the jeep and drove south and east (through a heavily forested nature preserve called Starved Rock State Park) to stay with the updraft. Coming out of the trees near Stoneyville we were greeted by one of the prettiest mesos I have ever seen. We pulled over north of Grand Ridge on HWY 23, and watched an absolutely breathtaking RFD interaction that cut into the storm and carved out the updraft. The clouds were sculpted into a towering wall around an emerald green hail core, and the entire base of the updraft was spinning in a circle. Only a tornado could have made the scene more spectacular! Although we observed several possible funnels, there were no touchdowns.
Rear Flank downdrafts interacted with the wall cloud and generated rapid rotation and stunning structure near Stoneyville.
The storm attempted but failed to produce a tornado but did exhibit unbelievable storm structure.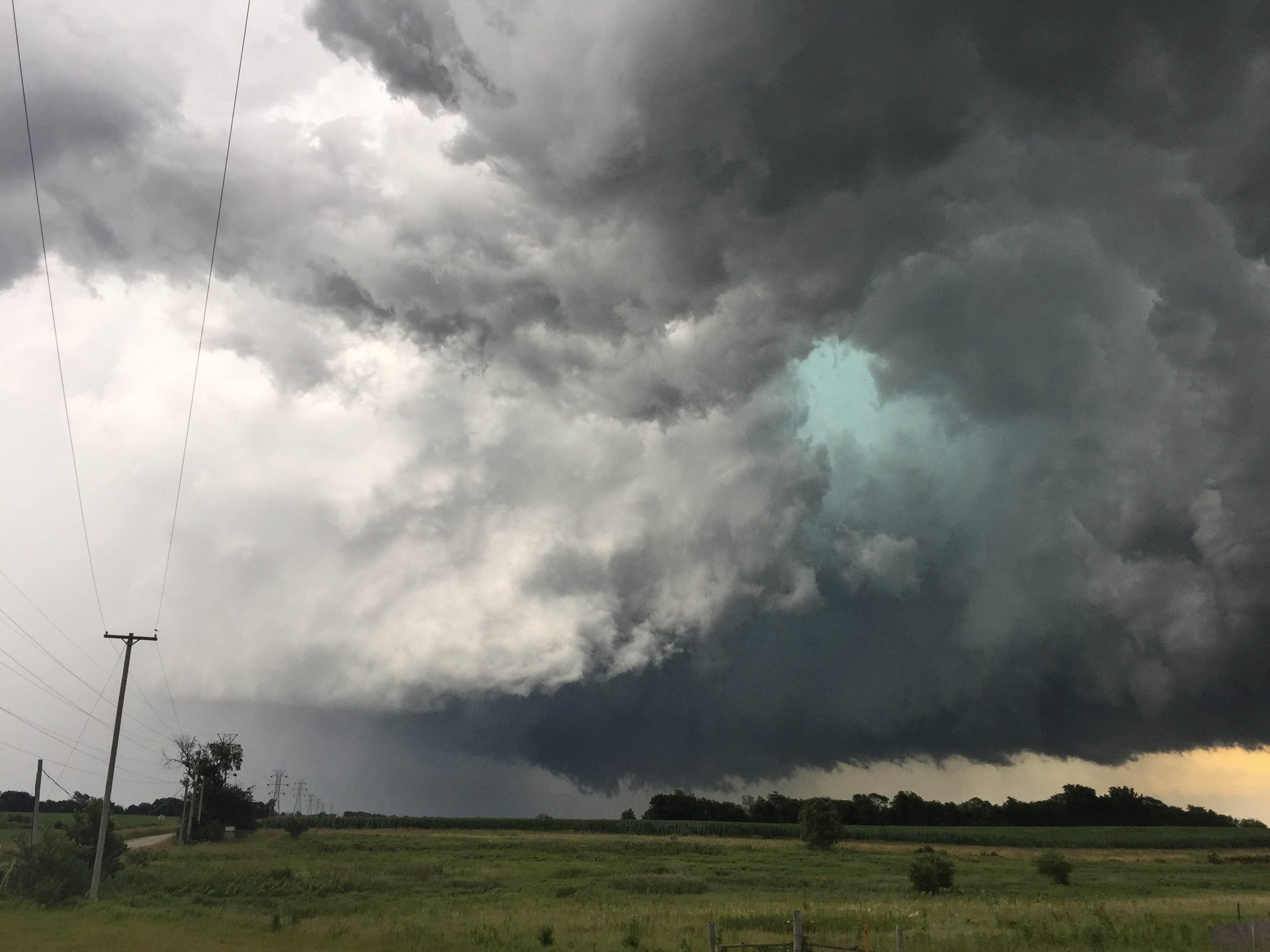 Emerald green colouring in the RFD cut added to the breathtaking and beautiful storm scene.
We stayed with the storm as it travelled southeast, cycling again and again with RFD interactions that were amazing to see. We watched the final of these north of Ransom, before blasting south and well ahead of the storm to the east of Blackstone. There, we caught our first real glimpse of the storm's wide-scale structure, which was a narrow and tilted liberty bell.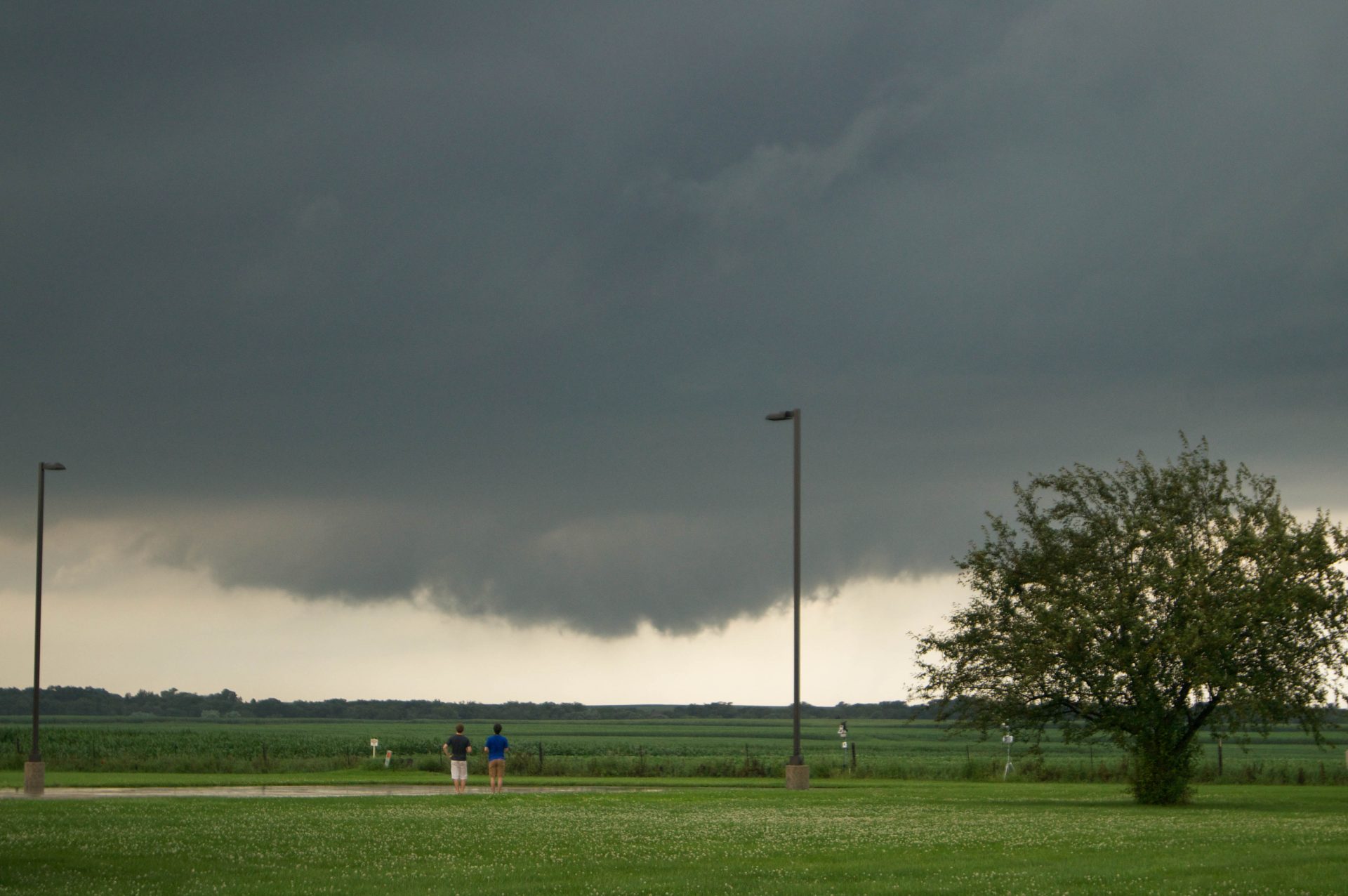 The supercell cycled north of Ransom, Illinois.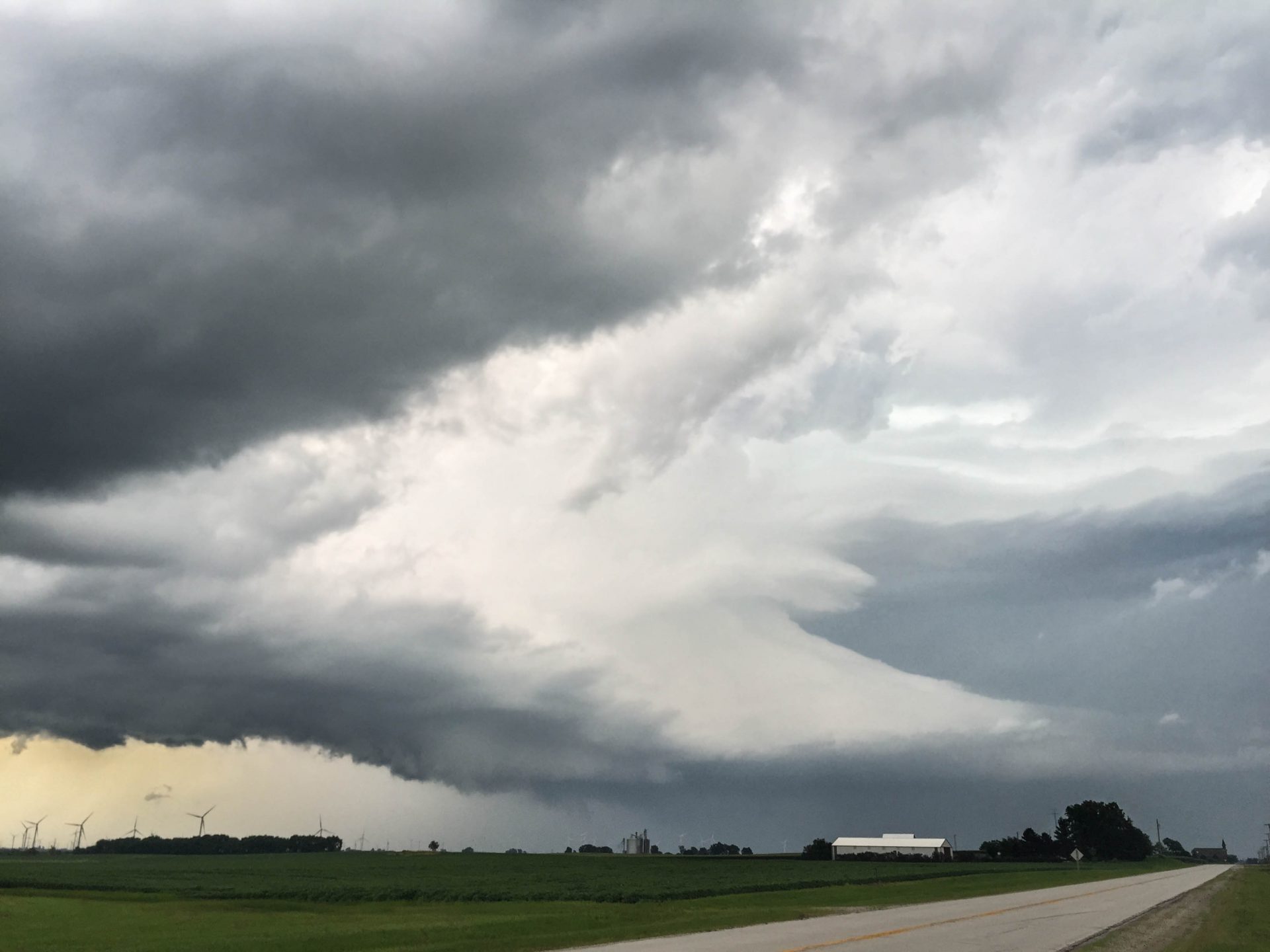 The storm exhibited liberty bell structure near Blackstone, Illinois.
Soon after our stop near Blackstone the storm became quite high-based and began to take on the appearance of being elevated. We stayed with it to the Dwight area to see if an interaction with the cell to its north might help it to re-intensify, but that was not to be. It was getting dark now and as we debated calling it a night, we encountered some fast moving floodwaters flowing out of fields and washing swiftly over the roadway. This made our decision for us! Adam threw it in reverse, got us quickly away from the flood waters and then we headed back toward Madison.
This was my first time chasing in Illinois and I had no idea it is such a great state to chase with fantastic unobstructed views and never-ending road networks! Even though the tornado potential totally busted this day, the storm we chased was a beauty of a supercell and I got to witness some of the most awesome cloud motion and beautiful RFD cuts I have ever seen. Most of all, it was just good to hit the road with friends and get in a fun and successful late-season chase.