Published on
The day's initial target was Petrolia. It looked as though the area south of a line from from Sarnia to London would see the best chance of evening supercells, with storms firing in southeast Lower Michigan in the late afternoon and crossing the border around 5:00 pm. I left the house at 1:30 pm. As I drove west, supercells began forming in north-central Lower Michigan, close to the centre of the low, and were quickly going tornado warned. This trend had me nudge my target a little further north, and so I adjusted toward Grand Bend where I suspected storms might have a slightly better shot at rotating.
I arrived there in the late afternoon and spent an hour in Pinery Provincial Park, waiting for storms to get their acts together and cross the lake. However as they approached I felt that it was a pretty disorganized cluster that, as far as I could tell from my vantage point, lacked decent visibility. I decided to head south toward Forest thinking that maybe the southernmost cell in the cluster might dominate. Boy was I wrong! The storms over the lake consolidated north of me into what looked initially like a pretty strong bow segment on radar. However, as soon as the storm reached the shore, it developed a notch on the leading edge and then wrapped right up into a monster HP supercell. The radar presentation actually reminded me of the storm that produced the EF2 tornado in Angus a month earlier.
As I watched the velocity couplet become more pronounced east of Grand Bend (I thought for sure a tornado must have been on the ground between Grand Bend and South Huron), I raced east and north to try to intercept, finally getting into position northwest of St Mary's. Although the couplet was no longer present, the storm still had a bit of a hook-ish presentation. At the intersection of Perth Rd 139 and 6th Line, I spotted a large, rotating, bowled lowering at the leading edge of a shelf (this was not your typical wall cloud), with a fairly fat cone funnel cloud extending halfway to the ground. By the time I made it past some trees that were in the way, parked and hopped out to snap some pics, the funnel was much more tapered and not quite as low to the ground as it had been previously, though still very pretty. I took several photos with my cell phone and then called it in to EC before it dissipated after about two minutes.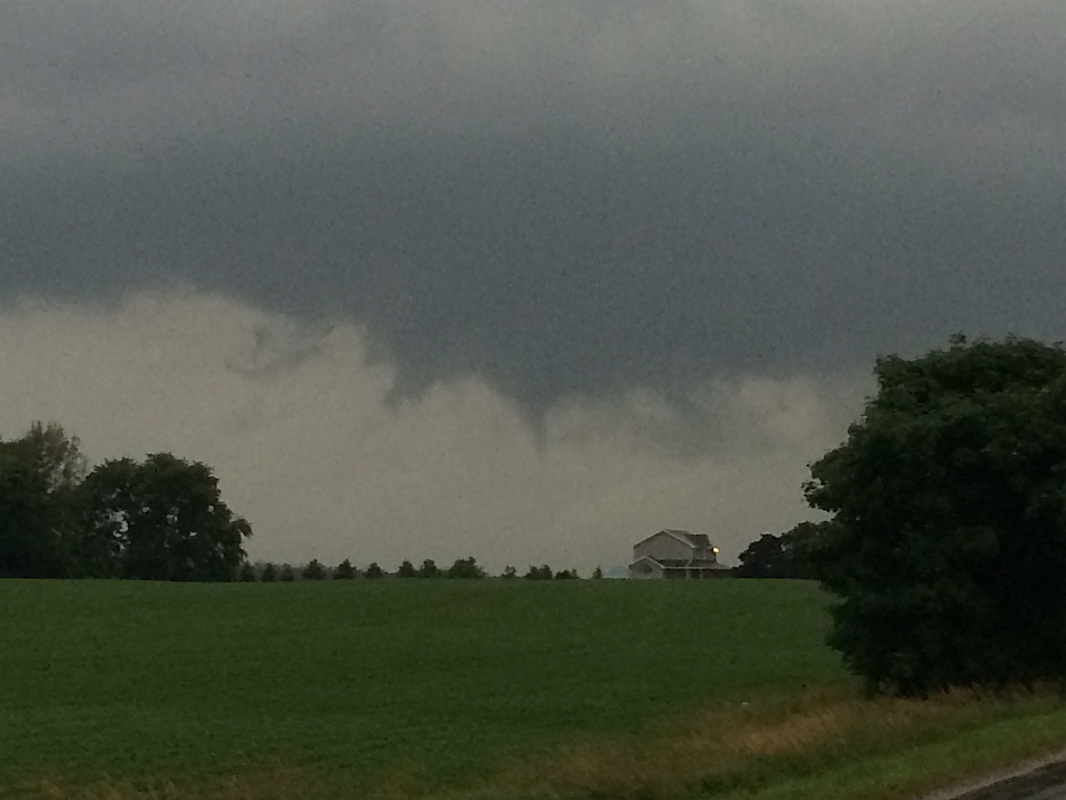 For the next hour I had some fun with the storm which was putting on an incredible lightning show, and had some really awesome cloud action along a big low shelf cloud. It produced a few more little funnels, but none as well-formed and clear-cut as the one near St Mary's. All in all, a fun and successful chase after a very quiet month for storms!