Published on
Texas and I have something of a tenuous relationship. It took 13 years of misses, but we became friends in a big way on May 23, 2019. In the spirit of continued friendship, Texas decided to give us a beautiful gift on May 17 in the form of one of the best chase days I've ever had.
After a frustrating yet rewarding chase the day before near Lubbock, we woke up the morning of the 17th fearful of the impact that the overnight convection would have on the day's chase prospects. The mesoscale convective system (MCS) that had developed the evening before was quickly racing south, pushing what was expected to be a pretty high-end thermodynamic environment along with it. By mid-morning it became fairly evident that the western edge of the outflow boundary from that MCS was going to stall somewhere near Midland and establish an effective triple point where it intersected with the dryline. The play was obvious: go there.
We drifted down towards Andrews where we met up with Colin Davis, Alex Hall and Andrew Pritchard at the Loves gas station. The last time we sat at a Loves with Colin, Alex and Andrew at a Loves in West Texas turned out pretty well for us — May 23, 2019. After baking at the Loves for a couple of hours, we noticed an agitated field of cumulus off to the southwest had developed near the effective triple point and decided to drift toward it. About ten minutes into our drive however, we became concerned that heading south toward Odessa would mean a commitment to the southern convection and take anything that may form to the north out of play. We headed back to Andrews to hedge our bets a bit — better safe than sorry.
After sitting in Andrews for another 30 minutes we decided to drift east a bit and continue to hedge our bets. Along our route we had a clear view of the southern storms as well as some new convection that had formed immediately to our north. Nothing looked overly impressive; it was all a grungy cluster. We waited and watched the storms repeatedly split and pulse, joking that they were waiting for the "6pm magic hour". Little did we know.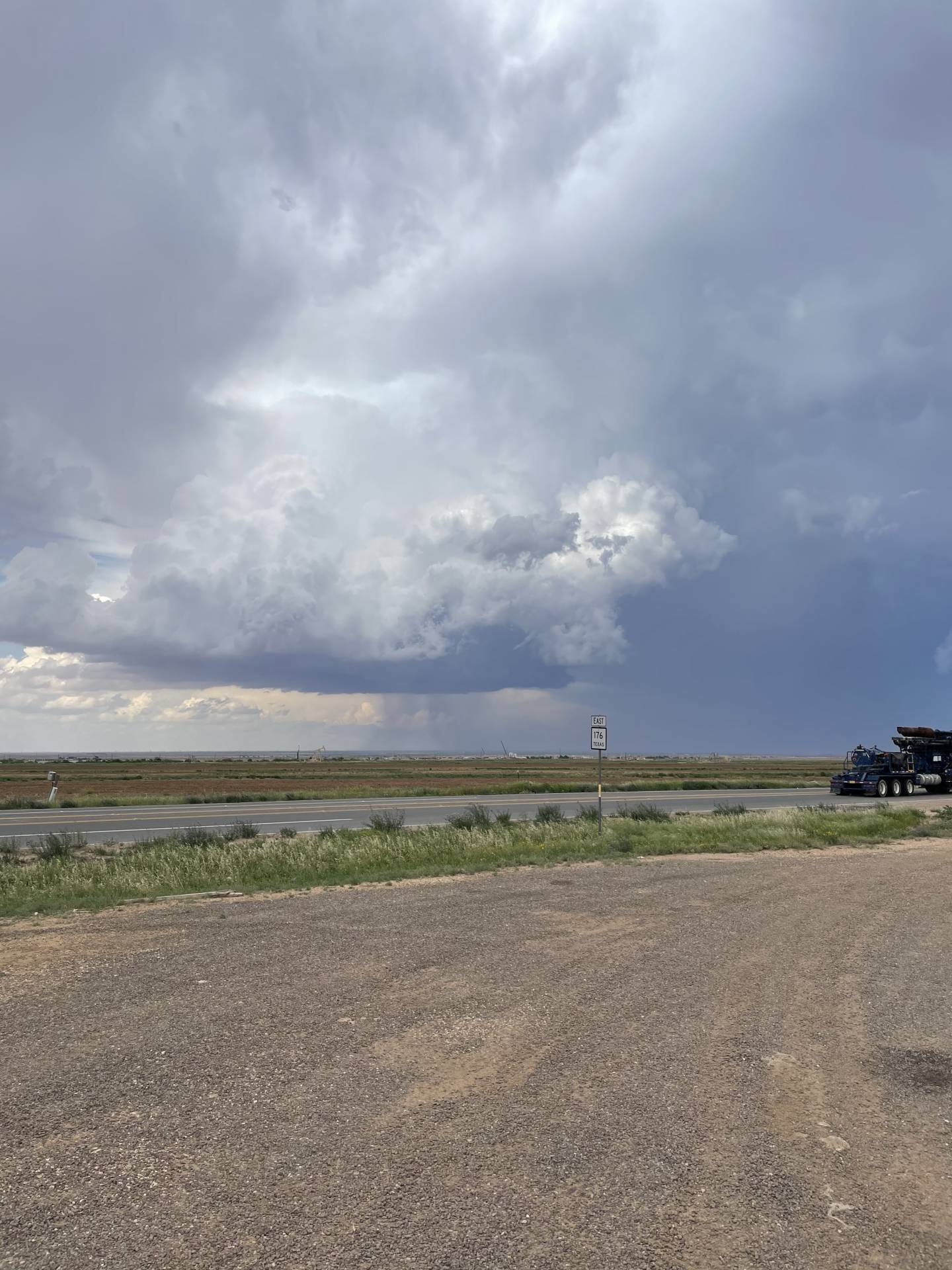 We continued to drift east with the cluster and noticed a healthy looking supercell that had developed further east near Colorado City, about 30 miles northeast of the cluster. Since we would track along with the cluster in order to get to the new supercell, we figured we'd go for it while keeping eyes on the original storms. We got about 10 miles ahead of the cluster as we noticed the southwestern core was beginning to take a hard right-turn; it was go time. It seemed like all at once the storms were getting their act together — 6pm magic hour! Though we were north of the storms at the time, we had a surprisingly good view of the mesocyclone, and given the slow storm motions we were able to get way out ahead of the storms in order to drop south. As we started to turn south, a left split from a storm ahead of the supercells we were interested in began to make its way toward us, three inch hail and all. Given the size of the hail we decided to stop for five minutes to let the storm pass. Luckily for us it began to jog northeast, allowing us to drop directly south and in front of the storm we were interested in — which at this point had begun to take on a southeastward motion. As we pulled up onto the storm, a funnel began to descend. From a slightly elevated position, we watched the tornado touch down in a wind farm. My absolute dream!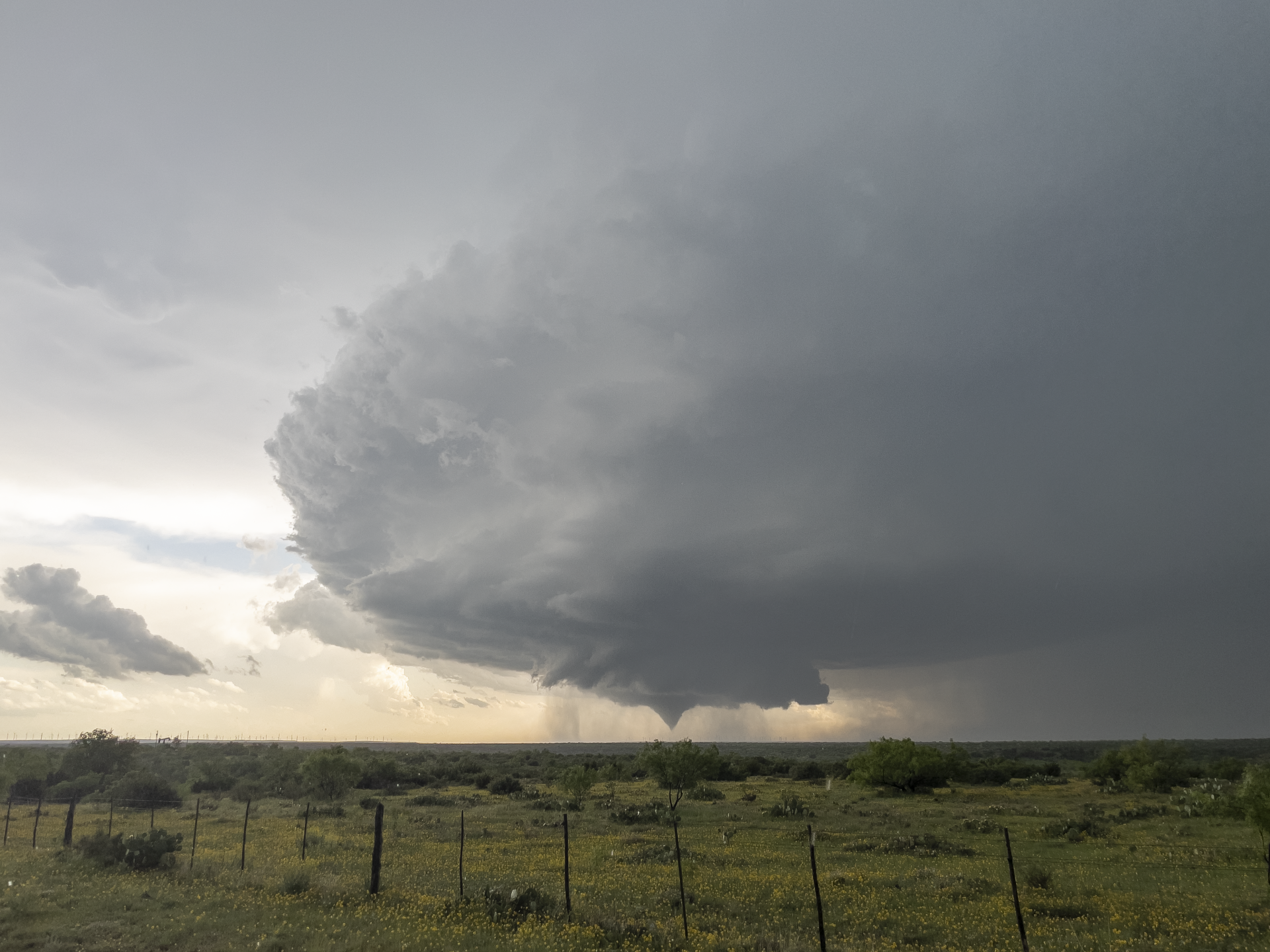 For the next few minutes we watched as the tornado slowly approached, multiple vortices dancing around the base of the funnel. The wind farm in the background and yellow wildflowers in the foreground made for the absolute perfect scene. To top it all off, the structure was absolutely top notch.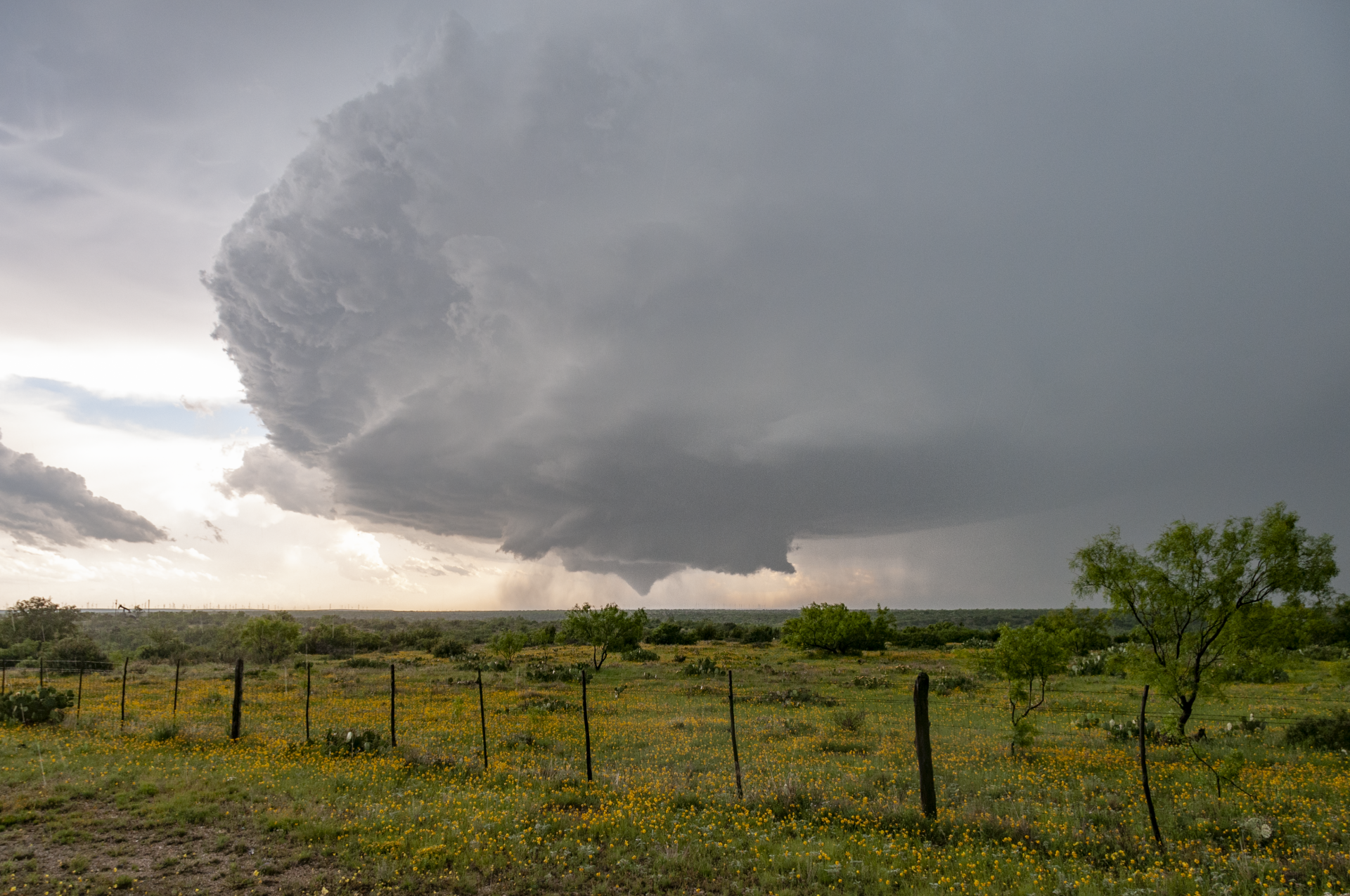 The tornado continued on the ground for several minutes before becoming obstructed by rain and eventually (seemingly) lifting. We continued south with the storm as it continued to cycle before quickly gaining a view of a large white tornado. There is some debate on whether or not this is a second, unique tornado — I believe it was, as we saw the initial tornado lift and the ground circulation seemingly cease. Our initial view of this second tornado was a white cone that quickly morphed into a large white cone/maybe wedge. The tornado again became wrapped in rain as it hit and did damage to the Lucid Energy Silver Gas Plant.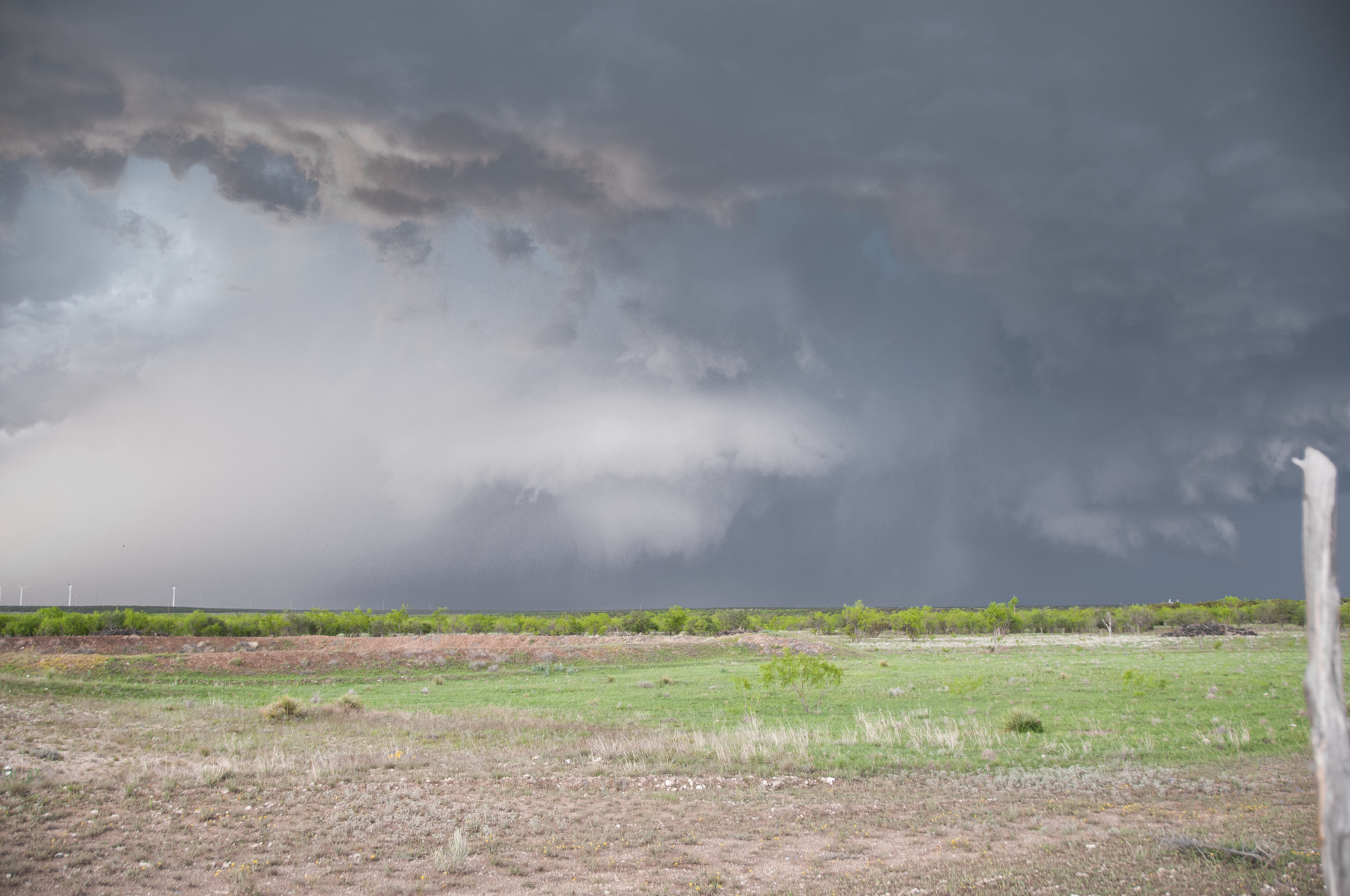 Andrew Pritchard got tremendous video of the entire tornado sequence — especially his contrast enhanced view of the second tornado near the gas plant.
Colin Davis also got some pretty great video, complete with structure above the tornado:
We continued to track with the tornado, which was now buried deep in the rain but warned as a "particularly dangerous situation". By this point the storm began to take on structure similar to what I experienced with the May 31, 2013 El Reno, Oklahoma tornado.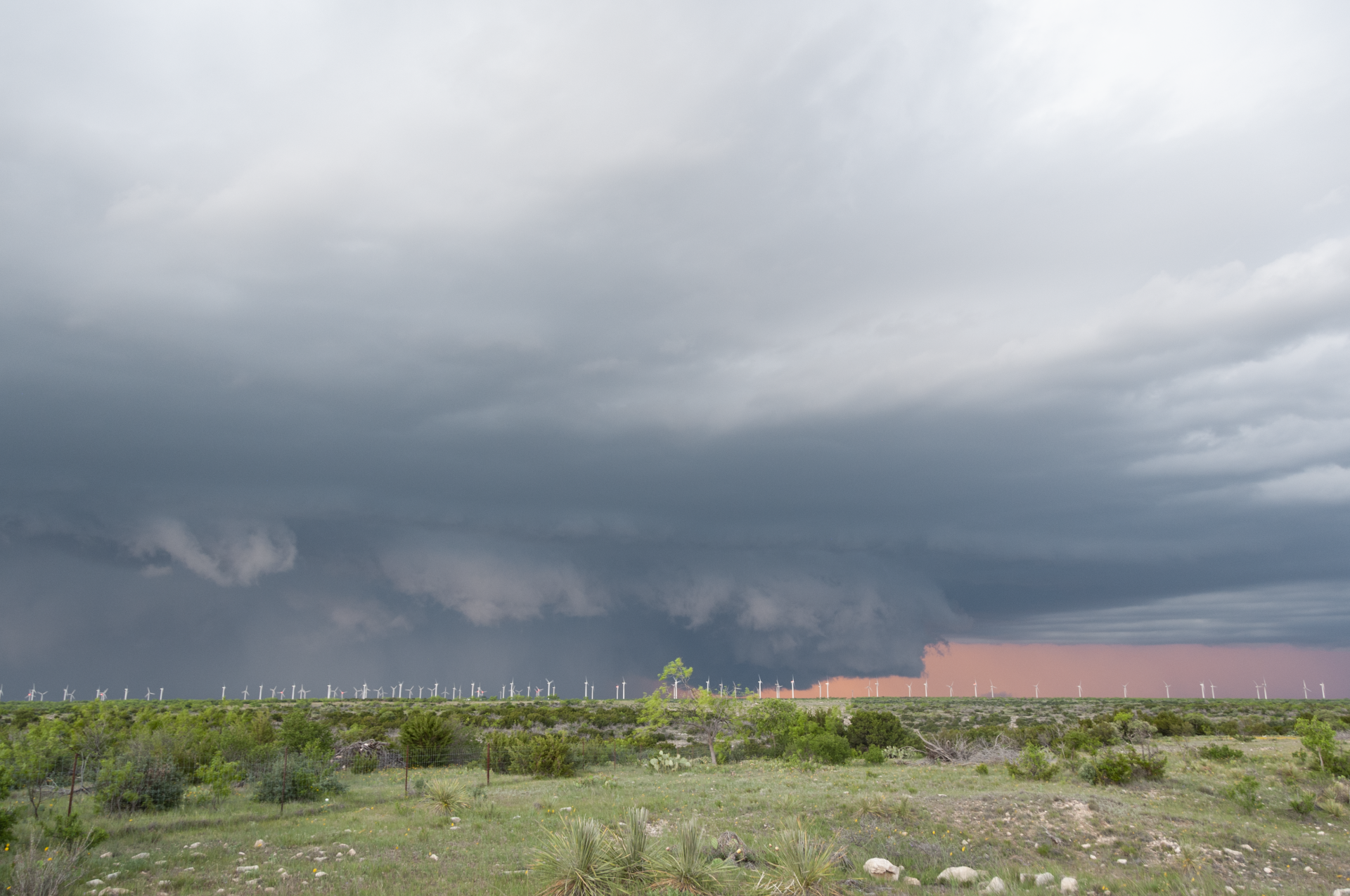 As it was nearing dark, we stopped for one more photo opportunity and called it a day. All in all, one of my more memorable storm chases! Truly a day I won't forget.
Note: special thanks to Travis for editing these photos in a far better manner than I could!